University building named after social reformer officially opens
Published on: 14 November 2019
The Frederick Douglass Centre, the new learning and teaching centre on Newcastle Helix, has been officially opened by a descendant of the world-renowned activist, author and abolitionist.
The opening ceremony was performed by Frederick Douglass's great-great-great grandson, Kenneth B Morris Jr, on 13 November 2019, exactly 52 years after Newcastle University awarded Dr Martin Luther King Jr an honorary degree.
An anti-slavery campaigner – and at that time, an escaped slave himself – Frederick Douglass came to Newcastle in 1846 as part of a lecture tour of Great Britain and Ireland, during which he spoke to packed halls and churches about slavery in his native U.S.
While in Newcastle, Douglass stayed with Anna Richardson and her sister-in-law, Ellen, who lived on Summerhill Grove. The two Quaker women actively campaigned for a number of social causes, and raised £150 to buy his freedom.
Kenneth B Morris Jr said: "I'm so honoured to participate in the dedication of this magnificent building. I'm sure my great ancestor would be pleased to see that his legacy of activism and social reform lives on in this building.

"But, unfortunately, he would also see that not much has changed regarding the racist policies that create economic inequality and injustice that he fought so hard to eradicate. By recognising and celebrating the legacies of Dr Martin Luther King Jr and Frederick Douglass, Newcastle University has set itself up to be the custodian of the legacies of two of world's greatest freedom fighters.

"This is indeed worth celebrating, but it also comes with a burden of responsibility. It's not enough to recognise and celebrate these great men with honorary degrees, statues and buildings, they called upon all of us to do so much more. I'm so pleased to hear of the work that has been done in this city and at this university around racial justice and equality."
Professor Julie Sanders, Deputy Vice-Chancellor, Newcastle University, said: "Naming our new learning and teaching centre in honour of Frederick Douglass is a further acknowledgement of the University's long-standing commitment to social justice and fitting tribute to the region's role in the global struggles for freedom.
"The decision speaks not only to the past, but to how we envisage our future."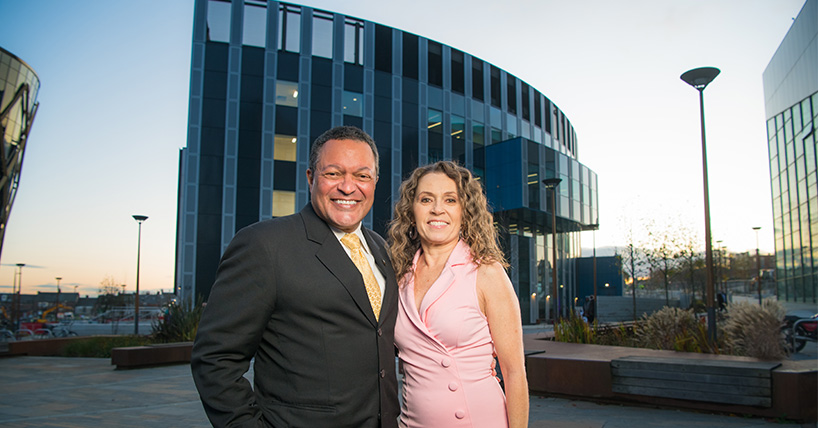 Global social justice
Katie Smyth, President of Newcastle University Students' Union, said: "It's so brilliant to have a new space on campus for students, the history of which is incredibly important. All of the events throughout the week are highlighting the importance of this and we look forward to it becoming an ingrained part of our campus history. Our welfare and equality officer ran an extremely successful month long campaign for Black History Month, whereby true black excellence was shown, we're thankful for the University support throughout, and it's great to see the University working towards this too."
Father Brian F. Linnane, President of Loyola University Maryland, attended the opening ceremony as a formal acknowledgement of the historic ties between Frederick Douglass with Newcastle and Baltimore. He also toured the Newcastle University campus and visited Loyola exchange students studying at Newcastle.
To celebrate the opening, a week-long series of events themed around global social justice are highlighting Newcastle University's focus and work across a number of pressing issues, including climate change, diversity and human rights.
Written, filmed, produced and performed by the City of Dreams initiative on 8 and 9 November, Our City Our Truth explored what matters most to young people in NewcastleGateshead and what are the injustices they see in their everyday lives.
Eight of this country's leading experts on the life of Frederick Douglass came together to discuss the historic links between slavery, Newcastle upon Tyne and the United Kingdom and explore lessons for contemporary society. 'I have come to tell you something about slavery' was the first Public Lecture to take place in the Frederick Douglass Centre. The event takes its title from an address delivered by Frederick Douglass in Lynn, Massachusetts, in October 1841.
Celebrating the opening of The Frederick Douglass Centre
Presented by Northern Stage Young Company, Albion: Where do we belong? was performed after the opening. The epic poem, co-created with a team of professional artists, is a personal, political pilgrimage that takes place over one day as one person tries to make sense of their place in the world in the context of Brexit, inequality, identity, a rise in racism, and a climate on the brink.
The official opening follows the announcement that Newcastle University been accredited as a Living Wage Employer which will see everyone working here receive a minimum hourly wage of £9.30 an hour.
Held on 15 November, the Climate Conversation Event will visualise Newcastle University in a net-zero carbon future and discussed the changes required to get there. The Sustainability Team, students and employees will explore opportunities for working together in response to the climate emergency. Renowned climate expert, Professor Kevin Anderson, from the University of Manchester, is participating in the event following a public lecture he delivered the night before.
A workshop on Decolonizing the Curriculum was hosted by Dr Christina Mobley and with contributions from Dr Keith Magee, Director of the Social Justice Institute in Boston, Massachusetts, and Kenneth B Morris Jr, Co-Founder and President of Frederick Douglass Family Initiatives. It offered a brief history of the Decolonizing the Curriculum movement, emphasising its origins in the Global South and subsequent student movements in the Global North.
Also taking place was the launch of the Gender and Entrepreneurship North East network, which is being led by Newcastle University Business School and aims to address issues of equality and diversity in entrepreneurship in the North East and globally.
Organised by the University's Black and Minority Ethnic (BAME) Network, Inclusive Leadership: Sustaining the Future of Work through the Power of Parity workshop will deliver a lively discussion and debate around closing the BAME leadership gap and the motivations that inspire and sustain leadership in the BAME context.
On 15 November, poetry Reading by multiple award-winning US poet, Major Jackson, will conclude the week-long series of events celebrating the opening of The Frederick Douglass Centre.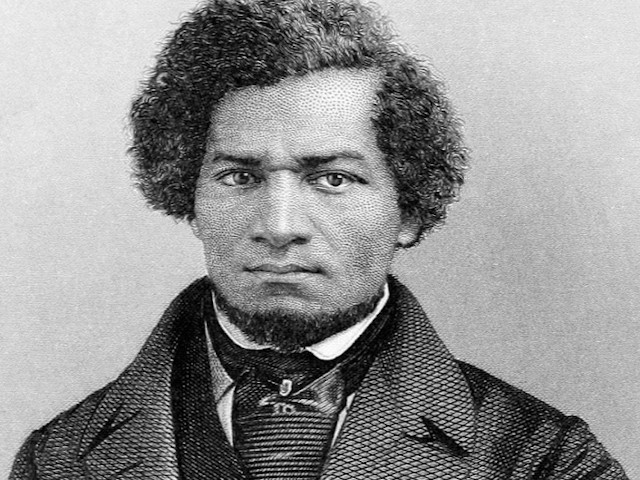 ---
Latest News