Chaves Nogales Exhibition
Exhibition honours a pioneering voice for freedom
Published on: 7 February 2020
One of the most prolific writers to bear witness to the events that convulsed Europe in the first half of the twentieth century is being remembered in a special exhibition in Newcastle.
Manuel Chaves Nogales was a Spanish journalist renowned for refusing to take an extreme ideological position and who warned against the growth of fascism across Europe.
He travelled extensively through Europe and was one of the first foreign correspondents to witness and report on events taking place in Russia in the immediate aftermath of the 1917 revolution, pioneering a new style of journalism that was more similar to feature-based, in-depth journalism.
In 1930, Chaves Nogales became editor of the influential and ideologically moderate newspaper, Ahora. Although he nominally supported the Republic against the military uprising of General Franco in 1936, his overriding commitment was to report the truth of what was unfolding across Europe and became part of the so-called 'Third Spain' affiliated to neither far right nor far left. As a result, he was regarded as one of the most incisive and unbiased journalists working in Europe.
The Spanish Civil War became a truly global conflict with volunteers arriving from all over the world to fight in the International Brigades, amid fears that governments were not doing enough to stop the growth of fascism and that the conflict in Spain was just a preview of a greater struggle to come.
Horrified by the atrocities and political repression carried out by all factions involved in the war, Chaves Nogales recognised that freedom was going to be lost in Spain's future. Discouraged by this, and under investigation by the Gestapo, he went into exile, first in 1936 to France and later in England, considered by then as the last beacon of liberty in Europe.
While in exile, he remained committed to spreading awareness of Europe's struggle against the rise of fascism and wrote extensively, including opening a news agency in Fleet Street and reporting for the BBC. He also wrote a series of features for the Newcastle-based North Mail that described the dramatic siege of Madrid in 1939.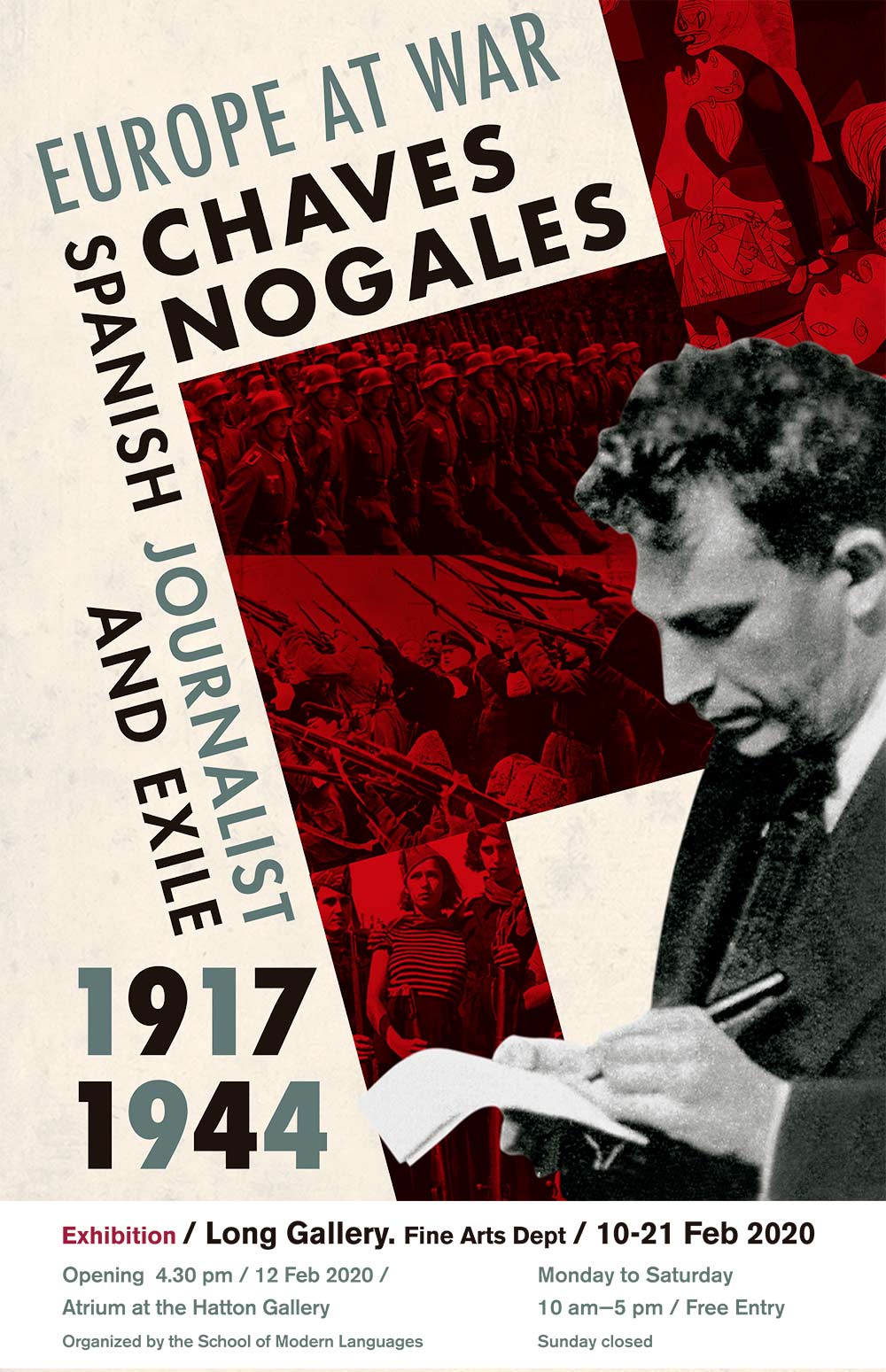 A homage to Chaves Nogales
The exhibition, which has been organised by staff at Newcastle University with colleagues from the University of Seville will include an original copy of one of Chaves Nogales' articles for the North Mail and other examples of his writing.
As well as paying homage to Chaves Nogales and the memory of other exiles in Britain, the exhibition also remembers the significant number of men and women from the North East who travelled to Spain in the 1930s to fight against General Franco's forces.
Many of these lost their lives in the conflict and the exhibition builds on the memorial unveiled in 2016 by Newcastle City Council to recognise the bravery and sacrifice of these volunteers.
Dr Jorge Catala-Carrasco, Senior Lecturer in Hispanic Studies, Newcastle University, said: "It is often said that the first casualty of war is truth, but what shines through in this exhibition is Chaves Nogales' determination to defend the truth and his commitment to humanity and impartiality in reporting events in what had become a fractured and polarised country.
"It is also an important reminder of the contribution made by those who volunteered to fight, most of whom were ordinary people who understood what was at stake and felt compelled to play their part in the fight to prevent the rise of fascism."
Chaves Nogales also wrote a number of books and in 1935 published 'Juan Belmonte, matador de toros, su vida y sus hazañas', regarded as the best biography ever written in Spain. Juan Belmonte was a famous matador and is credited with single-handedly changing the style of bullfighting in Spain. Through the lens of the bullfighter, Chaves Nogales reveals a way of understanding a world that was rapidly changing and the tensions that existed in Spain immediately before the Civil War.
The exhibition will be officially opened by one of Chaves Nogales's grandchildren, Antony Jones, and Juan Belmonte's great-granddaughter, Tatiana Beca Osborne. Also attending will be Ignacio Peyró, Director of the Cervantes Institute in London, and representatives from the University of Seville, such as Luis Rafael Méndez Rodríguez, Director of Culture and Heritage at the University of Seville.
The free exhibition 'Europe at War: Chaves Nogales – Spanish journalist and exile 1917 – 1944' will be on display at Newcastle University's Long Gallery, next to the Hatton Gallery, 10-21 February 2020.
---
Latest News