New Director of Newcastle's Wellcome Centre for Mitochondrial Research
Published on: 6 March 2020
We are delighted to announce that Professor Gráinne Gorman will take over as the new Director of the Wellcome Centre for Mitochondrial Research (WCMR) at Newcastle University.
Professor Gorman, a graduate of the RCSI, Dublin who joined the team at Newcastle University in 2008, has played a pivotal role in establishing the WCMR as an internationally-renowned centre of excellence in mitochondrial disease.
Her appointment will strengthen the link between science, drug discovery and clinical translation within the Centre, which is key to transforming the lives of people living with mitochondrial disease.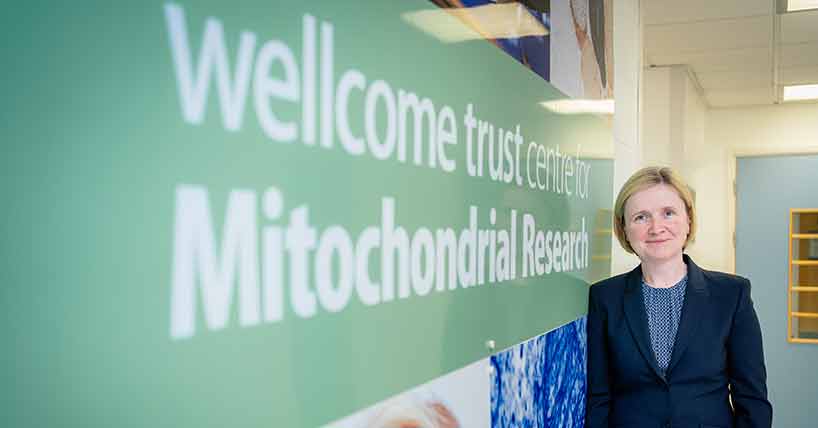 Continuing the legacy
Professor Gorman said: "I am delighted to take over as Director of the Wellcome Centre for Mitochondrial Research. The Centre has a fantastic legacy of patient-focussed research and incredibly talented colleagues.
"I am really excited to be leading the Centre to develop new ways to transform the lives of all patients with mitochondrial disease."
As a leading clinical scientist already well-known to the multidisciplinary team within the WCMR, Professor Gorman is committed to building the next generation of researchers and recognises the importance of bringing everyone together to ultimately find a cure for mitochondrial disease.
At the heart of this collaboration is patient engagement, which has been the focussed approach to research within the Centre for many years. Professor Gorman is keen to build on this successful strategy and ensure that both the WCMR and Newcastle University continue to lead the way in mitochondrial research.
Professor Chris Day, Vice-Chancellor and President, said: "Newcastle University is particularly proud to host the Wellcome Centre for Mitochondrial Research.
"I am delighted to hear that Professor Gorman has been chosen to steer this prestigious Centre as she is an exceptional talent with a vision to drive the Centre into the new decade."
Professor Gorman takes over from Professor Sir Doug Turnbull, who has dedicated his career to caring for patients and families from all over the UK affected by mitochondrial disease. His commitment to understand and develop treatments for mitochondrial disease through high-quality research has led to the successful Wellcome Centre, which has fostered a new generation of pioneering scientists and clinicians.
As a mark of his achievements, Professor Sir Doug Turnbull received a knighthood for services to medicine in 2016 and named a Fellow of the Royal Society in 2019.
Changing law
Alongside his esteemed accolades, Professor Sir Doug has worked tirelessly with patients, patient organisations and policy makers to champion mitochondrial donation. These efforts were rewarded when the UK parliament voted to allow the ground-breaking mitochondrial donation treatment to be offered to patients.
Sir Jeremy Farrar, Director of the Wellcome Trust, said: "Wellcome is proud to have worked towards licensed mitochondrial donation, alongside Professor Sir Doug Turnbull and the Wellcome Centre for Mitochondrial Research.
"Doug has been an absolutely brilliant clinical scientist, committed to bringing the very best science to enhance and improve lives, with deep-seated values and total commitment to his patients.
"He has been an inspiration to so many of us. Thank you Doug, it has been an honour to work with you.
"We look forward to continuing this journey as Professor Gorman takes over the Directorship, building upon the legacy of patient-centred research into mitochondrial dysfunction and disease."
The Lily Foundation, the UK's leading mitochondrial disease charity, work in partnership with the WCMR to ensure the best care possible for those affected by mitochondrial disease.
Liz Curtis, CEO and founder of The Lily Foundation, said: "We are delighted that Professor Gorman has been appointed as the new Centre Director.
"We have worked closely with Gráinne for a number of years now and have always been hugely impressed with her drive and determination to put patients first.
"This appointment will allow us to strengthen our partnership with the WCMR and ensure we continue to work together to improve the lives of those living with mitochondrial disease."
---
Latest News