Messages of support for MBBS
Medical graduates given heart-warming messages of support
Published on: 14 April 2020
Messages of support have flooded in to congratulate Newcastle University medical students who have graduated early to start work on the frontline during the coronavirus pandemic.
Earlier this month, and for the first time ever, hundreds of MBBS students took part in a virtual graduation ceremony where they said their Hippocratic Oath – principles held sacred by doctors.
To mark the special occasion, people from all walks of life, including football legend Alan Shearer, TV doctor Michael Mosley, students' family and friends, University leaders, and the General Medical Council showed their support.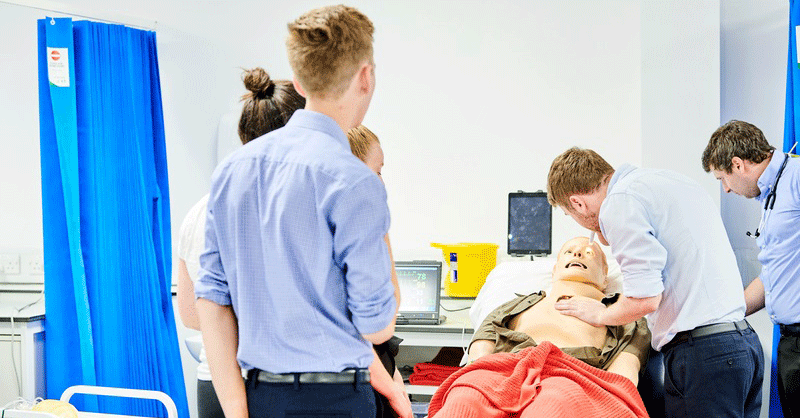 Good luck wishes
Former Newcastle United and England football captain, Alan Shearer, wished the medical students the best of luck during this unprecedented time.
In his video message, he said: "I just want to say congratulations for graduating. The work you are doing is amazing, continue it and good luck. All the best."
A total of 300 students graduated this year from Newcastle University's Medical School and each was invited to record their Oath for their family, friends and staff to enjoy online.
The final-year students graduated early in response to the request from the Secretary of State for Health and Social care to add vital capacity of professional workers in our hospitals at this challenging time.
The students have been continually and rigorously assessed throughout their five year degree, meeting the exceptionally high standards and outcomes required by the General Medical Council.
Professor Andy Fisher, Newcastle University's Dean of Clinical Medicine, said in his video of support: "Many, many congratulations on your graduation. This truly is a tremendous achievement and you should be very proud of yourselves.
"You're stepping forward to serve the NHS at its hour of greatest need. All healthcare professionals will be standing with you to support you at this time. Thank you for everything that you are going to do and take care."
Graduates start work in NHS
Hundreds of Newcastle University medical graduates will this week begin work in the NHS, with most staying to care for patients in the North East and Cumbria. In England, this is the largest number to stay in the region they trained in.
Dr George Rae, Chairman of the North East British Medical Association, said in his video message of support: "Congratulations, and now that you are new doctors, I have great delight in welcoming you to the most respected and rewarding profession in the world.
"You are entering the profession at a time when the nation is going through the greatest crisis for generations and this, as doctors, will require compassion, understanding, empathy, commitment and undoubtedly humanity and courage.
"I am absolutely sure that you will rise to the challenge and I am absolutely sure that you will also demonstrate all those necessary qualities in abundance."
---
Latest News