N.E.S.T response to COVID-19
Supporting refugees and asylum seekers in response to COVID-19
Published on: 30 April 2020
Students at Newcastle University Students' Union are stepping up to help refugees with online teaching and support during the COVID-19 lockdown.
North East Solidarity and Teaching (N.E.S.T), a student run volunteer group at Newcastle University in the local area, has transitioned to online spaces to continue providing services and support to over 400 asylum seekers and refugees in the region.
The students live-stream lessons on YouTube, while student volunteers are making wellbeing calls to all registered learners, contacting them to ensure that they have everything they need and understand the restrictions.
Bridget Stratford, N.E.S.T Project Worker and Newcastle University graduate, said: "From the moment lockdown was announced, we stuck broadly to our normal schedule and had classes every day. We had over 800 views on our lessons in the first week and some positive feedback from other organisations who had promoted the lessons with their own client group.
"We then began building a platform to maintain momentum and connection with volunteers. As many of our student volunteers are international students, lots of the main leadership team had to make very last-minute journeys to make it home before borders closed, some had to stay and some were self-isolating.
"We have set up daily digital socials which are open to all of our volunteers. We launched it three weeks ago and it's been a positive tool for bringing people together and engaging new volunteers with the project. We will continue our existing support services of a wellbeing email and a Facebook helper profile."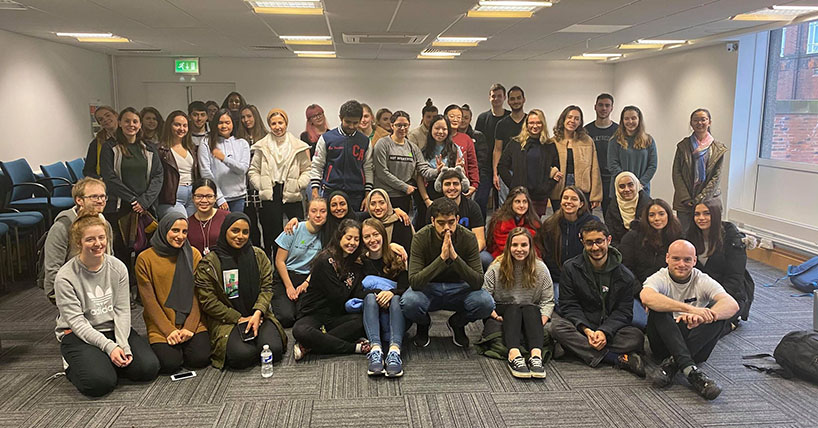 Supporting the forced migration community
N.E.S.T is coordinated by over 70 student volunteers and annually supports 400 student volunteers who work as a team to deliver 13 weekly classes taking place every day to approximately 400 members of the forced migration community from right across the region.
After this initial response to provide online support, phase two was implemented to increase provision and collaborative work with the city. The addition of two extra daily ESOL (English for Speakers of Other Languages) classes brought the weekly lesson count to 24. Alongside the ESOL lessons, N.E.S.T has set up six learner services in addition to the wellbeing calls. The services are aimed to mitigate the isolation faced by the forced migration community and include, E Pen-pal Tuition, N.E.S.T Explore videos and translated children's bed-time stories.
N.E.S.T have been working collaboratively with Newcastle City Council including social services and regional refugee organisations including Action Foundation to establish a comprehensive and integrated support system for the North East.
N.E.S.T is a Newcastle University Students' Union Go Volunteer Project founded by student volunteers with the support of NUSU staff in August 2016. It was launched to answer a call from the local community and council to support a recent arrival of Syrian refugee families with English language learning and community integration, originally students supported one family with a two hour weekly support session.
---
Latest News