COVID-19 supporting the displaced
Supporting the displaced
Published on: 14 May 2020
Our research is responding to the new issues facing marginalised and vulnerable groups during the COVID-19 crisis.
In particular, the pandemic is exacerbating existing everyday difficulties faced by asylum seekers. It's bringing unprecedented and significant economic and social hardship.
A team of Geography researchers at Newcastle University are part of a European project exploring the 'everyday experiences of young refugees and asylum seekers in public space'.
Their work focuses on Newcastle-Gateshead. They're also working on collaborative case studies with partners in Belgium, Germany and the Netherlands.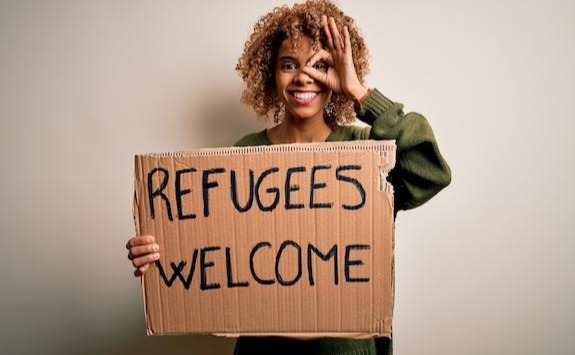 Asylum seekers during the COVID-19 crisis
Recently, however, the team are responding to the escalation of the pandemic. They are providing crucial insight into the impact it is having on these communities.
Asylum seekers in the UK are often dependent on grassroots volunteer groups, charities and religious centres. Many asylum seekers and refugees also play important roles in such groups through volunteering, activism and community engagement work.
The Newcastle team, led by the University's Dean of Social Justice Professor Peter Hopkins, is now focusing on how these voluntary and community sector organisations continue to provide essential frontline services.
Many of these vital and often basic services are responding to the ongoing social distancing guidelines. They are adapting and implementing new forms of care, welfare and education. These include:
online provisions with digital welfare services - conducted via WhatsApp and telephone calls (often three-way with interpreters)
dissemination of key information online
supply and delivery of food to those in need
New and concerning challenges
However, the team, which also includes the University's Dr Matthew Benwell and Dr Robin Finlay, are discovering new and concerning challenges presented by these changes. Some issues arise from the shutdown of the majority of face-to-face provisions.
The team have identified challenges which prohibit users from accessing critical support. These challenges contribute to existing high levels of isolation among asylum seekers. They include:
limited access to WiFi
lack of ownership of smartphones or computers
lack of face-to-face interactions with social/charity services
closure of public social spaces
In light of social distancing guidelines, the shared accommodation status of asylum seekers is also creating anxiety. Some have reported concerns about the possible transmission of the virus in such living arrangements.
This too is also contributing to the deterioration of asylum seekers' mental health. This is due to increasing isolation and lack of psychological or in-person support.
Support for asylum seekers
As before, there is also some difficulty in understanding the (rapidly-changing) government advice.
The team's research has also found that being unable to access mainstream benefits means existing provisions asylum seekers receive are not covering increased need for food shopping, medicine, childcare needs and so on.
The UK government has, thus far, not announced plans to increase support for asylum seekers.
How you can help
The team said: "These are very challenging times for refugees and asylum seekers, but there are some ways in which we can support those in our own region.
"Students can volunteer with North East Solidarity and Teaching (N.E.S.T) and donations can be made by contacting them directly nest.union@ncl.ac.uk.
"Even if you are socially isolating for health reasons or feel restricted because of social distancing measures, you can still help by donating to the hardship fund of the West End Refugee Service, to Newcastle West End Foodbank, or to Peace of Mind's fund for emergency food parcels."
---
Latest News