Dive into the sounds of the sea
Published on: 5 June 2020
Newcastle University technician takes listeners on an audio journey under the waves.
World Oceans Day
The underwater sound worlds of the Northumberland Coast and the Outer Hebrides have been documented to celebrate World Oceans Day on Monday 8 June.

David de la Haye, a music technician in Newcastle University's School of Arts and Cultures, has recorded the sounds of marine life including grey seals, dolphins and noisy snapping shrimps, for An Ocean of Sound, using hydrophones which record sound underwater.

"Human ears are not adapted to hear what's going on underwater and you may be surprised at just how noisy it is down there," he says.

An Ocean of Sound was initially intended as a sound installation at Newcastle's Tyneside Cinema, but after it was cancelled due to the COVID-19 pandemic, David has developed the work into an online audio workbook where anyone can tune in and hear what life underwater sounds like.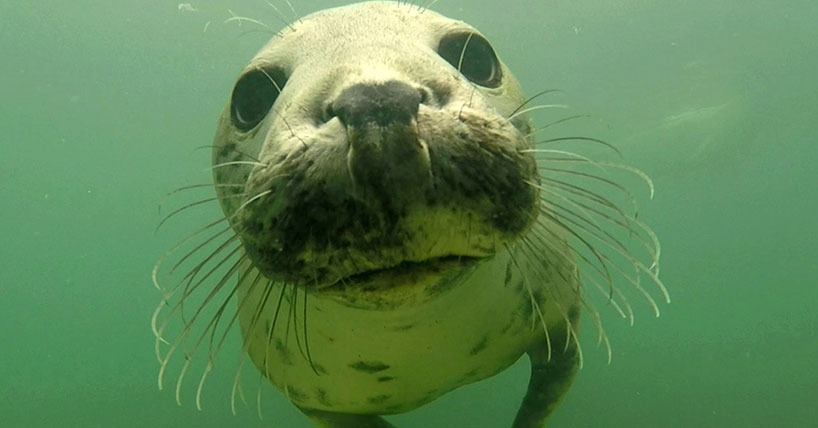 Clapping seals, dolphins and snapping shrimps
During his recording trips to the Hebrides, David managed to record the sound of clapping seals, something captured on film for the first time by Newcastle University researcher Dr Ben Burville.

"Grey seals are very vocal underwater, not dissimilar to how they sound above water," he says. "It's quite remarkable. I was on board Silurian, a research vessel run by the Hebridean Whale and Dolphin Trust, when I recorded them.
"I also kept hearing this loud noise from the seals and I couldn't figure out what it was. The sound was so clear I had to go outside and check I was actually recording them underwater. A few months later I watched the video of the clapping seals and realised that was it."

Part of the audio workbook comes from a livestream from the coast at Blyth, from an acoustic data-buoy deployed as part of the University's USMART project, which has been picking up the sounds of dolphins, possibly related to the increase in sightings of cetaceans in the North East this spring.

The grey seals make up one part of the workbook while another features a composition based on marine environmental sounds to take us on an audio journey through the sea accompanied by dolphins, porpoise and snapping shrimps. "Snapping shrimps must be one of the noisiest creatures on the planet," says David. "Their loud, characteristic clicking is probably not popular with marine scientists as it has a tendency to drown more subtle sounds out. But I think it sounds amazing nonetheless!"
A global celebration
David has worked with Newcastle University's marine engineering experts and the Hebridean Whale and Dolphin Trust on the project who will provide articles and further scientific information.
World Oceans Day is a global celebration of the ocean which helps unite and rally the world to protect and restore it.

You can listen to An Ocean of Sound from 4pm on Monday.
---
Latest News