Inaugural 'virtual recital' for Newcastle University's Aubertin Organ
Published on: 17 July 2020
How do you keep a 21-stop, 10 metre high craftsman-built concert organ in tune during lockdown?
A rare chance
It's a challenge that has resulted in the recording of the first ever virtual recital on Newcastle University's Aubertin organ, which was installed in 2017, and it means that lovers of organ music around the world will have a rare chance to experience it being played.

The performance, by Newcastle University Professor of Early Music, Magnus Williamson, will be available via a YouTube channel on Thursday 23 July as part of the University's Live Concerts at Home programme, which has replaced the regular Live in the King's Hall Lunchtime Concerts series since it was disrupted by Covid-19.

Professor Williamson has been responsible for maintaining the organ since the University's Armstrong Building went into lockdown in March.
"One of the consequences of the lockdown was that the humidifier in the King's Hall had to be switched off for health and safety reasons. In many ways, we were fortunate that the lockdown didn't happen in winter, because when the heating goes on things start to dry out. Even sun shining into the Hall causes a problem because wood and metal expand differently which affect pipework and mechanisms", he explained.

Magnus has been making regular checks on the organ during lockdown, but even so, he has noticed a few notes becoming out of tune.

"To tune the organ, I need to get to reach pipes high up in the organ case, and that means going up a ladder. Normally I would be able to have someone to help me, but with the introduction of social distancing rules, that wasn't possible. I didn't think it was a good idea to balance on a ladder 10 metres high on my own in King's Hall, "says Magnus.
Recording the recital also came with challenges. 'Usually I would have someone sitting right alongside me to turn the pages of the music and help with the organ stops, but again social distancing made that impossible", he said.
The organ, which is first of its kind in the north of England and the first purpose-built concert instrument in Europe to be built by French master craftsman Bernard Aubertin, was tailored to the acoustics and architecture of the King's Hall as part of the full restoration of the University's Armstrong Building. Ironically, it means that the acoustics in the Hall are much better without the presence of an audience.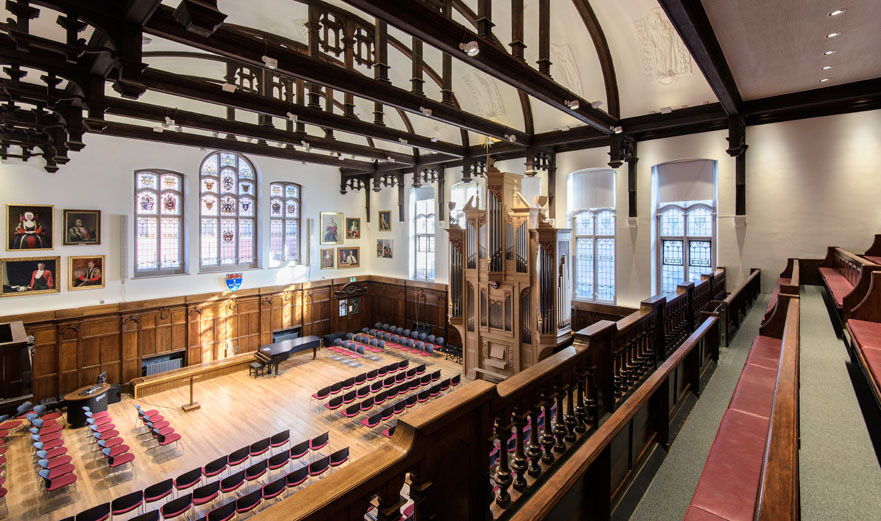 A great success
For his recital, Magnus has chosen a mixed programme by one French and three German composers, including music by two of 'the great keyboard showmen of the Baroque period'.

"Baroque organists tended to be very accomplished on a variety of instruments as well as being able to sing', says Magnus. 'The first piece I am playing is the Great Prelude or Praeludium in E minor by Nicolaus Bruhns. The composer is said to played one section of this piece on the fiddle while accompanying himself on the pedals! I don't play the violin so I shan't be trying that!"
The second item is a section of short pieces by French composer Jean-François Dandrieu from the time of the 'Sun King' Louis XIV.

"Around the beginning of the 18th Century, many French organists composed "organ books" of short pieces which entertained the congregations at church services. It wasn't unusual to find them suddenly playing a piece that evoked hunting in the middle of a long Mass. It was quite normal at the time, but actually these short pieces are perfectly suited to a virtual performance", says Magnus.

Magnus also plans to include pieces by JS Bach and Felix Mendelssohn in his recital. He added: "I really appreciate the opportunity to be part of the Live Concerts at Home programme, which has been a great success so far. Also by far one of the best ways to maintain a pipe organ is to play it and get the air moving through the pipes."
---
Latest News