'First of its kind' clinical trial to help lung cancer patients
Published on: 19 November 2020
A group of scientists have been awarded £900,000 from Cancer Research UK to launch a groundbreaking clinical trial for people with lung cancer.
Lung cancer is the third most common cancer in the UK, with around 47,800 people diagnosed each year. Around 80 - 85% of lung cancers in the UK are non small cell lung cancer (NSCLC), which start in the mucus making gland cells in the lining of the airways.
Approximately 25% of NSCLC lung cancer patients are diagnosed with stage 3 disease, meaning that the cancer has spread from where it started to nearby tissue or lymph nodes.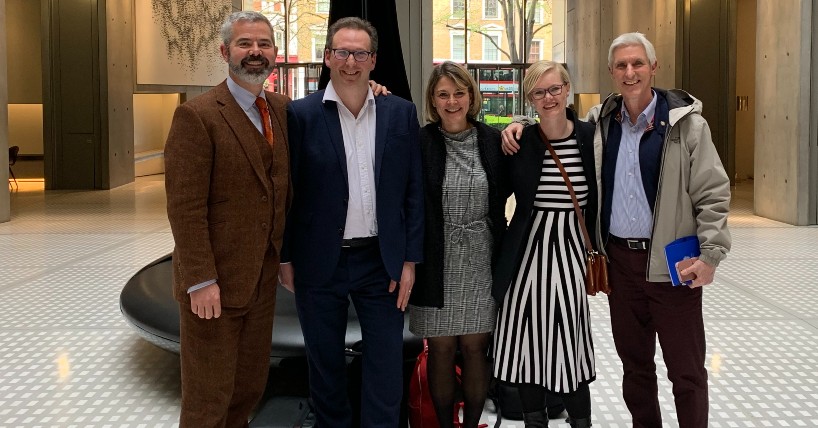 Treatment development
Radiotherapy is an important component of treatment in patients with this stage of NSCLC, and although it can successfully treat about half of these patients, outcomes remain poor for the other half, whose cancers are resistant to radiotherapy.
Using this funding from Cancer Research UK, which was awarded before the pandemic, researchers are hoping that the new drugs will work to make radiotherapy more effective, increase its ability to eradicate tumour cells and potentially offer new hope to lung cancer patients.
A nationwide network will start recruiting patients to the CONCORDE trial in December, led by Chief Investigators Dr Alastair Greystoke at Newcastle University, Professor Corinne Faivre-Finn at The University of Manchester, co-ordinated by Leeds Cancer Research UK Clinical Trials Unit and sponsored by the University of Leeds.
Dr Alastair Greystoke, who is the Chief Investigator of the trial and as such has overall responsibility, called the work "a huge breakthrough in terms of what might be possible for future treatments".
He said: "CONCORDE is a first of its kind multi-arm study that has been four years in the making. This trial will be at the forefront of drug-radiotherapy combination clinical trials and has the potential to transform the care for patients with lung cancer.
"This investment from Cancer Research UK enables this work to happen and drives our ideas forward. Without funding like this we couldn't make advances both in developing new treatments and learning how to reduce side-effects from therapy.
"We are also grateful to the support of AstraZeneca who we have signed agreements to test two of their medicines, with potentially more to follow."
Radiotherapy kills cancer cells by damaging their DNA. Human cells have developed lots of different methods of detecting and repairing damaged DNA, and many cancers are able to use these methods to survive a course of radiotherapy.
In recent years, however, scientists have developed a number of different drugs that interfere with these methods of DNA repair. These drugs are often referred to as 'DNA damage response inhibitors', or DDRi.
Professor Corinne Faivre-Finn, who is the co-Chief Investigator of the trial at The University of Manchester, emphasised "the unmet need to improve outcome of patients with stage 3 NSCLC treated with radiotherapy".
She said: "CONCORDE is a unique and innovative clinical trial designed to study the novel combinations of DDRi drugs and radiotherapy. It has been designed by a multidisciplinary team including oncologists, scientists and statisticians. We will be able to determine the recommended doses and safety profiles of up to five drugs."
Study participants
The CONCORDE study will enrol participants across the country with stage 3 NSCLC who are not suitable for surgery or concurrent chemoradiotherapy (chemotherapy and radiotherapy treatment together).
University of Leeds is the sponsor for the trial and will be responsible for the trial methodology, collection of data and analysis, whist overseeing all the sites involved.
Sarah Brown, Director of Early Phase Trials in the Cancer Division at the Clinical Trials Research Unit, University of Leeds, said: "After such a long time in the planning, we are excited to have signed the agreements with AstraZeneca - and we will shortly start recruiting patients into the trial.
"This study brings together Cancer Research UK, the Clinical and Translational Radiotherapy Research Working Group, academics, scientists and the pharmaceutical industry to address areas of need in lung cancer and radiotherapy research with the aim of slowing the way the disease spreads and improving survival."
Professsor David Sebag-Montefiore, Clinical Director at the Clinical Trials Research Unit in Leeds, added: "CONCORDE is a world leading clinical trial that combines our excellence in clinical trials and radiotherapy research to offer exciting new treatment approaches for patients with lung cancer.
"Its smart design means that we can study the benefit of a range of new treatments that target the tumour DNA and that can be combined with radiotherapy to more effectively treat lung cancer."
Dr Alastair Greystoke added: "Many trials across the country were paused at the peak of the COVID-19 pandemic. Thankfully, many of these trials are getting back up and running, and it's great to be able to get this new trial off the ground after four years work. The first patients will be enrolled before the end of the year."
Press release adapted with thanks to CRUK
---
Latest News