Refugee midwives deliver maternal care with virtual reality
Published on:
Refugee midwives are creating new digital training toolkits using Virtual Reality and smartphones to expand vital maternal care in Kenya's Dadaab refugee camps.
Birthing across borders
Academics at Newcastle University and Kenyatta University, Kenya, are collaborating with the women to develop new ways of training future midwives, who are in short supply.
The camps in Dadaab, eastern Kenya, currently host more than 400,000 refugees, and within a context of increasing global displacement, the experience of birthing across borders is becoming a reality for many. Each year thousands of women give birth in the refugee camps of Dadaab. Many of these women choose to receive maternal care from midwives who understand traditional birthing practices. Despite this demand, there is a severe shortage of midwives in the camps resulting in high neonatal and maternal death rates.
To respond to this problem, the researchers are partnering with Black Rhino, a Virtual Reality (VR) production company based in Nairobi, to develop a set of digital training tools that can be rolled out across Dadaab's refugee camps to support women before, during and after giving birth.
The project works with refugee midwives to develop a multi-faceted training programme. During workshops held in 'Camp Campus' – a university campus at Dadaab – midwives learn how to use VR and design their own immersive VR stories.
The goal of the project is two-fold: in addition to teaching other refugees to become midwives, the training is also designed to build awareness among doctors in the camp, as well as staff from NGOs, to have a greater understanding of the importance of the traditional practices and cultural sensitivities that exist among the refugee communities who live in the camps.
Hodan Ahmed, one midwife involved in the project, said: "Through this project I am learning how to use VR to share my wisdom about midwifery care. As refugee midwives, we know how to make mothers feel comforted and cared for in the camps. You cannot learn this kind of care from a medical textbook - digital stories are an important way to share our knowledge."
Dr Jen Bagelman, the project's PI at Newcastle University, said: "This collaborative project responds to a resounding call we have heard from refugee women living in Dadaab for more midwifery care.
"Many people living in Dadaab have smartphones, so we are making use of this technology alongside low-cost VR to make it as easy as possible for midwives to create training materials. Especially in a Covid context, where face-to-face training is not always possible, VR is proving a valuable tool.
"The refugee midwives are coming up with such creative, engaging and emotionally-powerful ways to use VR - not only to educate future midwives but also medical practitioners about the specific cultural challenges of providing maternal care in camp geographies."
Brian Afande, manager from Black Rhino VR, added: "We are excited to be part of a team that empowers midwives and uses African-based technological expertise to improve maternal care and digital literacies. This work brings to the centre those who are so often forgotten in conversations on maternal and digital health: namely, women without full citizenship rights."
Funded through UK Research and Innovation's Global Challenges Research Fund, the project began in May 2020, and the team has been invited to apply for a second-round of funding to expand the reach of their digital toolkit to other humanitarian contexts in eastern Africa.
Co-PI, Dr Josephine Gitome from Kenyatta University said: "I have worked in Dadaab for over 10 years. I have seen the challenges women face in accessing the intimate maternal care they desire. There is simply not enough training or understanding for essential midwifery care. This project supports midwives in producing and sharing informal midwifery knowledge."
Follow the project team on Twitter @DigitalMaternal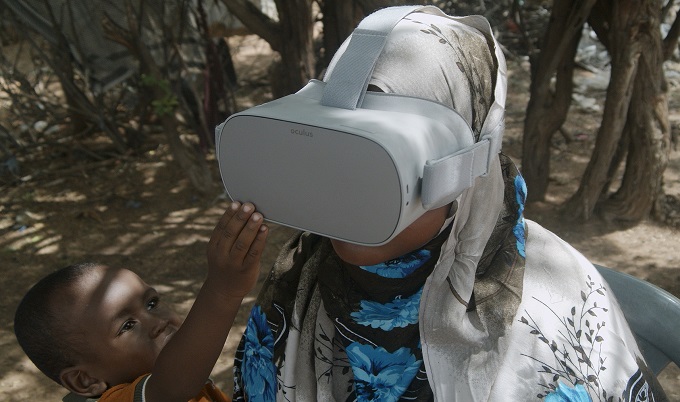 ---
Latest News