VOICES - listening to children and young people living in poverty
Published on: 16 March 2021
A project led by Newcastle University and charity Children North East is finding out what the younger generation thinks about, needs and wants during the Covid-19 pandemic.
Concerns and challenges
Lead researcher Liz Todd, Professor of Educational Inclusion at Newcastle University, explains: "There is a serious knowledge gap in understanding the detailed needs of children and young people in poverty during this pandemic.

"Living in poverty is hard and difficult at any time but the COVID-19 pandemic is throwing up new challenges for them – some of which we might not have even considered yet.

"Often, important decisions about young people's futures are made without asking them, so we want to address that. It is essential that young people's voices are heard by policymakers and organisational leaders."

The VOICES project covers the entire North East region, and is working with 1,000 young people in online focus groups delivered through schools, colleges and community groups. The youngsters are also asked to communicate their experience and needs in a format of their choice, such as writing, drawing or a photo. Some groups will work with artists to make their views heard through videos and comics.
Concerns children have already highlighted have included the safety of family members, not wanting to trouble parents/carers who are under pressure and frustration caused by how their lives have changed. One young person said: "My Mam's disabled, I worry I could hurt her by getting an education - I could bring something home."
Another described how their world has shrunk. "Having to socialise online massively impacts your chance to make those shared experiences, you have nothing to talk about because you've been nowhere."
A child described feeling unable to ask their parent for help with schoolwork. "I don't get it, I can't ask the teacher but I know she's stressed so I said nowt."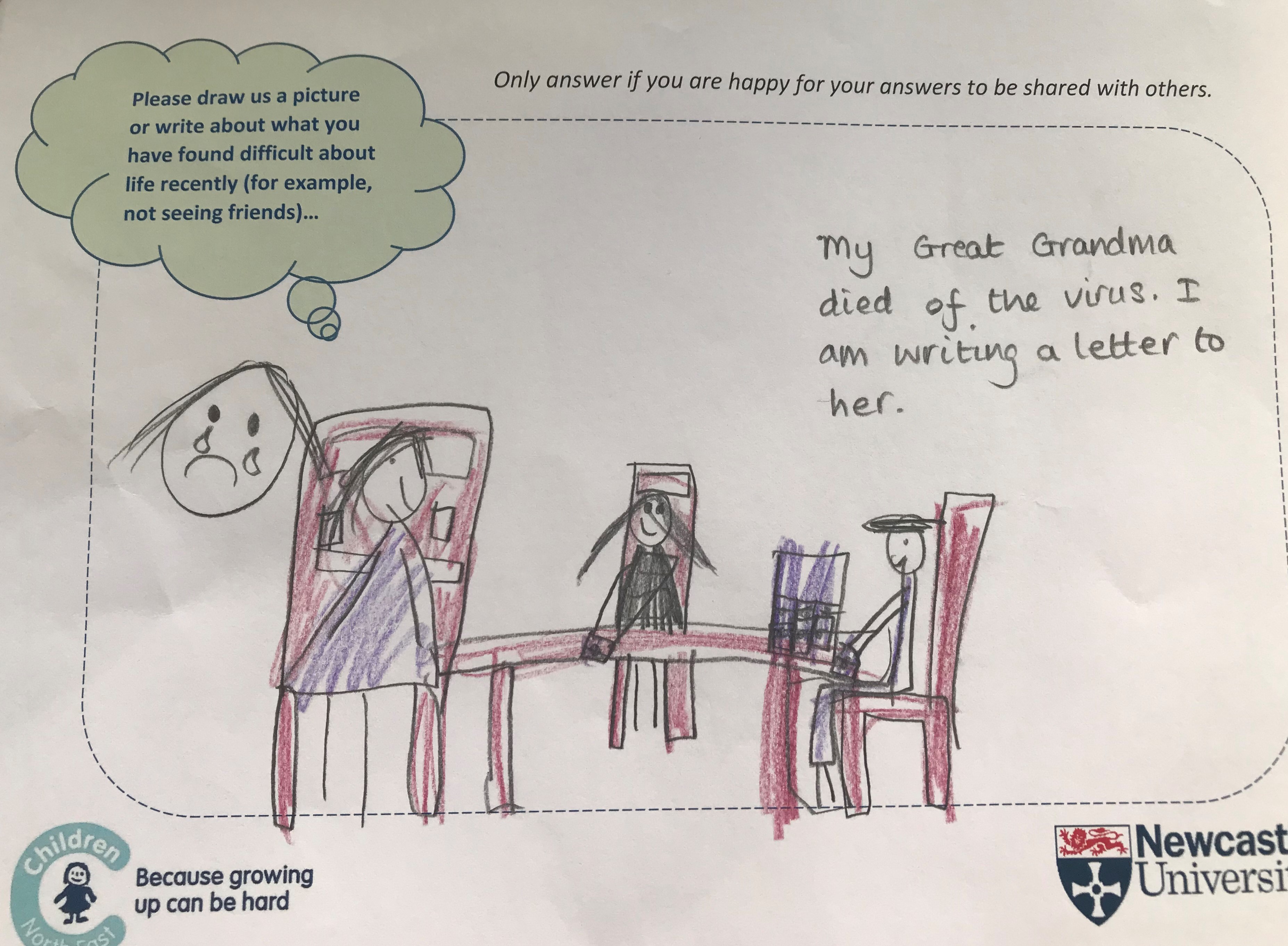 Significant irreversible change
Luke Bramhall, Poverty Proofing and Participation Service Manager, Children North East, said: "Children North East is delighted to be working alongside Newcastle University on amplifying the voice of children and young people across our region. Children's experiences of Covid should inform how we as a region, and in fact as a nation, should respond to the challenges of a post Covid-19 world.

"Some of the early findings indicate that children feel the virus has brought about significant irreversible change to their lives.

"The importance of robust consultation is paramount, providing a unique insight into this unprecedented time and the opportunity to disseminate this across multiple sectors, will lead to practical help for children and young people in the long-term."

Policy leaders and practitioners working with children and young people will also be interviewed to investigate how organisations such as schools, statutory services, councils and youth groups are responding to the young living in poverty.

Researchers will also engage with regional and national leaders and practitioners through webinars so the views of children and young people can influence policy and practice. They will revisit these organisations to investigate if this has changed the way they work. Case studies of practice and policy change will be shared nationally as example of good practice.

The 12 month VOICES project is funded by the Economic and Social Research Council (ESRC), as part of UK Research and Innovation's (UKRI) rapid response to Covid-19.
The VOICES website has more information for schools, colleges or community groups in the North East who would like to get involved. Contact lydia.wysocki@ncl.ac.uk or luke.bramhall@children-ne.org.uk.
---
Latest News