New exhibition brings together art and archaeology at the GNM: Hancock
Published on: 25 August 2022
The Way My Body Feels examines the links between objects, art, and medicine to reflect on the ancient and contemporary body.
Collaboration
The exhibition is a result of a collaboration between artist and researcher Dr Olivia Turner and Classical archaeologist Dr Sally Waite, both from Newcastle University. It documents a series of experimental workshops with students to consider the links between objects, art, and medicine.

A fourth century BCE terracotta votive womb from The Shefton Collection was central to the workshops. This votive offering represents the transaction between dedicant and deity – either in petition or in thanks for healing.

The workshops explored ancient and contemporary notions of the body and embodiment. The participating students used object handling, creative practice, meditation, and selected readings to investigate what it means to learn through the body. The workshops illustrated the transformative role objects can play in education to facilitate radical forms of teaching and learning.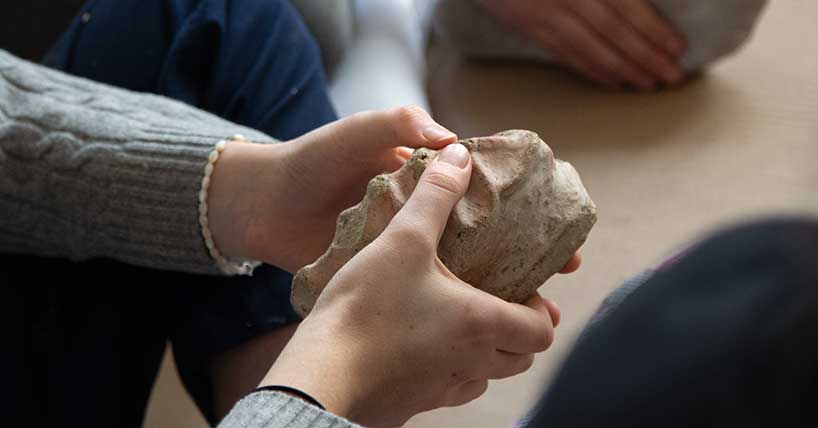 Emotional connections
Dr Olivia Turner, project co-lead, said: "The Way My Body Feels asks for us to listen to our bodies and to recognise the role objects, like votives, can have when advocating for our needs, particularly within the context of medicine.
"Ancient anatomical votives help us to think differently about our bodies and give space for the imagination.
"The strong emotional connections that emerged as part of these workshops are extraordinary and beautiful, captured in the accompanying film, which acts as a visual-audio guide to the exhibition."

Dr Sally Waite, project co-lead, said: "The exhibition shows the Shefton Collection in a completely new way and by doing so makes it relevant to museum audiences today. It reveals some of the benefits to be gained from working across disciplinary boundaries."

Andrew Parkin, Keeper of Archaeology at the Great North Museum: Hancock, said: " I enjoyed seeing this exhibition come together as it is such a departure from what we normally do. The content, with its unusual mix of ancient and replica anatomical votives as well as objects made by workshop participants, reflects the ambitious collaboration between archaeology, fine art and psychology that was at the root of the work celebrated in this exhibition."
Dr Turner and Dr Waite have discussed the exhibition with Dr Brandy Schillace, Editor-in-Chief of Medical Humanities at the BMJ, on the organisation's Medical Humanities Podcast, which you can listen to here.

The Way My Body Feels was supported by Wellcome Trust, Catherine Cookson Foundation, Newcastle University's Institutes for Creative Arts Practice and Humanities Research, and EngageFMS. It is on show in the temporary exhibition space in the Hadrian's Wall Gallery of the Great North Museum: Hancock until 1 January 2023.
---
Latest News