Funding given to boost number of female doctors in cancer research
Published on: 1 October 2019
Newcastle science is set to receive a million pound boost to help transform training for doctors who undertake cancer research – and help retain women scientists in the field.
During a visit to the region's Cancer Research UK Centre, Chief Executive Michelle Mitchell, announced the charity is to award more than £1.2 million to its research centre at Newcastle University to train early-career clinician scientists – doctors who also carry out medical research.
The Clinical Academic Training Programme Award is part of £50.7 million the charity is investing in its centres across the UK to help to transform clinical research training.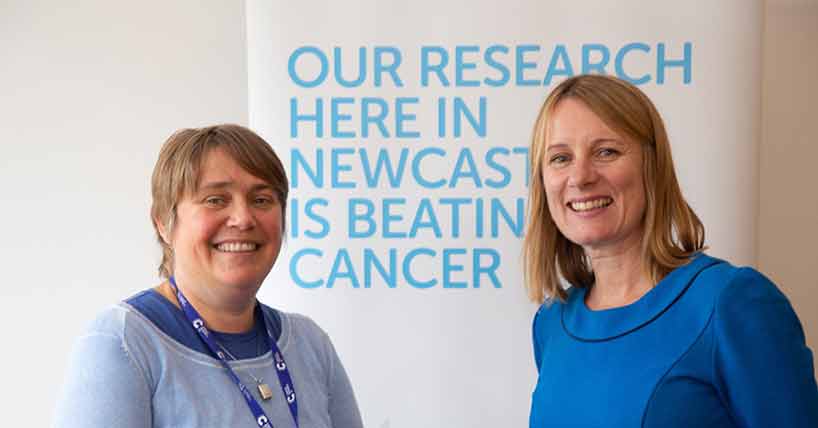 From bench to bedside
Clinician scientists play an essential role in cancer research, helping to bridge the gap between patients and scientific research. Working across both the clinic and the laboratory, they are in a unique position to reflect the needs of people with cancer in the development of new treatments and tests.
But the number of clinician scientists is in decline, particularly in senior posts. Traditionally, the path to becoming a clinician scientist involves doctors taking time out of training to undertake a PhD, before returning to complete their medical training in their chosen specialisation. But many clinicians don't come back to research after qualifying as consultants – particularly women.
Among the possible reasons for the attrition is that around this time of life many women contemplate starting a family.
To help address this, Cancer Research UK's £1.2 million programme in Newcastle will create one Clinical Research Training Fellowship (PhD for clinicians) at Newcastle University per year for the next five years.
Michelle Mitchell, Cancer Research UK's Chief Executive, said: "Training early-career clinician scientists is a vital part of our work to save lives through research.
"Clinician scientists have a very important role to play by bringing their knowledge and experience of treating people with cancer to scientific research.
"If we're to bring forward the day when all cancers are cured, we need all our doctors and scientists to be able to reach their full potential. That's why we are taking action to introduce more flexible training options for early-career clinician scientists, as well as better support and mentorship.
"We want to encourage more women clinicians to get involved in cancer research and create powerful role models that will help attract and retain more clinician scientists in the future."
Building science network
As well as more flexible training options, the programme is designed to take a more continuous approach to mentoring clinician scientists both during and after their PhD, when support to apply for follow-on funding to continue their research is important.
There will also be a focus on building a stronger clinician scientist network.
Professor Ruth Plummer, Centre Lead at the Cancer Research UK Newcastle Centre, and ECMC lead at the Northern Institute for Cancer Research, Newcastle University, said: "It is very exciting that we have this opportunity to join the CRUK Clinical Academic Training scheme and help develop the next generation of clinical researchers.
"Both Dr Yvette Drew and I have been supported in the past by Newcastle University and CRUK, including being enabled to work part-time and become clinical academics. We are delighted to be able to now support the next generation of clinical researchers to do the same."
Press release courtesy of Cancer Research UK
---
Latest News