Trick or Treat for the hungry
Hitting the streets for the hungry on Halloween
Published on: 29 October 2019
Newcastle University students will be out 'trick or treating' this week – but they won't be asking for sweets.
Unlike the millions of children who will be knocking on doors this Halloween to satisfy their annual sugar fix, the Newcastle students are out collecting food to donate to the local foodbank.
Organised by Adam Kinneen, Matt Rodrick and Luke Barrett, around 50 students will be dressed up and hitting the streets of Jesmond and Heaton to collect any canned or non-perishable goods that people can spare.
And on Friday, the group will donate their 'treats' to the Newcastle East Foodbank, in Heaton, which is part of the Trussell Trust network.
Luke Barrett said:
"More food gets wasted on Halloween than any other day of the year other than Christmas Day – in fact, it's about 18,000 tonnes on that one day every year.
"That's really shocking when there are people with nothing to eat. We wanted to use the night to highlight this waste and do something positive and trick-or-treating for the foodbanks seemed like a good opportunity."
A collection point has been set up in the Students' Union for donations for the Trussell Trust, which students and staff can use to support this initiative.
The students are also being supported by Tesco in Gateshead and for the next week there will be a trolley at the counters where people can donate to foodbank.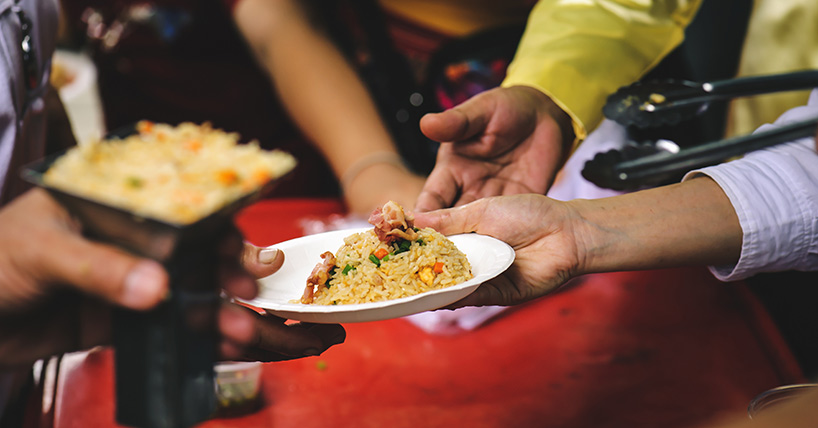 Caring for the Community
Newcastle University students are well known for their volunteer work. Supported by the Students' Unions campaigns, student societies and Go Volunteer team, every year hundreds of students take part in a range of volunteering activities.
This includes the Leave Newcastle Happy campaign, a two week recycling and tidy up campaign which last year raised £250,000 for the British Heart Foundation from a total of 18,000 bags which were collected by students. The campaign helped divert 143 tonnes of waste from the landfill.
RAG, or the Raising and Giving Society, is Newcastle University SU's largest fundraising society. Last year they raised over £100,000 for a range of local, national and international charities, alongside recruiting over 500 volunteers for both local and international projects.
North East Solidarity and Teaching (N.E.S.T) is a student run NUSU Go Volunteer project aiming to educate and empower the refugee community in the North East through the provision of a holistic program of English Language tuition and community integration activities. With a family of over 400 student volunteers, N.E.S.T supports approximately 250 members of the regions forced migration community and delivers 20-25 hours of free services per week including sports, arts, trips and childcare support
And the Newcastle University SU's Into Schools project works with North East schools to give more young people the opportunity to pursue further and higher education regardless of their social background, age, gender, disability status or ethnicity. These include delivering fun and interactive workshops and tutoring in a local school.
Matthew Rodrick, one of the organisers of the alternative Halloween collection and also President of the Helping our Homeless Society adds:
"There's a real enthusiasm from Newcastle students to get involved and give something back to the city which we've all adopted as our second home.
"We just wanted to take the traditional trick or treating which is all about asking for sweets for yourself and turn it into something really positive that would benefit those who really need help."
---
Latest News