First patient receives NHS stem cell treatment for rare eye condition
Published on: 19 December 2019
A Newcastle University expert has become the first in the country to provide sight-saving NHS stem cell treatment to patients.
The breakthrough procedure was carried out by Professor Francisco Figueiredo, Honorary Clinical Professor at Newcastle University, and given to a young man whose left eye had been damaged by chemical or thermal eye burns - known as limbal stem cell deficiency (LSCD).
The procedure involves first taking a stem cell biopsy of the right good contra-lateral eye, which needs at least 1mm to 2mm squared of normal healthy tissue, before stem cells are cultured to create a new layer of healthy tissue which is then implanted back into the damaged eye by the surgeon, helping it to heal and repair the damaged corneal surface, restoring the patient's sight.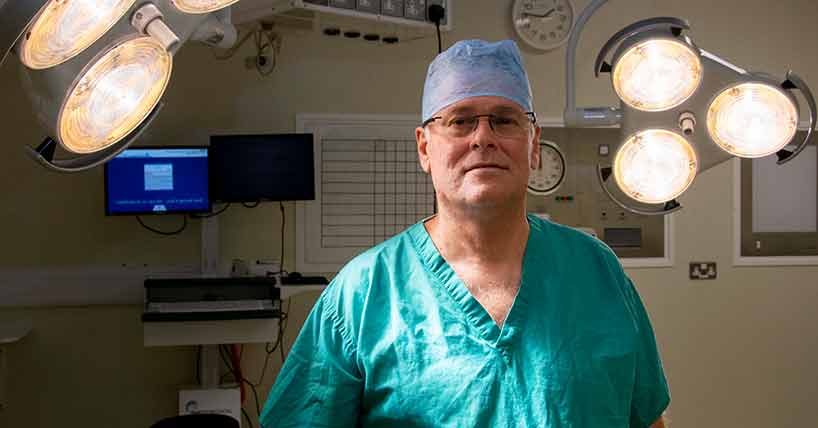 Restoring sight
Professor Figueiredo, a Consultant ophthalmologist at Newcastle Hospitals, said: "Newcastle is a leading centre with an international reputation in limbal stem cell transplantation, and our significant scientific research and clinical experience in limbal stem cell deficiency since 2003.
"This operation was the first of a series that may benefit a number of blind patients over the next few years, not only from Newcastle but from across the whole of the UK, helping to restore their sight and comfort."
LSCD is a seriously debilitating condition affecting one or both eyes, most commonly from chemical or physical ocular burns in young men.
The treatment was given NICE approval in 2017 and Newcastle Hospitals is the first NHS Trust to provide this treatment to its patients.
---
Latest News