Archaeologist digs into the past in new presenting role
Published on: 3 April 2020
An archaeology expert from Newcastle University will be taking centre stage when The Great British Dig is broadcast to the nation.
History in our back gardens
Dr Chloe Duckworth is one of three archaeologist presenters joining host Hugh Dennis on the programme, which will be broadcast next week on More 4.
The programme is about how communities can get involved in archaeology and encourages them to explore their own local history. Looking at one particular street in Maidstone, i Kent, it brings residents together with a team of professional archaeologists and volunteers to reveal the history in their back gardens.
During the programme, the team search for evidence related to a Roman bathhouse that was previously excavated at the end of the street, but actually end up finding remains from a whole range of past time periods, including Roman, medieval, and Victorian.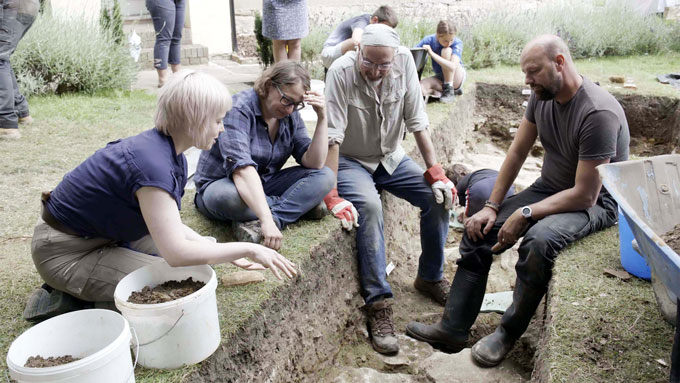 Shared heritage
Dr Duckworth was contacted by the programme's producers after they saw her popular YouTube channel, ArchaeoDuck, where she posts fun films about archaeology and the various techniques archaeologists use to understand the past.
"Making the programme was brilliant. It was really fun to work with the residents of Maidstone" explains Dr Duckworth. "The sense of wonder these families had when they realised the layers of history under their own back gardens was incredible, and I'm sure we have inspired at least a few of the kids who took part to become archaeologists in the future!"
"I really hope this programme inspires people to learn about the history all around them. Although archaeology is a skilled profession conducted by highly qualified individuals, it is also about safeguarding our cultural heritage - and that belongs to all of us.
"Archaeology can bring communities together, and cultural heritage is better protected when everybody feels invested in it."
The Great British Dig: History in your back garden will be shown at 9pm on Thursday, 9 April on More 4.
---
Latest News