Medical students campus safety
Medical students staying safe
Published on: 14 October 2020
Medical students know all too well the importance of staying safe during the pandemic and those in the later years have been working safely on clinical placements for weeks.
The nature of some teaching at the Medical School can only be delivered by students being 'present in person', and partly as a result of work led by our University 'essential worker status' has been secured for medical and other health care students so that we can continue with teaching and placements safely.
Risk assessments have been undertaken on all students and each has been provided with and trained to use the PPE that is required for the environment in which they are placed.
Professor Steve Jones, Head of the School of Medical Education, said: "A huge amount of work has been undertaken over the summer to allow the safe return of medical student teaching. This is a priority to ensure that across the UK around 7,000 new doctors are graduated and ready to start work in the NHS in August 2021.
"We know much more about Covid-19 now than when teaching was suspended in March. Placements for year 3, 4 and 5 students began in early September and we are hugely grateful to our clinical partners in all of the NHS Trusts and around 200 general practices across the North East for working with us to continue placements."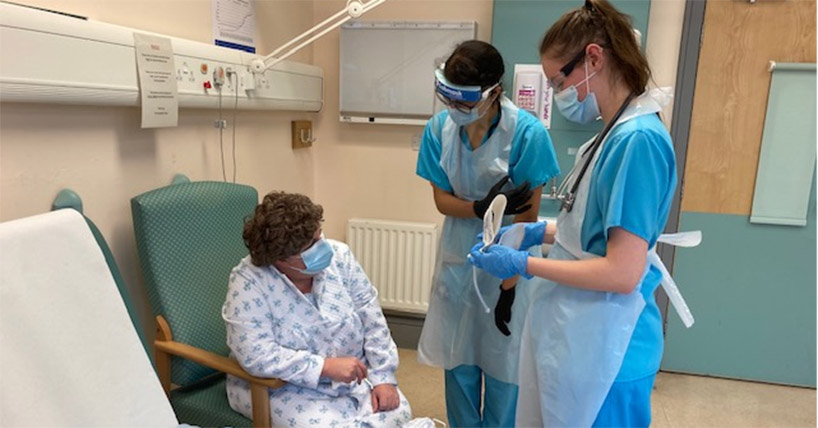 Safety measures in place
At the start of the academic year, students were reminded of the importance of a medical professional's responsibility to act professionally to protect patients, NHS staff, University staff and other students.
During their induction, they were told of the necessity to adhere to Government and University guidance, not only in relation to working in clinical practice but also in relation to general rules about social distancing and staying safe.
In the medical school we continue to train first and second year students in clinical skills, such as basic physical examinations, so that they are prepared and safe to commence clinical placements in the last three years of the programme.
These clinical skills training sessions have been very carefully risk assessed and include students and staff wearing the same PPE as colleagues working in the NHS and which we know from research carried out in the Newcastle Hospitals is effective.
The University has been shaping the national guidelines on how medical students' clinical placements should continue to supply a workforce for the NHS next year. Professor Jones chairs the national Medical Schools Council's clinical placement group that has produced the guidance for all UK medical schools regarding being Covid-19 secure.
---
Latest News