Wildie and Lalla
Published on: 19 April 2021
The story of Shetland author Jessie M.E Saxby and her daughter Lalla, is to be told in a new short film written and sound tracked by Newcastle University's Catriona Macdonald.
Author and folklorist
The short film is based on archival sources from Shetland Archive, Lerwick and National Trust for Scotland, the latter being custodians of Saxby's childhood home.

The film, made with Shetland filmmaker Shona Main, explores the life of the author and folklorist Jessie M.E. Saxby, who was born in Unst, in the Shetland (Islands), in 1842. Jessie wrote 47 books and her work was varied, writing novels, romantic fiction, folklore, boys' adventure stories and poetry.

'Wildie' was the pet name given to Jessie by her father Laurence Edmondston, when she grew up in the house and gardens of Halligarth, Baltasound, Unst. Jessie moved away to the Scottish mainland, for the benefit of her husband Dr Henry Saxby's health, and after his early and untimely death, she lived in Edinburgh with her surviving children, for most of her adult life.
However, before she left Unst, Jessie experienced, like many other women of the period the loss of a much-loved child: their only daughter Laura, 'Lalla'. Extraordinarily, unlike many other mothers of this time Saxby was able to articulate her own grief and loss via her own creative practice, writing an intimate portrayal of her child's death in her 1875 book The One Wee Lassie.

Jessie returned to Unst in 1898, to her final home Wulvers Hool which was built in direct view of Halligarth and Lalla's resting place.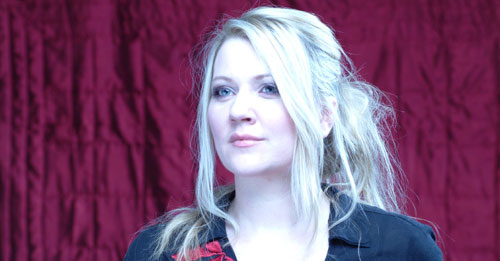 An important female figure
Catriona, a Senior Lecturer in Newcastle University's International Centre for Music Studies, is a world-renowned Shetland fiddler, and is part of the folk super group String Sisters. She said: "This film investigates ideas of belonging, memory, family, creativity and loss. Jessie Saxby's final written works foreground her lifelong interest in Shetland folklore and cultural heritage, and I hope that this new creative work based on themes of her lived experiences will further elevate her as an important female figure in the cultural history of our islands."

Wildie and Lalla will premiere online on Wednesday 21 April as part of Shetland Arts' Refresh Now programme, which brings together music, theatre and visual arts. It is funded through Creative Scotland's Performing Venues Relief Fund.

This film will be available online from Wednesday 21 April at 10am.

The work will be premiered across Shetland Arts YouTube, Facebook and Instagram TV channels, and will be available to view online until Monday 31 May.
---
Latest News