Dame Margaret Barbour Building opening
Newcastle University's newest campus building officially opens
Published on: 21 May 2021
The business pioneer and philanthropist, Dame Margaret Barbour, has officially opened the University's newest education facility which is named after her.
Performing the opening at a special event, guests were offered a guided tour of the new, 9,000m2, six-storey building, including study spaces and the lecture theatre for 300 students.
The Dame Margaret Barbour Building provides education facilities available for use by the whole University, along with specialist spaces for Sport and Exercise Science, Human Nutrition and Dietetics, the School of Psychology and the School of Medical Education.
Recent changes in Covid regulations meant guests were able to see for the first time inside the building which also features seminar rooms, teaching kitchen and sensory suite, clinical suites, and academic and postgraduate offices.
Dame Margaret Barbour, Chair of the 5th generation, worldwide brand, established The Barbour Foundation in 1988 to help charitable causes, cultural and community projects primarily in the North East, the home of the business.
The Barbour Foundation has supported Newcastle University since 2012. Its generous gifts, totalling over £5m, have supported academic work into vital areas, including childhood cancer, dementia, cancer prevention, age-related chronic diseases, infection and immunology, human genetics and neuroscience.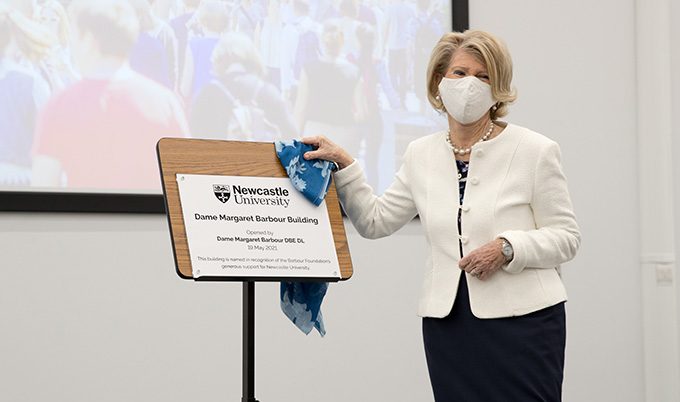 Exceptional and enduring support
Dame Margaret said: "I feel very honoured to be involved with this incredible programme and have this wonderful building named after me. I am very overwhelmed at the facilities that have been provided for the students and their lecturers. I have always been impressed with the outstanding work that goes on at the University and am extremely impressed with what has been achieved. I do hope that this will give enormous support to all students in their individual studies to enhance their careers and I hope I will be invited back from time to time to see how everyone is doing!"
Vice-Chancellor and President of Newcastle University, Professor Chris Day, said: "Dame Margaret and the Barbour Foundation are true friends of the University and the city of Newcastle. I wholeheartedly thank her for her exceptional and enduring support, not only to the University but also to causes across the North East of England.
"I am proud to see this generosity recognised in the naming of our new Dame Margaret Barbour Building which will be used by thousands of students who will go on to become the scientists, educators and business leaders of the future.
"We look forward to welcoming our students to the state-of-the-art study spaces in the Dame Margaret Barbour Building."
Professor Debra Bevitt, Head of School of Biomedical, Nutritional and Sport Sciences, said: "We were delighted to welcome Dame Margaret to officially open this fantastic new teaching facility. Now that COVID regulations are easing it is really exciting to see students and staff beginning to make use of all areas of the building, including social study spaces and specialist teaching facilities such as the food handling suite. These facilities will greatly enhance the experience of our current students and those who join us in the future, and today's official opening is cause for real celebration."
The project was completed by Robertson Construction North under strict COVID-19 Safe operating Procedures to protect all involved in the project.
Pictured (from left): Professor Debbie Bevitt, Head of School of Biomedical, Nutritional and Sport Sciences; Professor Gwyneth Doherty-Sneddon, Head of the School of Psychology; Helen Barbour, Vice-Chair of J. Barbour and Sons; Iain Garfield, Director of Estate Support Service; Professor David Burn, Pro-Vice-Chancellor for the Faculty of Medical Sciences; Dame Margaret Barbour, Chairman of J Barbour and Sons; Professor Anya Hurlbert, Dean of Advancement; Professor Chris Day, Vice-Chancellor and President.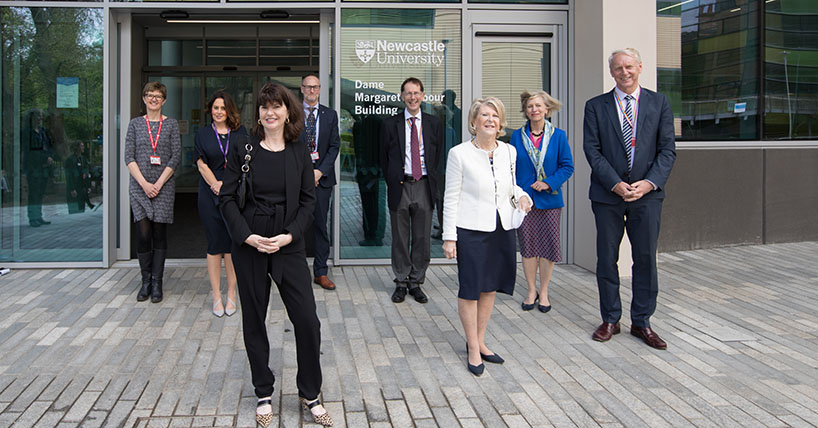 ---
Latest News