Older people retain independence
Helping older people live in their own homes for longer
Published on: 10 June 2021
A project to help older people retain their independence and stay connected with their families has received support from UKRI Innovate UK Healthy Ageing Trailblazers.
One of seven awards announced today by UKRI, Homes for Living is a collaboration between Newcastle University, E.ON, and Invisible Creations® to upgrade the homes of older people so that they can stay in them for longer.
Receiving £5.9 million for three years, the project builds on the work of E.ON's Warm Homes Fund, supplemented by products and services, like safe kitchens and bathrooms, that support active healthy ageing.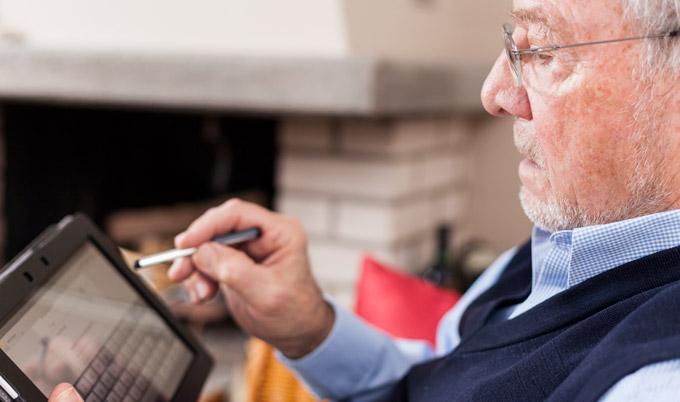 Making most of longer life
Led by Newcastle University's Dr Andrew Kingston and Professor Peter Gore, the project will help upgrade older people's homes.
Dr Kingston said: "A significant portion of the population is living for longer. Our goal is to help people make the most of that longer life in the place people consider 'home'.
"This project places aspiration at its heart and, through a series co-created solutions, helps people address ageing challenges on multiple levels in ways that are meaningful to them.
"We do this by improving living standards, combined with novel technological installations that remove stigma and negative stereotypes of ageing. We aim to develop living environments for people that are adaptable and intergenerational."
The use of web-based technology will provide self-help expert advice and a range of features which will help people stay connected with friends and families.
This is done through tailored advice to people based on how well they can carry out daily actions such as walking, shopping and self-care activities like washing and being able to dress.
Kitchen installations
The kitchen installations are designed to work for 'everybody'. Aesthetically pleasing adaptations are designed for any generation and combined with smart care at your fingertips so a home can continue to be a place of comfort and support throughout a person's life.
This element of the project is being led by the National Innovation Centre for Ageing (NICA) with experts, Professor Gore, Newcastle University and Johnny Grey, Johnny Grey Studios.
While the project has social purpose at its heart to support those who need help most, it aims to show that healthy ageing can also be financially self-funding in the longer term.
The project is supported by the National Innovation Centre for Ageing at Newcastle University and VOICE, whose members provide insights, experience and ideas.
Initially the project will be working with five local authorities the Midlands and local charities - Age UK in particular.
Anyone interested in learning more about the project should contact: andrew.kingston@newcastle.ac.uk
---
Latest News