Animated films show how to catch a bus not a bug this winter
Published on: 30 November 2021
Whilst car journeys in the UK have returned to pre-pandemic levels, the number of passengers taking the bus or train journeys remains lower than before the first lockdown was brought in.
Back on board
To try to address this, researchers have been studying how to get people safely back on board and produced four short films to show what they've found and how people can travel with more confidence.

In the animated films, called 'You're never alone on the bus', windows, seats and stop-buttons become characters that chat about what humans can do to safely share the bus with other passengers as well as friendly and unfriendly bugs, viruses and germs.
Buses help many people get to work, college and to access shops, leisure facilities and family members, but these have been more anxious times for many.
Dr Charlotte Veal, Lecturer in Landscape Architecture at Newcastle University, is a co-investigator on the project.
She says: "As public health guidance changes in response to the latest variant, Omicron, these playful videos articulate the collective benefit of adopting simple and effective public health measures in enclosed spaces and remind us of the ever-changing microbial landscape that always surrounds us."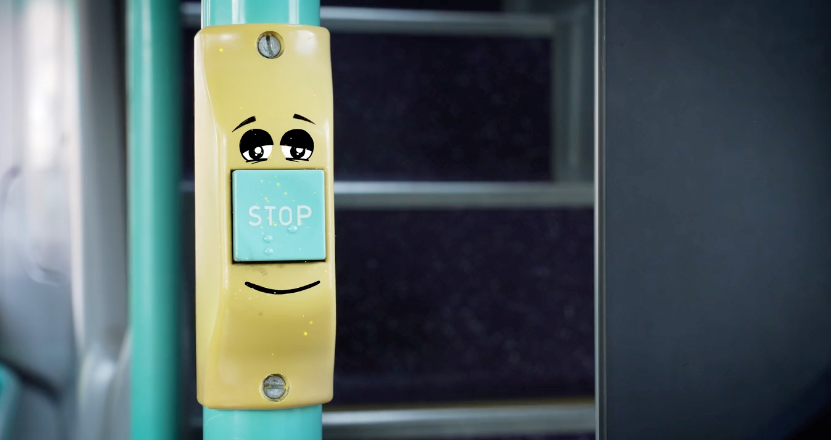 Reducing risk
The team of researchers from Southampton and Newcastle universities, have been speaking to bus passengers, bus cleaners and bus drivers who were on the buses during the Covid-19 pandemic. The team has found out how people understand potential risks and how behaviours on the bus can increase or lessen the risks.
"With a winter rise in COVID, colds, flus and norovirus, we all need to understand what to do to reduce our risk of catching a virus on the bus and other busy settings," explained Dr Sandra Wilks from the University of Southampton's School of Health Sciences.
Dr Wilks continued, "High touchpoint areas, such as grab rails and stop signs, have low numbers of microbes after cleaning, showing how important this is in preventing surface transmission. There will always be microbes on the bus, as there are in every public and domestic space, but by using cleaning and hand hygiene we can reduce any risk."
Four things
The team worked in partnership with bus operators and passenger community groups to identify four important things people should know before getting on the bus:
1. Fresh air shows you care. We know that COVID and other infections spread through the air we breathe, so it's important to keep bus windows open, even if it's cold. Added to this, as buses stop and open their doors regularly, the air inside changes far more often than in enclosed, unventilated spaces.

2. Use your head to stop the spread. In a busy shared space like the bus (or office, or café), simple measures like mask wearing are an effective way of protecting ourselves and each other, as masks catch the droplets in our breath.

3. Leave some space just in case. If a service is less busy, giving other people space not only reduces the risk of passing bugs around (in coughs, sneezes and breath), but helps some people feel less anxious around strangers.

4. Try to keep your microbes to yourself. The pandemic has made us more aware of cleanliness and hygiene. The truth is that there are trillions of bacteria and viruses on and in each of us, and most of them are harmless. Hand sanitising before and after boarding the bus can reduce the spread via surfaces we touch.
Whilst buses are being cleaned more frequently than before the pandemic, the researchers found that face mask and hand sanitiser usage has dropped since the summer of 2021, yet they remain simple and effective measures that protect us and protect other people who might be more at risk.
You can watch all the films here.
Press release adapted with thanks to the University of Southampton
---
Latest News