University initiatives recognised with top sustainability awards
Published on: 19 November 2021
Two climate change and sustainability initiatives were celebrated at this year's Green Gown awards ceremony.
The joint project with Cap-a-Pie, Climate Change Catastrophe!, won the top prize in the Benefitting Society category, while Climate Action at Newcastle University: Our roadmap to change, was highly commended in the 2030 Climate Action category.
The Green Gown Awards UK & Ireland's virtual Awards Ceremony celebrated the inspirational work and projects of 90 Finalists in 14 different categories. This year's Finalists represented over 862,000 students and 156,000 staff.
Screened at COP26 in Glasgow, Climate Change Catastrophe! is a show about climate change, made by young people, for grown-ups. Primary school children worked with University climate scientists and engineers, singer-songwriter Katie Doherty and Cap-a-Pie theatre company on a new show about one of the biggest challenges of our time – climate change.
Created in partnership with the School of Engineering, the show offers inspiring perspectives on climate change from primary school children, with help from climate scientists and engineers, and will be performed by professional actors for an audience of all ages.
Dr Alistair Ford of Newcastle University's School of Engineering has worked on climate change research for over a decade, particularly looking at how our cities might change to reduce their carbon footprint and make themselves more resilient to extreme weather.
He said: "I'm incredibly proud that Newcastle University and Cap-a-Pie have won this award, and particularly happy that it's in the 'Benefitting Society' category. It's really important that the research we do here at the University has impacts out in the local community, so it's great that the judges at the Green Gown Awards recognised our collaboration with local primary school children. It's been a privilege to work alongside Cap-a-Pie, and we couldn't have done it without the enthusiasm and dedication of colleagues across the University and School of Engineering."
The Climate Change Catastrophe! films are available to watch until 28 November.
Cap-a-Pie Artistic Director, Brad McCormick, said: "Cap-a-Pie are delighted to have been recognised by this year's Green Gown Awards. We are so pleased that the ideas, thoughts and opinions of young people about the future of the environment made such an impact on the judges. We would also like to thank our collaborators from the School of Engineering for bringing their cutting-edge science into the classroom and engaging so many young people in the fight against climate change."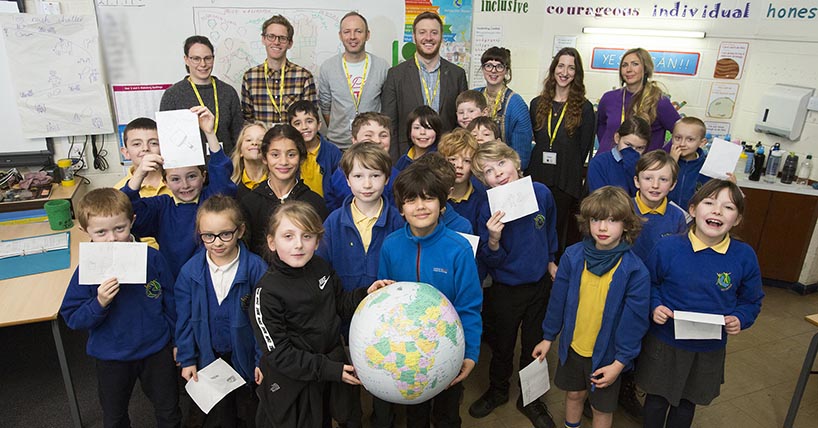 Newcastle University's road to Net Zero
The 2030 Climate Action category commendation recognises the University's Climate Action Plan (CAP), which sets an ambitious target for net-zero carbon reductions by 2030. The CAP has been developed working with colleagues and students from across the University, and also key partners in the city.
The plan summarises the work carried out to date in reducing emissions, the actions required to meet net zero by 2030, our aspirational Scope 3 carbon targets, and the part to be played by all members of the University community.
Action plans are described for each of the focus areas of the 10-point plan: 1. Energy origin and procurement, 2. Energy use, 3. Capital goods, 4. Purchased goods and services, 5. Travel, 6. Investments, 7.Circular economy, 8. Research and education, 9. Leadership and governance, 10. Engagement.
Professor Julie Sanders, Deputy Vice-Chancellor and Provost, Newcastle University, said: "I am thrilled to see such inspirational team efforts recognised in the Green Gown awards this year. It is a recognition of commitment and creativity on the part of students and colleagues, and of partnership working at its very best, not least with Cap a Pie and the young people of our region. It makes me hugely hopeful in what can sometimes seem the overwhelming context of the climate and ecological emergency."
Established in 2004, the Green Gown Awards UK and Ireland recognise the exceptional sustainability initiatives being undertaken by universities, colleges and the learning and skills sectors across the UK and Ireland as the education sector leads a path to efficiency, employability and better quality of life for everyone.
Find out more about Newcastle University's sustainability awards and rankings.
---
Latest News