Newcastle University welcomes back Olympic Blue Stars
Published on: 19 November 2021
Newcastle University celebrated the success of three alumni who were part of Team GB rowing at Tokyo 2020.
Rowers Emily Ford, James Rudkin and Tom Ford attended a special event hosted by the University's Vice-Chancellor and President, Professor Chris Day, the trio's University coaches and Kate O'Sullivan, Deputy Chair of British Rowing. The graduates spent the day at Newcastle University and met new and former members of Newcastle University Boat Club, known as the Blue Stars.
Tom and James were part of the men's eight crew who delivered a strong performance to win bronze in the final race of the Tokyo 2020 regatta, while Emily was in the women's eight rowing crew.
Emily said: "The experience at the Olympic Games was amazing and nothing I can compare it to. Without the support of the University we couldn't have got to where we got to. Following the programme and having our coaches, Angelo Savarino and Alex Leigh, was so good and got me to compete at Under 23 level and took me to the next step."
James added: "Tokyo was an incredible experience and it was quite fun. As a crew, we had a special bond."
Tom discussed how training with his sister Emily helped the duo prepare for the Games during the Covid-19 lockdown and subsequent delay of Tokyo 2020. He said: "We had our selection for Tokyo 2020 a day before the first lockdown. However, we were in a fortunate position, and we could support and push each other."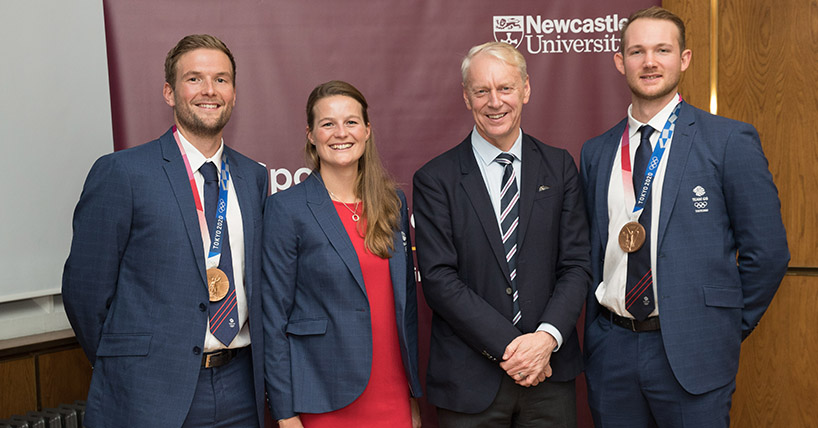 Inspiring the new generation of Blue Stars
During their visit, the rowers were given a tour of the new Sports Centre and Boat Club facility in Newburn.
Emily said: "The new Sports Centre is phenomenal. It's good for all student athletes, not just the rowers, and it has a much bigger gym for weights training. It also has different labs that students have access to and the set up looks really good."
Angelo Savarino, Head of Rowing, Newcastle University Boat Club, said: "We are incredibly proud of Emily, James and Tom. It would be an understatement to say that their success has had a significant impact on the Boat Club and the University's long tradition of rowing excellence."
Professor Chris Day, Vice-Chancellor and President, added: "On behalf of the entire University, I congratulate Emily, Tom and James for their outstanding achievement. They have made the University community proud and we wish them every success in their sporting career. Their success is a ringing endorsement of all the hard work and the commitment of our student athletes and staff who support them."
Emily, Tom and James are now part of a global network of more than 240,000 Newcastle University alumni. Tom said: "We keep in touch with former classmates and crew members. We have made friends for life, and we are always going to be Blue Stars."
Newcastle University was represented by four athletes in Tokyo. The other Olympian was Harry Glover. Harry just missed out on a Bronze medal when the GB Rugby Sevens team lost out narrowly to Argentina.
The Olympic trio are now gearing up for the 2022 World Championships in the Czech Republic.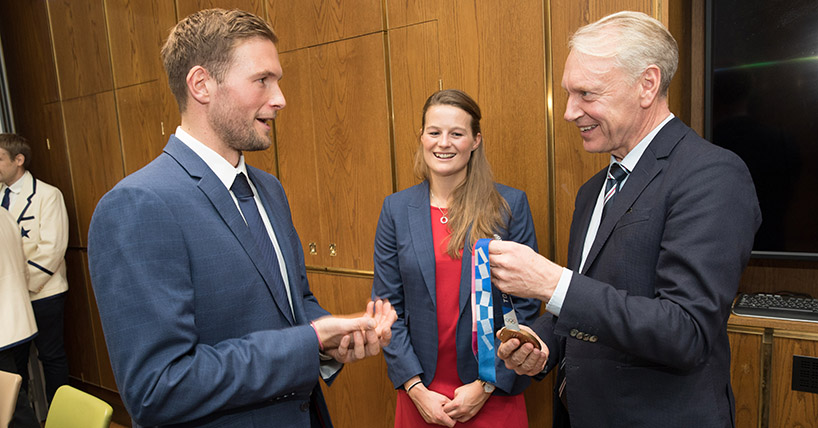 ---
Latest News