Student success at the Royal Television Society awards
Published on: 22 March 2022
The documentary Ordinary Life won best Regional Student Award: Factual Film at the RTS North East and Borders Awards.
First person documentary
The documentary Ordinary Life won best Regional Student Award: Factual Film at the RTS North East and Borders Awards.

The film, made by Katharine Beavers, Luke Suddes, Harrison So and Dalene Low, as their dissertation in the final year of their Film Practices degree, has now been entered into the same category for the national RTS awards in London later this year.

Ordinary Life is a first-person documentary that chronicles the adversities faced by a mother and uncle while growing up. It quietly observes their sibling bond through an intimate poetic-observational portrait of their present life. The film aims to challenge the audience to view hardship in a new light and proves that trauma doesn't define who you are now.
Katharine said: "None of us had been to any kind of formal event since COVID hit the UK, and my crew felt a real sense of honour that we were included within this group of talented and hard-working media professionals."
"We had such a lovely time and winning the award was the best news we could have hoped for. We feel very grateful to have been invited and to all of those who helped us achieve this and are excited for the RTS National Awards."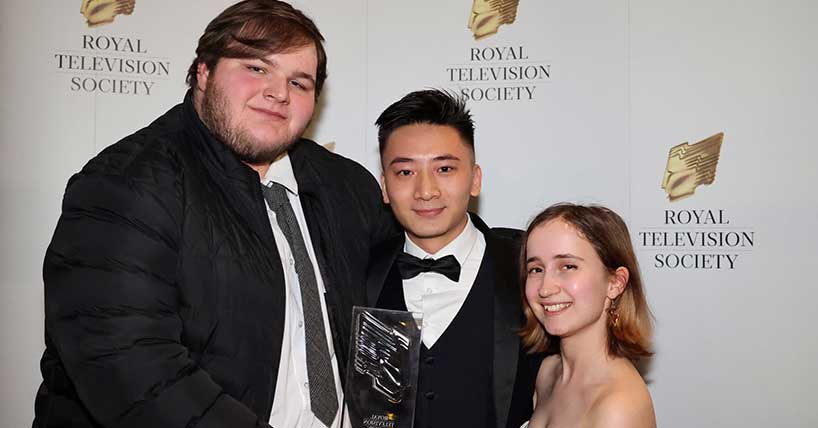 Creativity and resilience
Four other student films were also nominated for the award:

Them and Us by Yi Wang, Zicheng Wei, Zhe Luo, Jiyu Chen and Xintong Gao, is a touching story of middle school students in rural China. The film explores themes of bullying, poverty and longing.

To Die Clean by Angus Michie, Andrew Snow and James Bruce, is a poetic portrait of Earl John Charlton sharing his personal story of past addictions and homelessness.

If Only You Knew by Zac Baker is a semi-autobiographical film about filmmaker's physical and mental cleansing during the Holy Month of Ramadan.
Girl Boss by Emma Barrett-Fish, Briana Gordhan, Gabriela Mazur and Rose Daly, is a self-aware investigation into the increasing targeting of young women by multi-level marketing.

Dr Raisa Sidenova, Degree Programme Director of the Film Practices degree, said: "We are incredibly proud of our students' achievements. They have shown phenomenal creativity and resilience working very hard under various Covid-19 lockdowns last year.

"Their commitment to documentary filmmaking and deep engagement with the world around them helped them make touching, engaging and at times funny films about a wide range of topics. From a feminist critiques of multi-level marketing to intimate portraits of family to engaging studies of human resilience, our students proved to be resourceful and creative visual storytellers. We wish them all the best in their future careers and hope to see more of their films in the years to come."

This is a second RTS award in a row for Newcastle University's film programmes. In 2021, AB by AB by Alec Boyd won in the same category.
RTS is a national organisation supporting work and celebrating achievements in the broadcasting industry. Their student awards celebrate burgeoning talent across the country.
---
Latest News