Research highlights the "specialness" of our urban green spaces
Published on: 6 May 2022
Research led by Newcastle University has highlighted the importance of 'urban commons' for leisure use, wellbeing and their biodiversity value.
Hidden histories
The three-year 'Wastes and Strays' project, funded by the Arts and Humanities Research Council, looked at the history of Newcastle Town Moor as well as Mousehold Heath in Norwich, Clifton and Durdham Down in Bristol and Valley Gardens in Brighton, and how they have been used over the centuries. The project team also worked with the local community and cultural partners to get insights into how these spaces are used today and discover how local people want to use them in the future.
The findings of the research will be the subject of a special exhibition which will take place at Wylam Brewery, Exhibition Park, between 11.00am – 4.00pm on Tuesday 10 May. Similar events will take place at the Observatory, Clifton Down on Monday 16 May and Frere Community Centre, Norwich on Tuesday 7 June.
The exhibitions will showcase the project's research on each of the urban commons. The events will present the "hidden" histories of each common, and also explore themes of locality and identity through the testimony of a wide range of people who use these areas today. There will also be poetry workshops and other creative activities for children and adults focussed on exploring the meaning and value of the urban common as a community green space.
Project lead, Professor Chris Rodgers, said: "We are very lucky in Newcastle to have the Newcastle Town Moor as a major area of recreational "green space" near the centre of the city, and especially because it is protected by an Act of Parliament that restricts future development and guarantees its continued availability for public recreational use. Many other major urban areas across England and Wales are not as fortunate and lack large accessible areas of public open space with legal protection against development.
"The Covid-19 pandemic has focussed attention on the need to make more green space, including commons, available in urban areas. Our research has highlighted the importance of these places to local people for all sorts of reasons – including health and wellbeing. It also emphasised a need to ensure their enduring protection and use as a community cultural and ecological resource for the future.
"This isn't just about protecting existing urban commons. Other communities need - and deserve - access to protected green space of the kind currently enjoyed by the residents of Newcastle, Norwich, Brighton and Bristol. We must find a way to actively promote green space as an integral and essential element of any new development to ensure that there is green space within easy reach of all urban communities."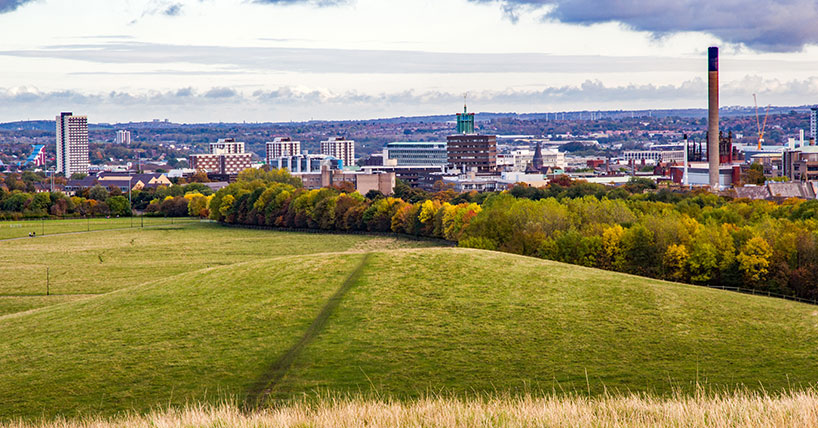 Differences in status
All four case study areas in the project have complex social and political histories and differing legal and cultural status today. Traditionally, commons were areas of fallow land or heath over which 'commoners' enjoyed specific access and land use rights – the Town Moor in Newcastle, for example, has been used by the Freemen of the City since medieval times for cattle grazing and Mousehold Heath in Norwich was used until the early 1800s by local people collecting fuel and feed for livestock. Similarly, the area around Valley Gardens in Brighton was used for sheep grazing and traditional fishing-related activities until the mid-19th century.
Over hundreds of years the use of the land has changed, and all four areas have become popular locations for recreation. In the 18th century, as Bristol expanded and Clifton became a fashionable place to live, the Downs were opened to the public for leisure activities. Nevertheless, sheep grazing continued on Clifton and Durdham Downs until 1925, and is occasionally practiced on Durdham Down today. From the 19th century, as Brighton developed, promenading became the dominant activity on Valley Gardens, as well as the space being used for cricket matches and pony and donkey races. Horse racing also took place on both the Town Moor and Mousehold Heath from the 18th century, and since 1882 the Town Moor has been used by the Hoppings, Europe's largest travelling funfair. In recent years, it has been the location of the Newcastle Mela, and Pride Festival.
"There is obviously less emphasis on food and foraging these days, but the feedback from our focus groups showed that there is still a strong belief in the rights of citizens to use these spaces for recreation, health and wellbeing," added Professor Rodgers. "There is a strong sense of identity and of community ownership attached to these iconic places. We want local people to come to these events to learn more about the history of these areas and engage with them in a positive manner for the future."
The events are free and open to all - booking is not required. For more information about the Wastes and Strays project, visit https://research.ncl.ac.uk/wastesandstrays/
The research project included researchers from the Universities of Newcastle, Exeter, Sheffield and Portsmouth
---
Latest News