Album showcases the underwater sounds of Sunderland
Published on: 11 August 2022
David de la Haye sits at the water's edge and listens. Using a hydrophone he tunes into the sounds of amphibians, invertebrates, fish and even plants.
Anything but silent
Human ears aren't adapted to listening underwater but this technology augments our senses to reveal incredible hidden soundscapes. As it turns out, the life aquatic is anything but silent.

Over a nine-month period, David recorded locations including Roker Pier, Sunderland Marina, Mowbray Park, Hetton Lyons Country Park, and Ryhope beach. His samples offer a glimpse of a world we don't often hear and formed the source material for his latest album With Ears Underwater, out on New Jazz and Improvised Music Recordings.

"You would be surprised at how noisy it is under there," says David. "Plants make incredible rhythms as they oxygenate the water, whilst insects and invertebrates join in the party! We tend to think it's quiet under there, but the opposite is true."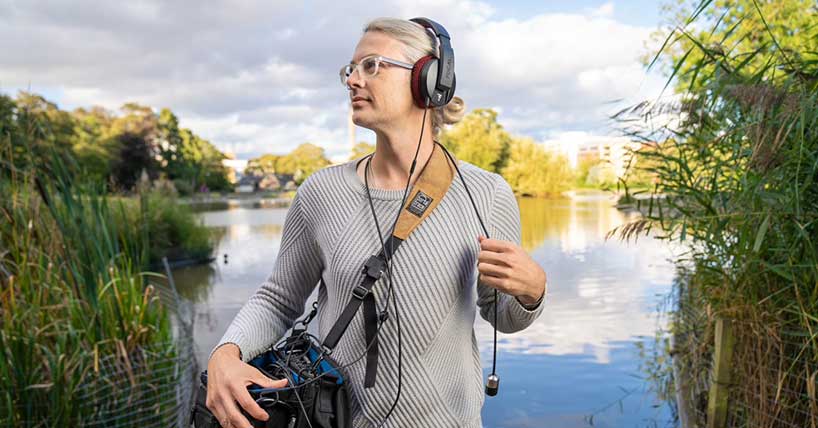 Unique aquatic recordings
David is committed to making field recordings of the natural world, even building a pond at his home so he could listen all year round.

For the album, David's field recordings were interpreted by a trio of improvising musicians; drummer Adam Stapleford, saxophonist Graeme Wilson, and cellist Mark Carroll. Their instrumental parts flow alongside unique aquatic recordings to illustrate the interconnectedness of our environment. Excerpts from the album were performed for British Science Week and aired live on BBC Radio 3 'New Music Show'.

"The relationship between humans and the natural world is complex and projects like this can help us understand the world around us in new ways", says David.

The work was commissioned by Sound and Music in association with Sunderland Culture. An accompanying conference was supported by Newcastle University's Water Security and Sustainable Development Hub.

Recently, David hosted a sonic cruise of the River Tees and late in August will lead a workshop on underwater listening at 'Frontiers in Ecology: Science and Society', the INTECOL 2022 conference, Geneva.

You can listen to and buy the album hereand watch an accompanying documentary on YouTube.


---
Latest News