Is furniture made from fungus the future?
Published on: 11 October 2022
Researchers at the Hub for Biotechnology in the Built Environment (HBBE) are investigating whether textiles filled with fungus can be used to make structures and even furniture.
Their BioKnit project uses 3D knitting technology to create knitted forms as a scaffold and fills them with a mycelium mixture – the root network of fungus - which grows through the textile, binding all the materials together. The resulting material is light, strong and the mycelium can be reactivated later to grow again.

Dr Jane Scott, lead of the HBBE's Living Textiles Group said: "BioKnit emerged from research investigating how the properties of knitted fabrics could be harnessed to create flexible, adaptable, biohybrid systems. We were interested in exploring how the relationship between fibres, yarns and fabrics, fundamental to textiles, could be engineered to enhance the growth of microorganisms such as fungal mycelium and cellulose produced by bacteria. This research has led to the production of BioKnit and MycoKnit CompoSITe, prototypes of structures and furniture that have been grown to shape."

She added: "A textile scaffold for mycelium and bacterial cellulose offers more than a technical solution to upscale biofabrication, it also provides an alternative vision for the built environment. Our aim is to fundamentally change both how and what we 'build'. We are interested in exploring how this biohybrid textile approach could replace hard, rectilinear buildings with soft curvaceous structures and interiors, and even blur the distinction between structure and interior surface."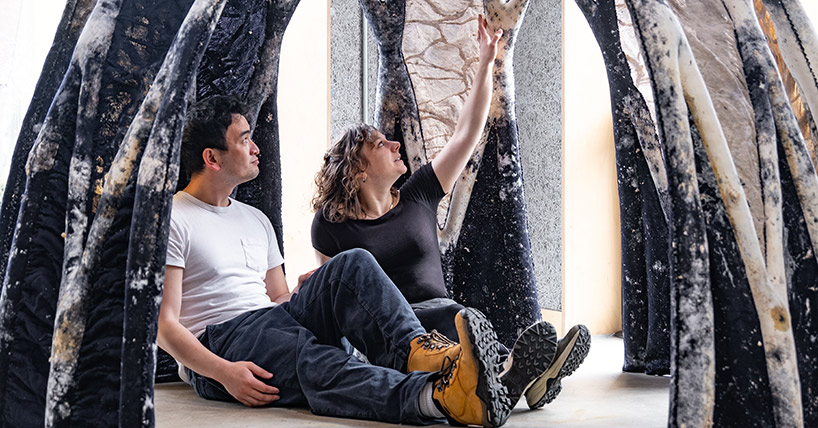 Symposium
BioKnit will be among the projects and topics discussed at the three-day Living Textiles Architectures Symposium, hosted by the Living Textiles Research Group and taking place at Newcastle University from 12 October.

The event, believed to be the first of its kind, is attracting experts from all over the world. Delegates will discuss the interactions between textiles, interaction design and architecture through the lens of biology to reveal the new ideas, networks and new materiality emerging in their field.
You can find out more about the HBBE, which is a joint inititiative between Newcastle and Northumbria Universities, here http://bbe.ac.uk/ and more information about the Living Architectures symposium here.
---
Latest News