Listen to This Story! exhibition opening in Black History Month
Published on: 6 October 2022
Seven Stories, Newcastle University and Newcastle City Library to Showcase Joint Exhibition Celebrating Black History and Literature
Unique and fascinating insights
Listen to This Story! Children's Books and Black Britain', a new exhibition celebrating the history of Black people in British children's books, will open at Newcastle City Library and the Philip Robinson Library at Newcastle University on Thursday 20th October 2022.
A collaboration between Seven Stories The National Centre for Children's Books, Newcastle University and Newcastle City Library, the exhibition will celebrate the rhymers and rebels, poets and publishers, who have helped Black British children see themselves on the page.
The exhibition is curated by Professor Karen Sands-O'Connor of Newcastle University (author of Children's Publishing and Black Britain, 1965-2015), and writer and producer Rufaro Faith Mazarura.
Professor Sands-O'Connor explains:
"In 1973, My Brother Sean by Petronella Breinburg and Errol Lloyd became the first British children's picture book from a mainstream publisher by Black British creators to feature a Black main character. Almost 50 years on British children's books are much more diverse, though Black readers, writers and artists continue to be underrepresented.
"This exhibition will showcase and celebrate the contribution of Black people to the culture of Britain, and shed light on the ways that Black Britons have resisted oppression, persisted in creating a literature of their own, and insisted on the value of Black British literature and history for all readers."
Kris McKie, Head of Collections at Seven Stories, said:
"'The collections at Seven Stories and Newcastle University Library offer unique and fascinating insights into the history of representation in children's books and the work of those who have helped bring Black British lives, experiences and characters to the pages of children's books. This exhibition will give visitors a chance to see some of this never-before-seen material and learn more about the work of key Black British writers and illustrators.
"It will explore the long history of representation of Black people and communities in children's books and highlight the struggles and successes of Black artists, writers and publishers to make space for themselves."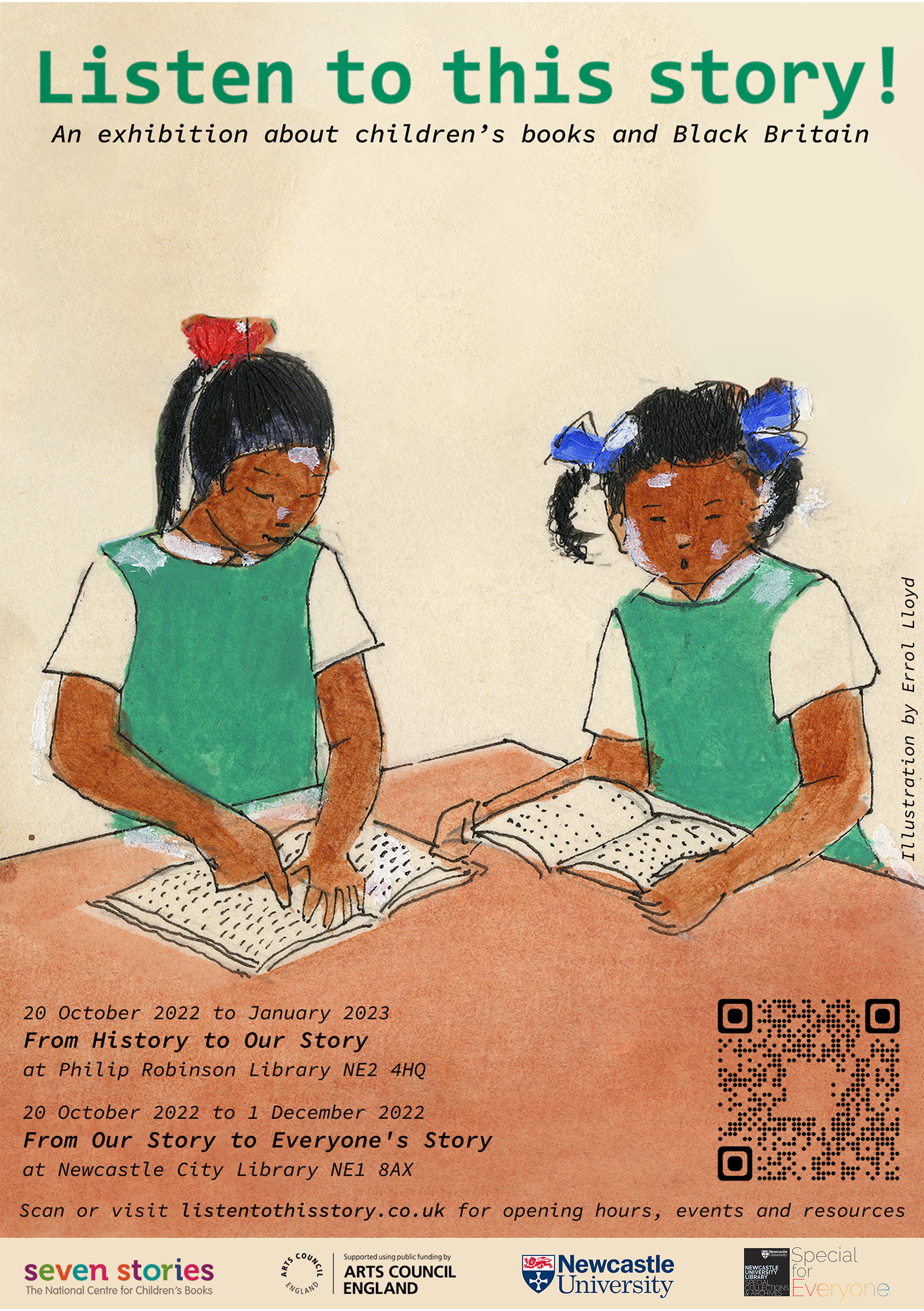 Rare books and archives
Visitors to the exhibition will have the opportunity to explore rare books and facsimile archives from the unique collections held by Seven Stories and Newcastle University. Highlights of the exhibition will include hand-written manuscripts by award-winning poet John Agard, and illustrations by celebrated artist and picture book maker Errol Lloyd. A celebration event on Thursday 20th October (4.30-6.30pm) will mark the opening of the exhibition, with a lecture from author, illustrator and publisher Ken Wilson-Max at Newcastle City Library to which the public are invited – find out more at www.listentothisstory.co.uk.
'Listen to This Story! Children's Books and Black Britain' will be on display from 20th October to 1st Dec 2022 in Newcastle City Library. The second part of the exhibition - 'From History to Our Story' - will also open on Thursday 20th October on Level 2 of the Philip Robinson Library and will be on display until January 2023.
Further details and information can be found at www.listentothisstory.co.uk.
Follow the exhibition on Twitter.
---
Latest News