No return to normal for young people in poverty after Covid 19
Published on: 19 October 2022
Life will never return to pre-pandemic normality for children and young people, says a new report by Newcastle University and charity Children North East.
Comprehensive
The report is the most comprehensive account so far of how every aspect of their lives was affected by Covid-19. It looks at their relationships, education, work, plans for the future and health and wellbeing.

Joint project lead Liz Todd, Professor of Educational Inclusion at Newcastle University said: " Young people have been seriously and deeply impacted on by the pandemic. All aspects of their lives have been affected. There is no return to how things were before – but there is lots that people can do."

The VOICES team spoke to 1,780 children, aged five to 18 from across the North East of England. Most of them came from some of the country's most deprived areas and they described their experiences in words and in drawings.

Joint project lead Luke Bramhall, Head of Youth Services and Poverty Proofing at Children North East, said: "The pandemic made a profound impact on children and young people across the UK. Through this report, we are able to better understand and respond to the lasting needs of that generation, from support with mental health to dealing with missed education milestones. Our hope is that the voices shared in its pages will be heard and those working with children and young people can take action to support them."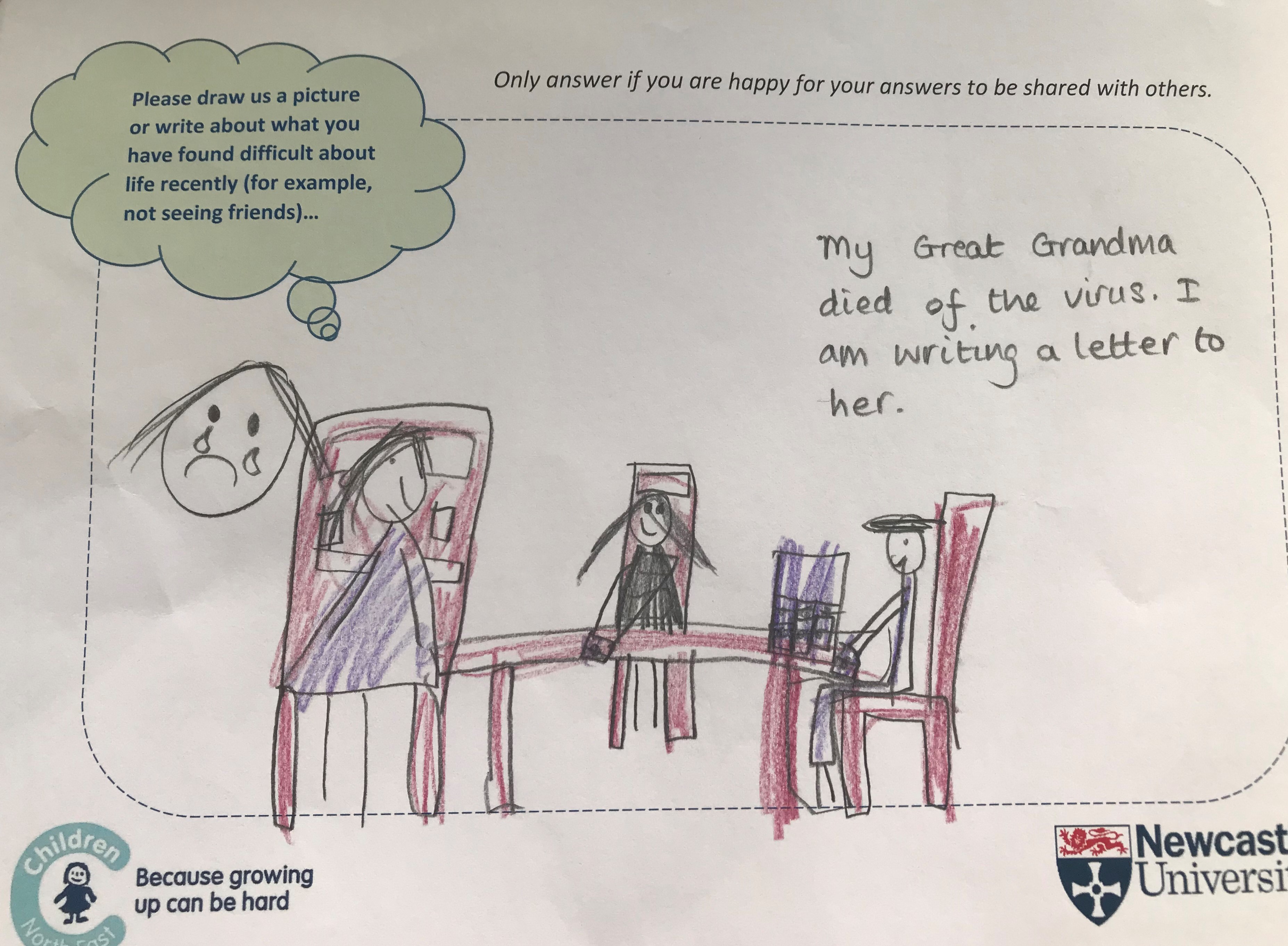 Children's experiences
Children said they missed their friends, worried about family and missed everyday experiences such as going to the shops. One child said: "I cried worrying if people I loved were going to die."
Learning remotely was challenging for many youngsters, either as a result a lack of technology at home, or just trying to learn in a home full of people. Sometimes schools did not send children enough work. One child said: "I hated online school."

When schools returned, the children valued seeing friends, being in contact with teachers and the structure of the school day. But ongoing Covid-19 restrictions could make school difficult. There was a lot of anxiety about exams and going to university. " When we went out to play, no-one wanted to play," said one pupil. "We weren't able to touch and all we could do was sit on a bench."

Health and wellbeing were profoundly affected, with a lot of youngsters being far less physically active than before and their mental health suffering . " bored realy bord realy realy realy bord and I am just sitting in the house all day," said one child . Another said: "Doesn't feel like a life."

Inequality also had a big impact on how young people experienced the pandemic. Some families whose circumstances had changed because of Covid-19 reported eating less and walking more. Some children didn't have access to digital devices and suffered from a lack of space in their home. Many young people were grateful for services provided by community centres, schools and youth organisations which arranged activities and resources for disadvantaged families.

Digital devices were a valuable tool, helping young people to stay in touch with their friends through games and social media. However, not every experience was positive. "It affected me – I got addicted – (it's) now become part of my life," said a child. Another said: "I spend 18+ hours a day online." And adults didn't understand how important digital activities are to children now. "Adults don't understand how much we rely on it (Wi-Fi/internet). They don't understand why we need it so much, but we do."

While many youngsters were saddened at not being able to participate in their favourite activities, others learned new skills such as knitting, cooking and decorating.

The researchers have called for measures including free access to digital devices and broadband for children and young people, fair access to public transport, further research into the long-term impact of Covid-19 on children and young people, and a digital curriculum or schools and colleagues.
Time to act
Professor Todd called upon policy makers and people in positions of power to listen to make changes. "Many people don't have the time we had to really listen to so many young people from such a wide age range and across a whole region of England in this way," she said. "But they do have time to act. Our recommendations all need to be achieved and they can be achieved in full by those running services and those making policy."

She added: "When people read our report they are surprised about how much children notice and how much they think about everything that's going on in the world. They're also surprised by how much children care about their friends, families, their communities and the world around them. This is why our report matters."

Luke Bramhall, said: "We hope this report will encourage action for those across the UK to empathise with the lasting impact the pandemic had on young people across the UK and act to help them to overcome it."
You can read the VOICES report here.
---
Latest News