The bees that are getting young dads buzzing about art
Published on: 29 November 2022
A beekeeping project with a difference is helping young men in the North East become more familiar with the worlds of art and conservation.
Through a partnership with Baltic Centre for Contemporary Art in Gateshead and North East Young Dads and Lads (NEYDL), an academic at Newcastle University is exploring ways to encourage new audiences into venues such as Baltic.
As part of the Postindustrial Pollination project, Dr Michael Richardson is helping manage two beehives on the roof of Baltic with NEYDL, which works with young men in the region to support them in playing an active and meaningful role in the lives of their children, families and wider society.
The young dads have been taking part in activities to learn more about bees and sustainability, and also increase their understanding of contemporary art and culture. Looking after the hives means they improve their understanding of why bees are vital for the ecosystem and the importance of urban biodiversity. And because the beehives are located at Baltic they are able to visit the gallery and learn more about the work currently being exhibited, including the current exhibition Mythmachine, a new immersive work by Sahej Rahal, part of Baltic's ongoing strand of exhibition programming that explores play.
Jars of honey, in 150g and 260g, made by the bees will go on sale in Baltic in December, and will first be available at the Make More Market, a craft market taking place at Baltic on Saturday 3 December 2022, 11am-5pm.
In addition, a print featuring bespoke artwork created by Gateshead-based art and design studio Atomhawk inspired by Mythmachine is now also on sale in Baltic Shop and online at www.baltic.art/shop. The design of the print has its roots in an earlier Atomhawk project called The Realm, a fictional dystopian world where nature has reclaimed the North East and shows a young child facing an uncertain future but trusting in nature to help navigate a way forward. 40% of all profits from sales of this print will go to North East Young Dads and Lads.
"I find such power in storytelling and saw a connection between the mythologies envisaged by Sahej Rahal and the dystopian vision of The Realm by Atomhawk," explains Dr Richardson. "Both artworks explore what it means to be human at a time of existential crisis, and I felt that this might resonate with the young men from NEYDL, who are managing the beehives in part as a way to better understand the role of bees and other pollinators for food production and while at the same time improving their local environment."
NEYDL was founded in 2015 to support young dads aged under 25 who live, work or study in the North East – tackling the stigma that sees young dads as unreachable, un-teachable, or disinterested.
The project, which has been funded by the Catherine Cookson Foundation, is also delivering benefits for the young dads' mental health, with many of them saying it is helping them manage a variety of issues including PTSD.
Dr Richardson has been working with NEYDL since 2018, as part of his wider research on intergenerational relationships on post-industrial Tyneside.
"This project and the work of NEYDL is having a valuable impact in helping to move young men who are often disenfranchised from many parts of society towards thinking that a place like BALTIC is somewhere they feel comfortable visiting. It's also helping venues like BALTIC identify ways in which they can diversify their offer," Dr Richardson added.
Gateshead dad of two, Jordan, 25, is one of the young men involved in the beekeeping project. He said: "I'm definitely more connected with Mother Nature, from beekeeping. For me it's been enlightening! Being more in touch with nature, not only the bees but the flowers and trees they forage on, has been an amazing experience. I see myself as a human worker bee in partnership with these fantastic little creatures, helping them produce a surplus of honey."
The next stage of the project will be to install 360 degree cameras inside the hives and to livestream the activity through Baltic's Learning Lounge and online through www.neydl.uk and www.baltic.art in 2023.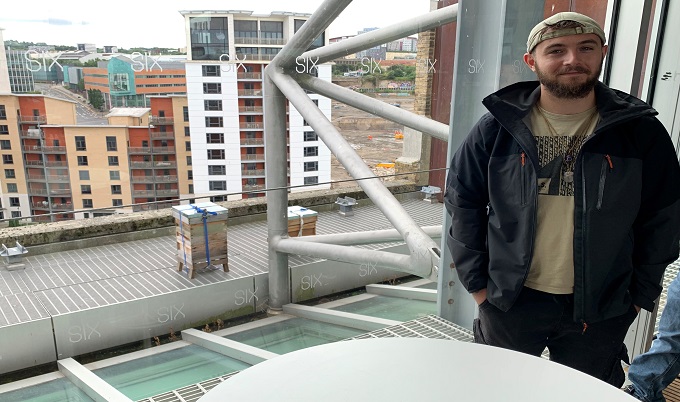 ---
Latest News