CLASP set to return to campus
Published on: 20 January 2023
The sculpture CLASP by celebrated artist Antony Gormley is returning to campus.
Creativity and imagination
The 4.4-metre-high cast iron sculpture was installed on King's Walk, between the Students' Union and Northern Stage, in 2018. It was removed in August 2021 for maintenance and for a protective surface coating to be applied. Through months of rainfall, the surface of the work was re-oxidised and developed a new patina. It will be reinstalled on Tuesday 24 January.

Professor Richard Talbot, Director of Newcastle University's Institute for Creative Arts Practice said: "I am so pleased to see this work by this remarkable artist back on campus. Artworks in their various ways can embody and demonstrate some of the values and aspirations we hold dear in this University – including creativity and imagination."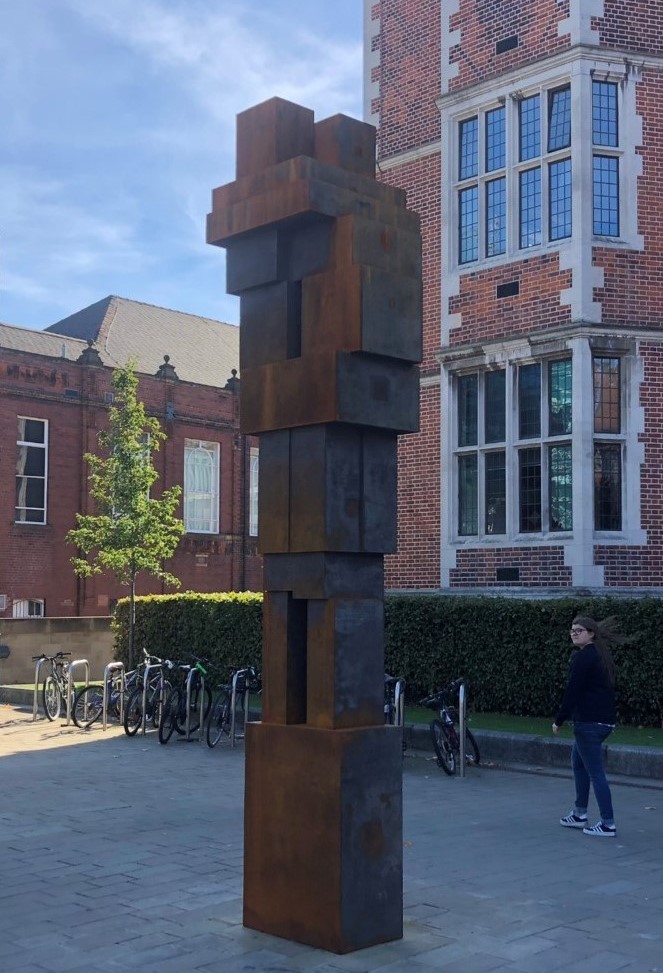 Two bodies
CLASP is a translation of two bodies holding each other and is one of the artist's 'Double Blockworks', a series in which rectilinear blocks replace anatomy with architectonic volumes using stacking, cantilever and propping, to make a sculpture that juggles the dynamic and the stable. The 'Double Blockworks' are a radical departure from Gormley's normal practice of isolating a single body in space; many of the 'Double Blockworks' are based on scans of the artist clasping a previously made 'Blockwork' – an acknowledgement of his relationship with the art of sculpture. For the artist, the doubled figures embody "matter as a continual dance of possibility between emergence and entropy, the acknowledgement of instability and inevitable jeopardy, but, at the same time, connection, the need to stand and to hold – to touch the world, the future, another body."

Inspiration for the piece comes from architectural structures, including the Cyclopean walls of Mycenae, the Trilithons of Stonehenge and the buildings of Mies van der Rohe. These essential forms of architecture translate through modernism into a structure in which each piece plays its part in a whole where dead weight becomes active.
The sculpture is formed of 18 individual blocks and cast as one single element in Spheroidal Graphite iron. The surface colour of the sculpture will continue to naturally evolve over time as an organic response to environmental conditions.
Antony Gormley states: "Two stacks of blocks find mutual support and together, they make a concentrated, single sculpture that is both body and building."

Best known in the north of England for the Angel of the North in Gateshead and Another Place at Crosby Beach in Liverpool, Antony Gormley was awarded the Turner Prize in 1994 and the South Bank Prize for Visual Art in 1999. His sculptures are now to be found in museums, in collections, and in permanent sites all over the world.
He was awarded an honorary doctorate by Newcastle University in 2004, and in 2015 the University's Hatton Gallery held the 'Space Stations' exhibition, showcasing some of his drawings from 2002 – 2014, which reveal how drawing and sculpture have been in continuous dialogue throughout his career.
CLASP is on loan from the sculptor and forms part of the University's Art on Campus programme which aims to showcase art by leading artists, as well as graduates, students and staff from the University.
---
Latest News