Farrell Centre set to open in April
Published on: 24 January 2023
The Farrell Centre – a new centre for architecture and cities – opens to the public on Saturday 22 April 2023
Innovative and engaging
Instigated by renowned architect-planner Sir Terry Farrell, and forming part of Newcastle University's School of Architecture, Planning and Landscape, the Farrell Centre is located in a four-storey Victorian building in central Newcastle which has been transformed in a £4.6 million building project; its mission is to widen the debate around the crucial roles that architecture and planning play in the contemporary world in ways that are innovative, engaging and challenging.

The Farrell Centre will be admission free and combines a public gallery, research hub, and community space, offering a variety of experiences for visitors of all ages. The centre's programme will be wide-ranging and inclusive: temporary exhibitions, public talks and debates, workshops and activities for schools, young people, community groups, events for built environment professionals, as well as publications, podcasts, and other digital projects.

The inaugural exhibition, More with Less: Reimagining Architecture for a Changing World, offers a new vision for architecture in the face of climate emergency, showcasing innovative installations by four UK-based architects (see separate press release). The opening date, 22 April, marks Earth Day, an annual celebration raising awareness of the need to protect Earth's natural resources for future generations.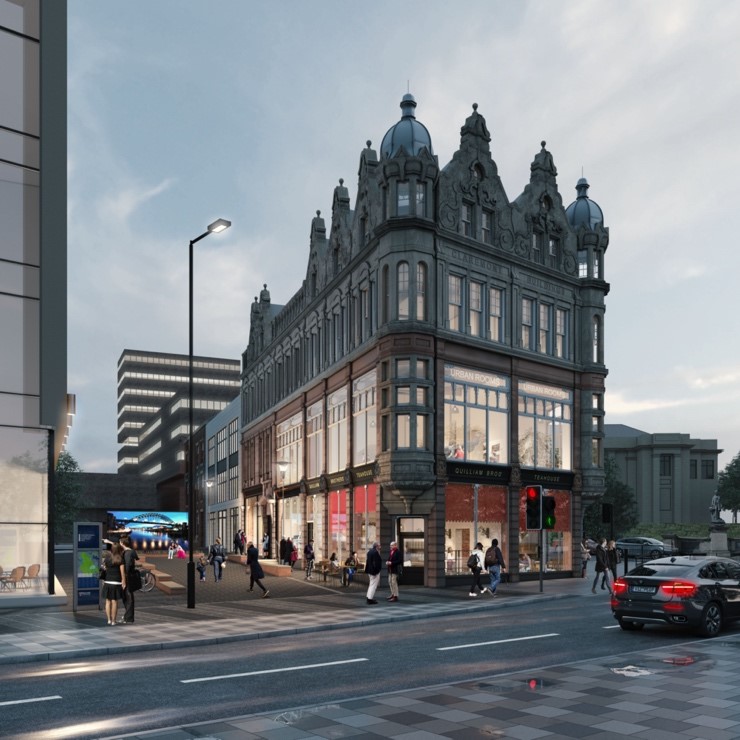 Past, present and future
The centre was inspired by Sir Terry Farrell's recommendation in the Farrell Review, a report commissioned by the UK government into the UK's built environment published in 2014, that every city should have an 'urban room' where local people can go to learn about the past, present and future of where they live. The centre's mission will extend further, exploring local, national and global issues at this critical time when we face the seismic challenges of the climate emergency, and urgent need to make our cities more democratic, sustainable and inclusive.

The building project has been designed by local architects Space Architects and Elliott Architects in close collaboration with Farrell Centre director, Owen Hopkins. Reflecting Newcastle University's stated mission to reach net-zero CO2 emissions by 2030, the building project aims to be an exemplar of how historic buildings can be sensitively transformed while dramatically improving their energy performance.
The Centre
Visitors to the Farrell Centre arrive via Eldon Place into a large atrium which features a sunken 'bleachers' style seating area, offering a public forum for scheduled and impromptu talks, presentations, and performances. A new feature staircase and lift have been inserted into the building's historic fabric, drawing visitors up to the floors above. A new ground-floor route has also been created to the adjacent independently run café, which opens in February 2023.
The main gallery space on the first floor encompasses four light-filled rooms (150 sq metres) that will host a programme of temporary exhibitions, exploring a range of themes shaping the future of architecture and planning locally, regionally and internationally.

Situated on the second floor of the Farrell Centre, the Urban Rooms comprise three multiuse spaces where local people can engage with the past, present and future of where they live. Exhibits and installations, designed by architecture and ideas studio CAN, explore aspects of Tyneside's built environment, and provide a spur and backdrop to the Urban Room's programmes of public talks, seminars, meetings and roundtables, as well workshop for schools, families and young people. Alongside the centre's own programmes, the spaces are available for use by local community groups.

The top floor houses offices for the centre's staff and for Insights North East – a partnership between Newcastle University, Northumbria University, Northumbria Healthcare NHS Trust, Newcastle upon Tyne Hospitals NHS Foundation Trust, North of Tyne Combined Authority (NoTCA), and Newcastle City Council, which is developing new ways to connect research and knowledge with regional policymakers in order to better address the needs of local communities. In addition, there is a studio for the centre's new residency programme for creative practitioners working in relation to the built environment, reflecting the centre's commitment to offering a platform to support the next generation of city-makers.

Owen Hopkins, Director of the Farrell Centre, Newcastle University, said:

"In a world defined by profound environmental, social and technological rupture and transformation, the potential of architecture and planning to create a more inclusive, democratic and sustainable world has never been more important. Rooted in Newcastle, but with a frame of reference that's global in scope, the Farrell Centre offers a vital new platform for debating the future of architecture and planning, ensuring that everyone has a voice in this critical conversation."
---
Latest News