RTS Student Awards success
Published on: 28 February 2023
Newcastle University graduate Olivia Barnett-Brown has won a Royal Television Society (RTS) award for a documentary about her grandparents.
A supportive community
Her film To Challa on the Table won the student factual category in the Royal Television Society North East and Border Student Awards.
Olivia who graduated with a degree in Film Practices last summer, made the documentary as part of her studies.
To Challah on the Table follows her grandparents Estelle and Rubin, both in their 80s, as they celebrate Hannukah in their Liverpool community towards the end of lockdown.
"It's been great to the win the award, I'm so happy, " says Olivia. "I wanted to make a film about the Jewish community and my grandparents are such characters that I realised I wanted to make the film about them.
"It's an observational documentary so I followed them over three days as they had Friday dinner, Shabbat and then as they celebrate Hannukah. It shows a small but really supportive community which is what I was wanted to get across.
"My Grandad died before the film was finished but he got to see a draft of it and he liked it. My grandmother came to the awards ceremony with me and had a really lovely time. It meant a lot to win the award with her there."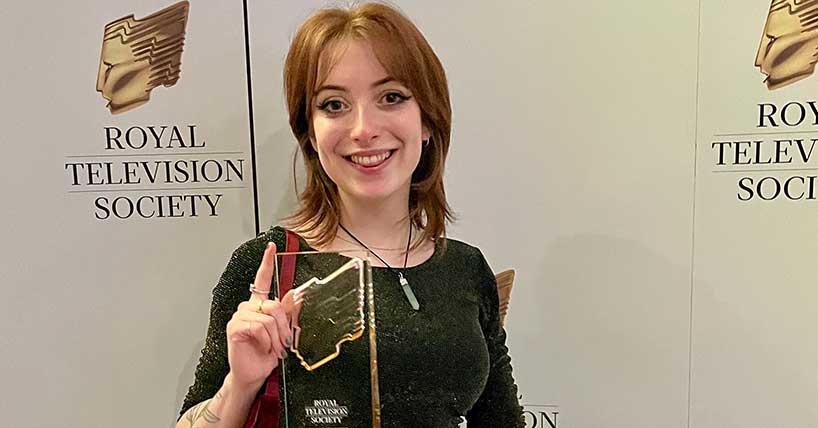 A great accolade
Carol Lynn, Lecturer in Film Practice at Newcastle University, said: "It was a fantastic and well-deserved win for Olivia, with her observational documentary film To Challah on the Table. It was lovely that Olivia's grandmother - who was the subject of the film - was there to see her get her award.
"Congratulations to Archie Baker and team who were also shortlisted for their film Peace of Mind. It is a great accolade for Film at Culture Lab and our film programmes, that this is the third year in a row where we have won in the student factual category."
Olivia will compete in the national RTS Student Awards in London later this year. The RTS Student Awards North East and Borders were held at the Hilton Newcastle Gateshead.
---
Latest News