£5.5m project to see UK research vessel powered by hydrogen
Published on: 2 March 2023
A university research ship is set to reduce its emissions by up to 60%, thanks to a new project involving Newcastle University experts.
The Transship II project is part of a pioneering £5.5 million hydrogen power initiative that could help re-shape the future of shipping. It is the largest retrofit of its kind to-date and will see the Prince Madog, the only ship of its kind in the UK, retrofitted with a hydrogen electric hybrid propulsion system that will enable zero to low emission operation by 2025.
The project is part of the Clean Maritime Demonstration Competition Round 3 (CMDC3) and is funded by the Department for Transport in partnership with Innovate UK. The project will be delivered by a consortium of major UK innovators in green maritime technology and hydrogen systems, led by O.S Energy who own and operate a fleet of dedicated offshore service vessels.
Other consortium partners include the universities of Newcastle and Exeter, H2Tec, part of Edinburgh-based hydrogen technologies expert Logan Energy, as well as Solis Marine Engineering, Newcastle Marine Services, Chartwell Marine, Cedar Marine and Stone Marine Propulsions.
The Prince Madog, based at Bangor University in Wales, recently celebrated 20 years of service to education and science. The research vessel has changed the way we understand marine and coastal sciences and is one of the largest such ships in Europe.
The new hydrogen propulsion system, which will work in conjunction with a diesel-fuelled main engine, will enable zero emission operation at slow speeds or over short distances - such as daily teaching trips with the students from the School of Ocean Sciences at Bangor University. In normal operation, the hybrid system and new novel propulsion design will reduce emissions by up to 60%.
According to Offshore Renewable Energy Catapult (OREC), it is estimated the offshore support sector will be worth £26 billion by 2050 and that an additional 1,200 vessels will be needed to service the UK's industry and support the transition to net zero by 2050.
Around 90% of all consumables are moved by sea and the shipping industry globally is responsible for 940 million tonnes of CO2 - the equivalent of at least 2.5% of the world's total CO2 emissions.
The International Maritime Organisation has set a target to cut these emissions by 50% by 2050 and the UK government is the first in the world to include emissions from international shipping in its domestic carbon budget.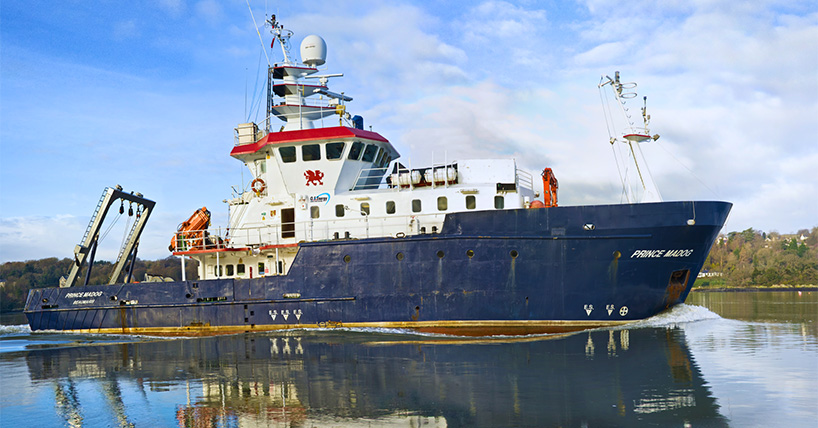 Power from the ocean
Professor Roberto Palacin, Professor of Transport Futures & Director of Mechanical Engineering and Marine Technology at Newcastle University, said: "Hydrogen for marine applications is a prime example of the potential that exists at the transport and energy systems interface, generating power from the ocean and using it at sea.
"Newcastle University will contribute to this project with advanced marine hydrodynamics research looking into improving the energy efficiency of ship systems using renewable energy fuel. This is an exciting opportunity with lots of potential across many international, national and regional applications, and we very much look forward to it."
Transport Secretary Mark Harper said: "Our maritime sector imports 95% of goods into the UK and contributes £116 billion to our economy – more than both aviation and rail combined.
"With growing the economy one of the government's top priorities, we must continue our efforts to ensure the UK remains a pioneer in cutting-edge clean maritime solutions.
"The funding we're awarding today will help to do just that, bringing emission-free concepts to life and fuelling innovation."
The Prince Madog, a multi-purpose research vessel used to conduct marine research along the British coastline and in the Irish and Celtic Seas, is the UK's only fully seagoing higher education research ship and is commonly used to train future marine scientists at Bangor University and further afield.
The retrofit work, which will take up to two years, is set to begin in April. Once complete, the Prince Madog will receive hydrogen from the Holyhead Hydrogen Hub on Anglesey, North Wales.
Press release adapted with thanks from O.S Energy.
---
Latest News