Newcastle University academic Dr Tina Gharavi directs Queen Cleopatra
Published on: 9 May 2023
BAFTA and Sundance nominated director Dr Tina Gharavi has directed a new four part docu-drama about Cleopatra for Netflix.
Famous, powerful, misunderstood
Dr Gharavi, a Reader in English: Digital Media/Film, and founder of Newcastle-based Bridge + Tunnel Productions, has engaged international debate following the casting of Adele James, a mixed-race actress as the Eqyptian Pharaoh.
Released globally for Netflix subscribers on 10th May, Queen Cleopatra is the second series in the African Queens strand, exploring the lives of prominent and iconic African Queens.
Queen Cleopatra is one of the world's most famous, powerful, and misunderstood woman of all time - a daring queen whose beauty and romances came to overshadow her real asset: her intellect.
Cleopatra's heritage has been the subject of much academic debate. Now, this new series re-assesses this part of her story. Dr Gharavi is the director, while Jada Pinkett Smith, Terence Carter, Miguel Melendez and Sahara Bushue are the executive producers for Westbrook Studios, with Jane Root and Ben Goold executive producers for Nutopia. Jada Pinkett Smith (Girls Trip, Gotham, Red Table Talk) also narrates the series.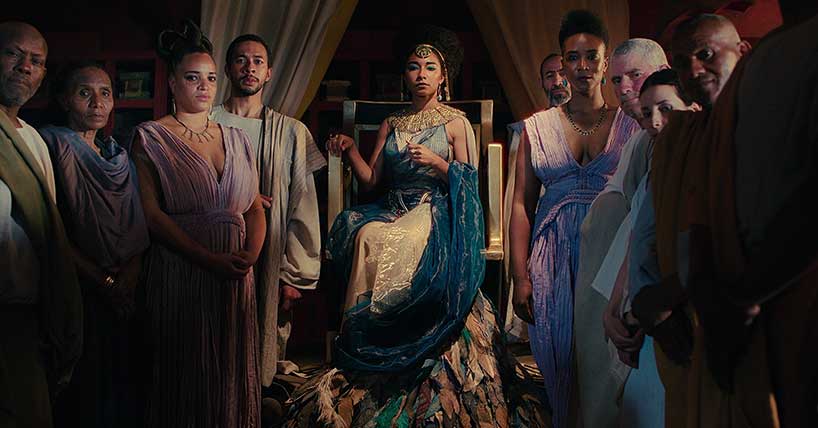 Immensely proud
Dr Gharavi says: "The series was meticulously researched and features eminent historians and other academics looking to tell an authentic story. The reality is that Cleopatra's Ptolemaic ancestors did come from areas we may today consider Greece/Macedonia and Persia - the argument for her being white- but eight generations down the line , especially with the origins of her mother and grandmother unknown, it is possible that her heritage included Egyptian, particularly as Cleopatra was the first Pharoah to speak Egyptian and even create temples to dynasties before her own family. There is a very real possibility she would not have had the pale skin of say, Elizabeth Taylor who famously played Cleopatra in 1963. Immigrants to many nations around the world are likely to intermarry and integrate. After 300 years, I am sure we can safely say Cleopatra was and is Egyptian. She is no more Greek or Macedonian than Tom Hank's wife, Rita Wilson is. Or Jennifer Anniston. Both celebrities are one generation from Greek.
"Issues of colour and representation did not exist when Cleopatra ruled. They are of course very topical today and as a woman who was born in Iran, I know how important they are too. But I remain immensely proud of bringing this series to the screen: it was a logistically complex shoot undertaken with a majority Moroccan crew, undertaken in Ramadan with crew that was fasting; and it is as accurate and authentic as it could possibly be, based on huge amounts of expert research. But more than that, it vividly tells a rounder story of Cleopatra - an exceptional leader and gifted warrior – who just happened to be a woman."
Dr Gharavi is an award-winning, Iranian-born, British-American artist, director and screenwriter, best-known for telling innovative cross-platform stories about misfits, outsiders and rebels, as well as people in extraordinary situations. Her debut feature, I Am Nasrine, was nominated for a BAFTA. Her TV drama directing credits include The Tunnel (Sky's adaptation of The Bridge) and Channel 4's Ackley Bridge, as well as her own projects The Good Iranian, Closer and People Like Us. Her documentary projects include Mother/Country for Channel 4. Tina is also known for her interactive digital projects and record-beating museum exhibitions, housed in permanent collections at institutions such as the BFI and MIT.
---
Latest News