The Creativity Engine
Published on: 26 May 2023
Inspiration from some of the world's best children's authors at your fingertips.
Young imaginations
The Creativity Engine is text generating Artificial Intelligence (AI) which uses the digitised archives of some of the world's finest children's authors - including former Children's Laureate Michael Rosen, Valerie Bloom, Grace Nichols, John Agard and Tony Mitton - to drive young writers' imaginations. The young person starts writing a story and then take turns with the AI to create a unique tale.
The project is a collaboration between Newcastle University's Humanities Research Institute and Seven Stories: The National Centre for Children's Books which holds the authors' archives. It was created by Newcastle University Research Software Engineers Dr Tiago Sousa Garcia and Dr Kathryn Garside.
Dr Sousa Garcia says: "It doesn't matter how old you are: every time you see the app continuing your story in a way that makes sense but is, at the same time, unexpected, it's like magic."
Kris McKie, Head of Collections at Seven Stories: The National Centre for Children's Books, said: "Many children's authors and illustrators are using digital tools to develop their stories, and the young people Seven Stories works with will be growing up with new technologies like AI. We're looking forward to reading the stories children write with the Creativity Engine, inspired by our Collection."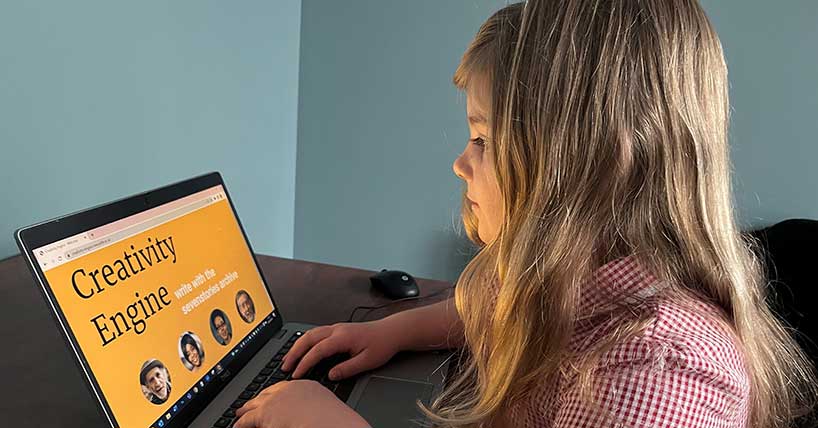 Capturing imaginations
The idea for the project came about an experiment with young writers during the 2020-21 lockdown period, using a simple version of AI. Many of the stories written were nonsensical but gave the project team inspiration for the Creativity Engine.
Dr Garside said: "Exciting developments in AI mean that it is becoming increasingly accessible for all; merging archived materials from Seven Stories with this technology can offer new insights and inspiration whilst capturing the imagination of the authors of tomorrow."
You can write your own story with the Creativity Engine and Children can craft with the Creativity Engine this half term. Sessions will be held at Newcastle City Library on Wednesday 31 May and Friday 2 June. Youngsters will be able to create and illustrate stories using the Creativity Engine. To book a place at the free family workshop for all ages.
Find out more about the Creativity Engine at our blog How we launched AI in the classroom.
---
Latest News