Excavations at Birdoswald Roman fort set to unearth new insights
Published on: 16 June 2023
Newcastle University and Historic England have started work on the penultimate season of a five-year excavation programme at the Roman fort of Birdoswald, on Hadrian's Wall.
Newcastle University and Historic England have started work on the penultimate summer season of a five-year excavation programme at the Roman fort of Birdoswald, on the Hadrian's Wall World Heritage Site.
The 2023 season will see the largest expanse under excavation at Birdoswald since the 1990s, including areas both to the west and east of the fort, as well as north of the fort beyond the line of Hadrian's Wall.
The current work at the site, which is managed by English Heritage, is examining houses, communal buildings and workplaces beyond the fort walls – giving researchers a remarkable glimpse of daily life on the frontier.
Over the course of the five-year project, which began in 2021, more than 200 Newcastle archaeology students will join the excavation, ensuring they get hands-on training in the latest high-tech archaeological methods. Newcastle's archaeology degrees are officially accredited by the Chartered Institute for Archaeologists, and this excavation helps ensure that students graduate with the practical skills sought by employers.
To the east, work will continue on a well-preserved bathhouse, first discovered in 2021. The area to the west has never before been explored, with data from geophysical surveys hinting at an open area surrounded by structures. It is hoped that this year's work will provide further clues about its use and significance.
This summer is the first time that such a large expanse immediately north of Hadrian's Wall has been so extensively and systematically examined. The project has already discovered that intensive domestic and industrial activity took place beyond the Wall, and this previous work will be followed up and expanded. Previous finds here included large quantities of domestic pottery, hobnails (short nails for protecting the soles of footwear), and jasper (a semi-precious stone) and glass intaglio stones of a type originally set in rings and used to seal documents, much of which is now available for visitors to the site to view.
Findings to date suggest that the settlement beyond the fort walls was carefully planned, and that specific activities related to everyday life took place in designated zones. It also suggests that the frontier can be more accurately thought of as a zone, rather than a distinct line or boundary. It is anticipated that a new 'big picture' of Roman frontier life will emerge from the archaeology of the fort settlements, which can now be seen as military towns.
Ian Haynes, Newcastle University Professor of Archaeology and project co-director said: "It is a pleasure to once again return to Birdoswald and to work with our Historic England colleagues on this exciting site. The archaeology at Birdoswald always has something surprising to teach us. Our staff and students are in for what will be a career highlight this summer."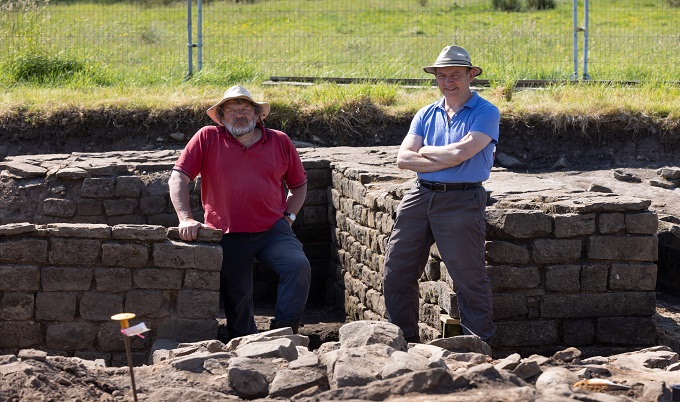 Guided tours
Tony Wilmott, Historic England Senior Archaeologist and project co-director said: "One of the strengths of this project is that the military area within the fort was excavated extensively with modern techniques in recent decades, so the evidence we're gathering right now outside the walls can be directly compared. This means that Birdoswald is incredibly well-placed to provide insights into the relationship between civilian and military life on the Roman frontier.
"We were hugely excited by last year's discovery that intensive domestic and industrial activity took place north of the wall, and the deliberately planned nature of civilian life there. This was no temporary shanty town of camp followers clinging to a fort. This indicates the people had confidence about their security outside the fortifications, with the wall functioning more as a backstop rather than as an active front line for much of its operational life."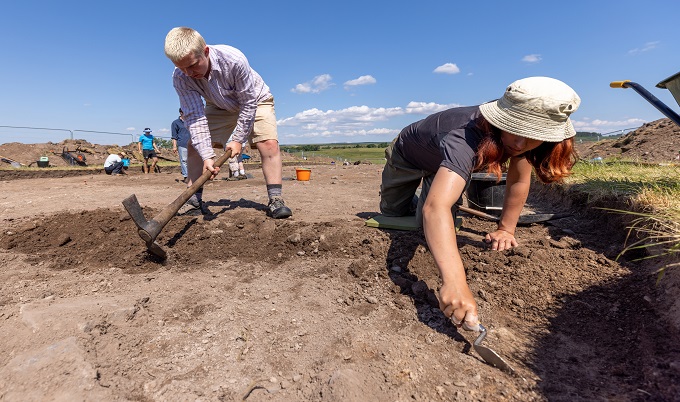 Michael Williams, English Heritage said: "We are looking forward to running the archaeology tours here once again. These have proved hugely popular in the past and are a must for anyone interested in history, Romans or just want to see how an excavation works. This year we will also have a small exhibition highlighting some of the finds from recent years and this, together with a wander around the fort, provides a fascinating day out."
Visitors to the English Heritage site of Birdoswald are able to view ongoing excavation until 7th July, Monday to Friday at 11.00am and 2.00pm by booking free guided tours here.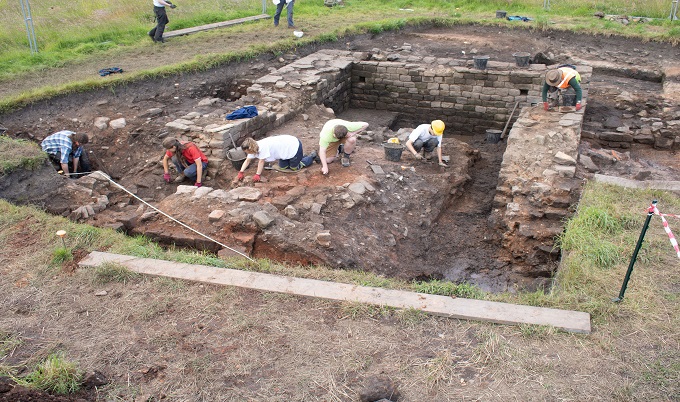 ---
Latest News