Everyone Sang
Published on: 2 June 2023
A concert celebrating Newcastle University's Choral Excellence project, led by King's Singer Chris Bruerton
Celebratory concert
Renowned baritone and King's Singer Chris Bruerton has been coaching local singers and choral groups as part of a project led by Newcastle University.
He has been working with the University's International Centre for Music Studies (ICMuS) Chamber Choir New Vocal Ensemble, the Alumni Chamber Choir Vox Populi, the Newcastle Sings Youth Choir and the Newcastle University A Capella Society's Tune Army, as part of a choral excellence project led by ICMuS.

A concert showcasing their work will take place on Wednesday 7 June. Each ensemble has worked on its own chosen repertoire, but has also embraced different genres and styles of singing. In addition to singing as individual choral groups, performing pieces by composers such as Byrd, Tallis and Parry, the choirs will come together to perform Roderick William's Everyone Sang, and Billy Joel's Lullabye.
Baritone-composer Roderick Williams' piece Everyone Sang was written for chamber choir and youth choir; it is a very evocative and moving composition which was originally world-premiered by The King's Singers in 2016 in York Minster. The composer, fresh from his performance at the Coronation of King Charles III, has kindly given permission for the performance of Everyone Sang in this celebratory concert, bringing together the choral groups across the generations.
"It has been brilliant to work with these talented singers and choirs, who've all really engaged with the project," said Chris. "It is also great to see the Youth Choir being inspired to sing together and gain so much from doing so. It will be a pleasure to share the work we have been doing together through the celebratory concert."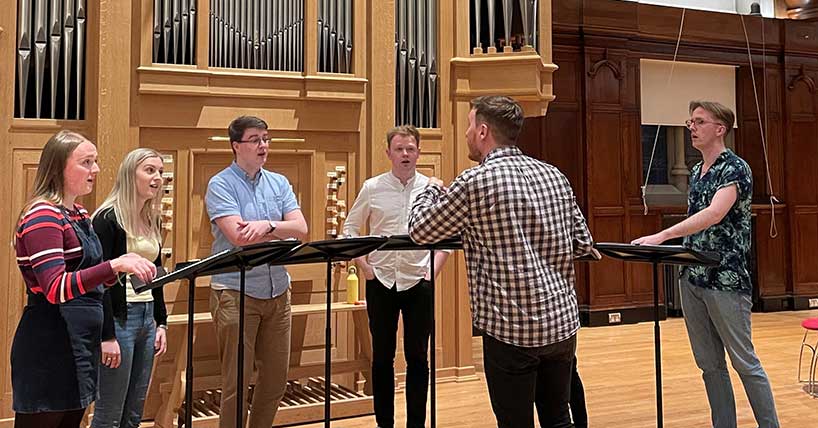 Performance and musicianship
The King's Singers are recognised globally for their technique and versatility, skill in performance and musicianship, drawing both on their rich heritage over 55 years and their pioneering spirit, commissioning and creating original works and unique collaborations. They tour the world performing in top venues such as Sydney Opera House, Carnegie Hall and the Royal Albert Hall. Their repertoire encompasses many musical styles and genres. Chris was a chorister in Christchurch Cathedral choir, in New Zealand, went on to study music at university, and ultimately joined The King's Singers in 2012. He loves working with young singers, passing on his experience and love for singing.
ICMuS graduate Tom Edney, Artistic Director of Vox Populi and the Newcastle Sings Youth Choir, said: "It's been a wonderful opportunity to work with Chris, who has given us so much more than would normally be expected from a vocal workshop, and in doing so has enabled the singers to deliver more in return. Everyone has benefitted tremendously, as individual singers and as ensembles."
"We have been delighted to have this fantastic opportunity to have Chris work with our singers and choral groups, and we are very grateful for the inspiration he has given," said Project lead Dr Jane Nolan MBE, a Senior Lecturer in Music Enterprise at Newcastle University. "Thank you to the School of Arts and Cultures for funding what has been an excellent learning experience for all involved. We are excited to showcase the project through this concert in the lovely setting of St Andrew's Church."
The concert will take place at 7pm on Wednesday 7 June in St Andrew's Church, Newgate Street, Newcastle NE1 5SS. Entry is free.
---
Latest News