'Listening' to the Universe for new perspectives on space
Published on: 27 June 2023
A new method has been developed to explore the Universe using sound, jointly led between Newcastle University and the University of Portsmouth.
The method enables new approaches to sonification, investigating how astronomy can be studied and communicated by 'listening' to data.
'Sonification' is a term for presenting data using non-verbal sound, but is much less common than data visualisation techniques.
The team have developed a free, open-source code, STRAUSS, which gives researchers the tools they need to translate their own data into sound, at frequencies that can be heard by the human ear.
Dr Chris Harrison, who coordinates the team's wider Audio Universe project from Newcastle University said: "One of the unique features of our code is its flexibility to be used for a wide variety of applications. We have demonstrated its effectiveness as an analysis tool for astrophysics research. The same code has been used for making educational resources and planetarium shows, which are also accessible to blind and vision impaired audiences."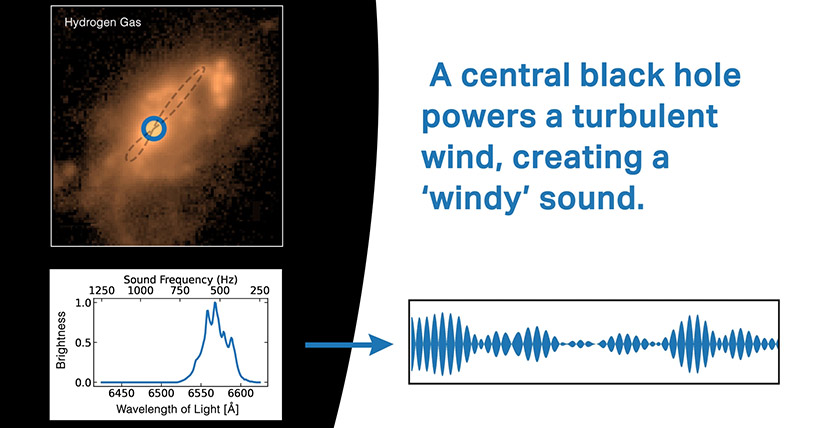 An ear to the sky
The work from this team has recently been heavily acknowledged in a report on the benefits of sonification for Space Sciences by the United Nations Office for Outer Space Affairs. Dr Harrison acted as a consultant for the report, which discusses the benefits for sonification for supporting research, outreach and accessibility.
Dr James Trayford, from the University of Portsmouth's Institute of Cosmology and Gravitation, is the lead developer of the STRAUSS code. He has just been awarded over £500k of funding, to develop the code and work on new applications. It is funded by an Early Stage Research & Development Grant from the UK's Science and Technology Facilities Council.
Dr Trayford said: "We're excited to win this grant. By popularising listening to data, we hope to open astronomy to more people.
Astronomy in particular has a strong visual bias. We are used to the stunning images of planets, stars and galaxies provided by telescopes, collecting the light arriving to us through the silent vacuum of space.
By representing this data through sound, we hope to gain new perspectives; both from those already familiar with the data to those experiencing it for the first time."
The team believes that the potential of sonification is not just as a stand-in for visuals, but also to convey information that may be hidden by more traditional approaches.
Dr Trayford said: "While listening to data may be a new concept for many people, we are used to sound conveying information beyond language, from simple notifications on our phones, to music expressing complex thoughts and feelings. By drawing from, and building on, these techniques to convey data, we hope to understand it in new ways. Sight and hearing are good at picking up different things, and using both could lead to new discoveries."
The team has prepared two new papers. The first, to be presented at the International Conference for Auditory Display 2023 in Sweden on 28th June, introduces the STRAUSS code for the scientific community. This showcases its diverse applications, from sonifying scientific data for analysis, to making immersive soundscapes of the night sky, which are also accessible for those who can't experience it visually.
A second paper, accepted into the Royal Astronomical Society Techniques & Instruments journal, uses the STRAUSS code to explore new forms of data coming from telescopes. In particular, it tests a new technique, converting the frequencies of light directly to audible frequencies, allowing scientists to hear specific resonances of different chemical elements and their motions of the gas within galaxies - beyond what can be seen in an image alone.
---
Latest News