New funding to support identification and treatment of lung cancer
Published on: 20 July 2023
Researchers have been awarded £650,000 to develop novel imaging, AI-methods, and targeted treatment for therapy-resistant lung cancer.
Experts from King's College London, The University of Oxford, Newcastle University, and The University of Cambridge have received funding to develop an automated platform for the identification and treatment of lung cancer in patients not responding to conventional therapies.
Project leads, Dr Tim Witney, Professor Marloes Peeters, Dr Bartlomiej Papiez and Professor Robert Rintoul have been awarded £650,000 by the Medical Research Council (MRC) as part of a three-year project 'AIRIaL: Artificial Intelligence and Resistance Imaging in Lung Cancer'.
AIRIaL will develop medical imaging tests in the laboratory, that utilise artificial intelligence (AI) to automatically read lung scans, in order to develop new ways of predicting whether a cancer will respond to treatment.
At present, doctors need to wait about three months after beginning treatment to be able to tell if it is working. Knowing early on about how a patient will respond to these treatments will enable the clinical team to switch to alternative options faster.
"Having a better understanding of how cancers respond to treatment so that they can be adapted to the individual patient will improve cancer outcomes and patient quality of life. We hope that this work, using AI and medical imaging, will bring new insights into how to identify drug resistant tumours sooner so that new treatments can be developed for clinical use," said Professor Robert Rintoul, Department of Oncology, University of Cambridge and co-lead Thoracic Cancer Programme, Cancer Research UK Cambridge Centre.
Additionally, the project will develop engineered biomaterials to deliver drugs directly to the resistant cancer cells. "We will move away from antibodies, which are considered the "gold standard" for drug development but are costly and cause unwanted reactions. We will produce novel materials that can specifically target cancer cells, which will improve patient outcome and limit harmful side effects of treatment," said Professor Marloes Peeters, Professor in Bioinspired Materials, School of Engineering, Newcastle University.
As there is currently little understanding of how treatment resistance occurs in patients, this project will research new AI methods to automate the reading of medical images, to reliably identify the onset of therapy resistance over time.
The medical images will be acquired using next-generation molecular imaging probes developed by Dr Witney at King's College London. Although this research will initially be performed in the laboratory using models of lung cancer, the researchers hope to be able to translate these findings into patient care in the future.
"Such developments in AI and medical imaging should lead to better understanding of treatment resistance, and those findings could lead to a better design of the personalised treatment for the patient," said Dr Bartlomiej Papiez, Associate Professor, Big Data Institute, University of Oxford.
Through a multidisciplinary venture, researchers are looking to radically change the way lung cancer is monitored during a course of treatment. "Although early on in its development, by targeting the very features that lead to traditional therapies failing, we hope to provide a new way of treating one of the biggest cancer killers," said Dr Tim Witney.
Press release with thanks from King's College London.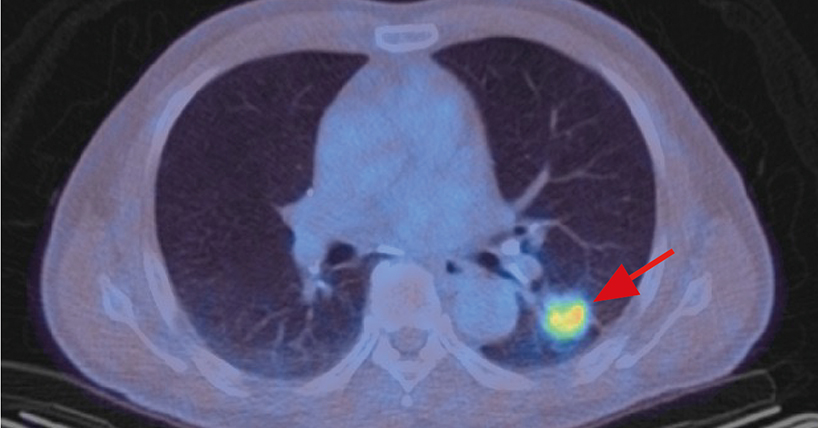 ---
Latest News