Leading figures recognised with honorary degrees
Published on: 24 July 2023
Newcastle University celebrates excellence.
Jackie Dickinson
In 2012, Jackie Dickinson started independent foodbank The BAY with a group of likeminded people as a response to the need they saw in North Tyneside and was made a Doctor of Civil Law on Monday 24 July. The work of the foodbank continues to make a significant difference in the region and is respected by the local authority as well as charity organisations across the North East.
"It's an absolute pleasure and delight to receive this degree," she said. "I am grateful to Newcastle University for this honour, and I look forward to continuing to work alongside them to help people here in the North East and beyond."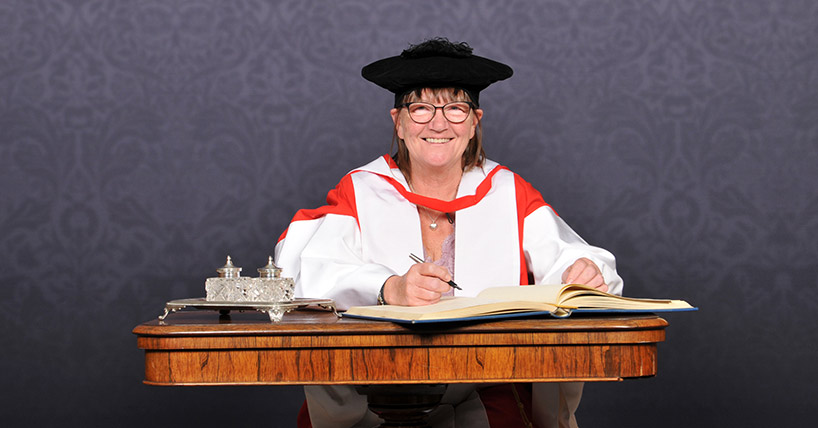 Professor Saleemul Huq
On Monday 24 July, Professor Saleemul Huq was made a Doctor of Science. He is an expert on adaptation to climate change in the most vulnerable developing countries and has been a lead author of consecutive assessment reports by the Intergovernmental Panel on Climate Change. Professor Huq also advises the Least Developed Countries group in the United Nations Framework Convention on Climate Change.
He said: "I am indeed greatly honoured to receive this degree from Newcastle University which recognises the ongoing collaboration between Newcastle University in the UK and the Independent University, Bangladesh. I look forward to taking this collaboration to the next level in future."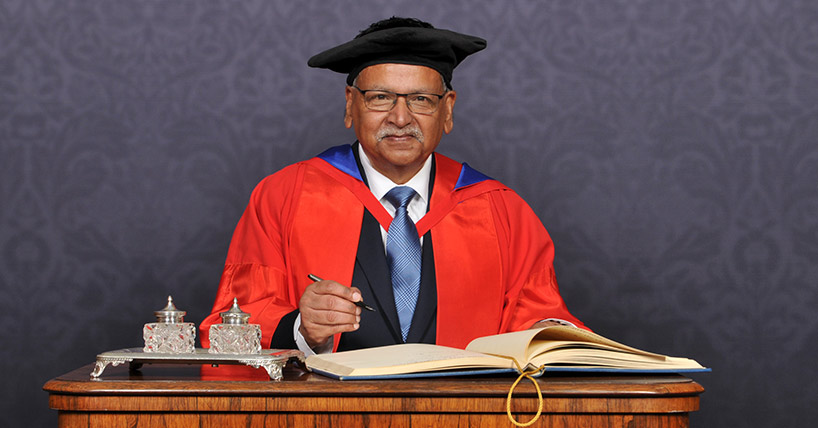 Baroness Joyce Quin
The Right Honourable Baroness Joyce Quin, former Labour MP for Gateshead East and Washington West, was made a Doctor of Civil Law on Friday 21 July. A pioneering female politician and a dedicated and passionate supporter of the North East, she studied at Newcastle University before serving as both a Member of the European Parliament and Member of Parliament between 1979 until her retirement in 2001. During this time, she continuously championed the needs of her constituents and the wider North East.
"To receive an honorary degree from my own University where I was an undergraduate 60 years ago is very special indeed," said Baroness Quin. "I have treasured my links with the University and am proud of the role it plays in our region as well as of its national and international reputation as one of our leading institutions of higher education and research."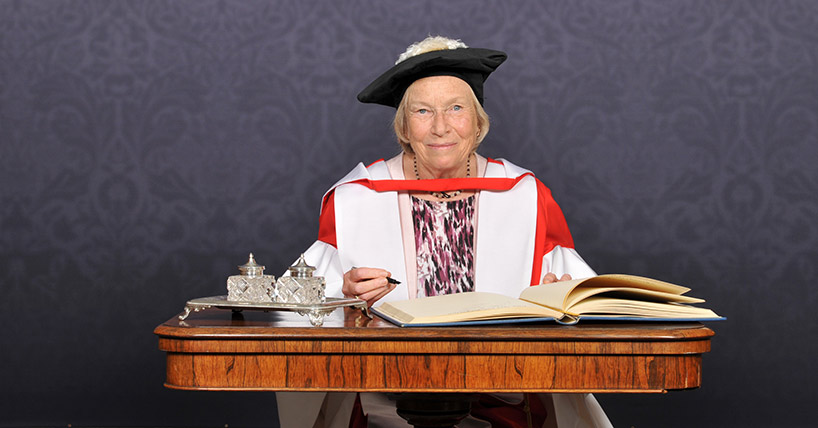 Kamini Gadhok
Kamini Gadhok MBE, former CEO of the Royal College of Speech and Language Therapists was made a Doctor of Civil Law on Friday 21 July. She has contributed to the development of speech and language therapy nationally and internationally and has striven to promote equality and diversity in the profession. Throughout her career Kamini has been a successful advocate for people of all ages and backgrounds with speech, language and communication needs.
"I'm thrilled to receive this Honorary Degree," said Kamini. "While working as Chief Executive of the Royal College of Speech and Language Therapists until Spring this year, it was a privilege to promote the vital work that speech and language therapists do to support people with communication, eating, drinking and swallowing needs. I've been pleased to see many of them at the forefront of innovation to meet challenging and growing health needs, never more so during the pandemic, and to be in a position to advocate for them and their clients, sharing learning with organisations across the UK and internationally.
"It's been equally rewarding to begin to engage members, stakeholders and system leaders to create change around ethnicity, diversity and inclusion issues within the profession and for the populations we serve. There's much to be done still, but I hope I've left a legacy which will continue to be built upon."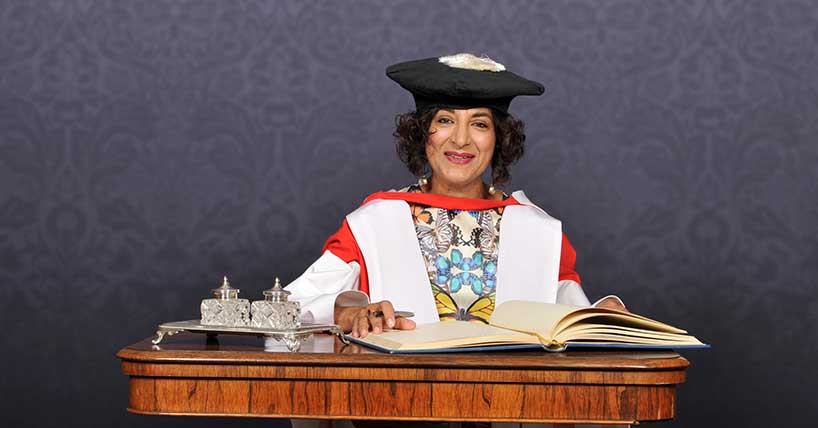 Errol Lloyd
On Thursday, 20 July celebrated artist and picture book maker Errol Lloyd was made a Doctor of Letters. Errol is a ground-breaking artist who helped to establish, promote and support post-Windrush Black British art through his participation in the Caribbean Artists Movement. His cover illustrations for pioneering Black British publishers, and his work with the Minorities Arts Advisory Service have been recognised as internationally significant and received nominations for both the Carnegie and Kate Greenaway medals. His illustrations recently featured in the Listen to the Story! Exhibition which celebrated the history of black people in children's books and was a collaboration between Newcastle University. Seven Stories: The National Centre for Children's Book and Newcastle City Library.
I am deeply honoured by this kind award of an Honorary Doctorate," said Errol. "It has provided a degree of recognition for my contribution to the field of children's literature and the visual arts in Britain over many years, which I hardy expected to be acknowledged on this level. I am also grateful that the citation has taken account of the range of my artistic and other activities.
"The award is all the more valued by me, coming as it does, from such a great institution as the University of Newcastle. I would like to thank all those from the university who have helped to make this occasion possible by their tireless organisational background work."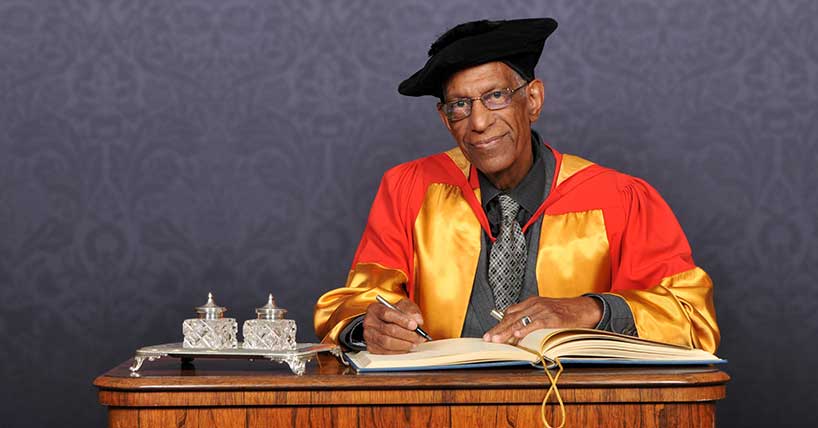 Peter Brathwaite
Peter Brathwaite is an opera singer, artist, BBC broadcaster and cultural leader. He was made a Doctor of Music on Friday 14 July. Having studied at Newcastle University, Peter is an alumnus of international acclaim and the baritone is noted for his versatile, charismatic and intelligent performances. He has written for The Guardian and The Independent and was selected as a BBC Radio 3 Next Generation Voice. His book Rediscovering Black Portraiture, based on his exhibition of the same name, was published earlier this year.
"I feel humbled to receive this prestigious honour in recognition of my work as a singer, artist, writer, and broadcaster," said Peter. "The world-class education I received at Newcastle University laid firm foundations and continues to inspire and shape my career today. In acknowledging my contributions, this award also recognises the many untold stories and lesser-known voices I am committed to platforming."
This year's honorary graduates join a distinguished list honoured by the University across the fields of arts, humanities and science.
Newcastle University Vice-Chancellor and President, Professor Chris Day, said: "This summer's honorary graduates are a true inspiration and leaders in their respective fields. It is such an honour to recognise and welcome them to our Newcastle University community."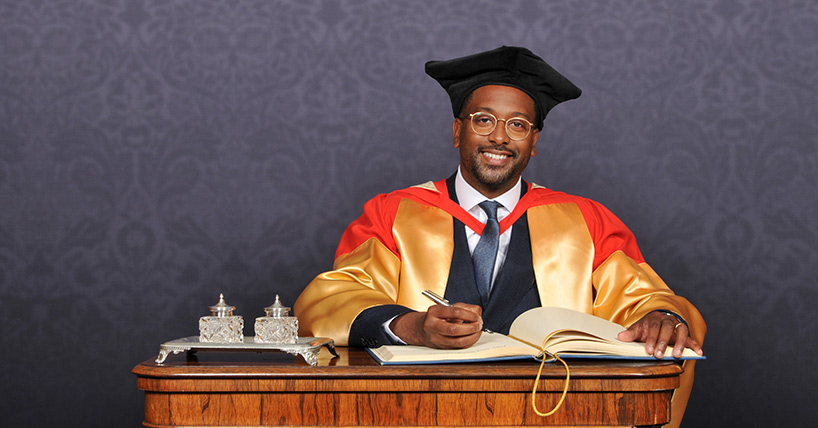 NUMEd recognises Nicholas Koh and Datuk Ir Khairil Anwar bin Ahmad
Newcastle University Medicine Malaysia (NUMed) recently hosted its 10th Congregation Ceremony to celebrate the graduation of over 150 students.
Among the graduates were Nicholas Koh and Datuk Ir Khairil Anwar bin Ahmad, who were recognised with honorary degrees for their outstanding contribution.
Datuk Ir. Khairil Anwar bin Ahmad was made a Doctor of Civil Law. Over an impressive and influential career, Datuk Ir. Khairil Anwar bin Ahmad, who is a registered professional engineer, has made a significant contribution to the establishment and growth of Iskander Malaysia, particularly through his key role in directing and guiding the creation and development of EduCity@Iskander.
Khairil's support and advice has been invaluable in establishing the University's NUMed Campus, and the honorary degree recognises his contribution to the successful launch of NUMed.
Nicholas Koh received the degree of Doctor of Engineering honoris causa. Over 21 years, he held numerous senior naval appointments, including Head of Naval Engineering and Commanding Officer of the Tuas Maintenance Base, which won the Minister of Defence's award in 1997. His final appointment in the Navy was as Deputy Head of Naval Logistics (Ship Systems), with the rank of Lieutenant Colonel. A striking feature of his naval career is the effort devoted to developing talent, masterplanning vocational growth both in technical content and capabilities. Nicholas has been a long-standing supporter of the University's activities in Singapore and was instrumental in the establishment and delivery of our Singapore-based undergraduate and postgraduate qualifications.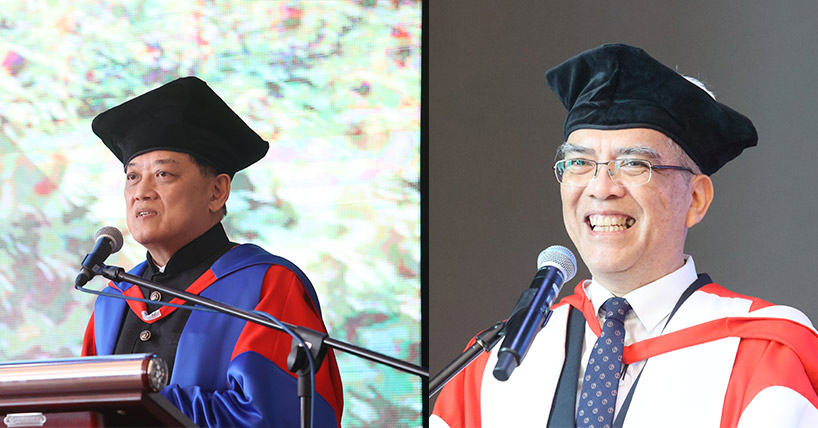 ---
Latest News