Counterpart
Published on: 14 August 2023
Newcastle University Fine Art Post Graduate Summer show
Emerging contemporary art
Counterpart is the annual summer show of Newcastle University's post-graduate artists. Displaying throughout the Fine Art studios and The Hatton Galley, this exhibition offers visitors the opportunity to experience the best of emerging contemporary art.
Showcasing a wide range of disciplines, materials, and individual responses from both mid-point and graduating artists on the MFA and PhD programmes, Counterpart includes painting, drawing, sculpture, sound work, photography, technology, installation, and celebrates the freedoms, skill, innovation, intense study, and hard work of graduate artists who have persevered, questioned, and risen to new challenges with imagination and flair.
Exhibiting Artists:
Jim Lloyd, Qirui Tan, Sarah March, Zoe Armstrong, Ellie Neason, Elena Apolonio, Cody Sowerby, Lucy Waters, Katie Houser, Daniel Goodman, Hazel Barron-Cooper, George Robertshaw, Martina Schuecker, Alia Gargum, Genevieve Stone, Bex Etheridge, Anthony Polo, Melinda McGarry, Luo Han Chen, Tia Taylor Berry, Wei An Chen, Hazel Soper, Jacques Verkade and Raphaella Davies.
Venue: Hatton Gallery and Fine Art Department, King's Road, Newcastle upon Tyne, NE1 7RU
Exhibition open: Saturday 19th August to Saturday 2nd September 10am to 5pm, excluding Sundays and Bank Holiday.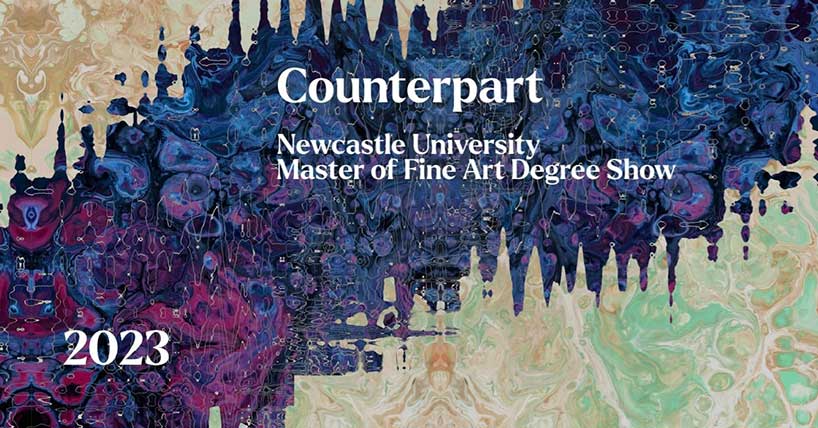 ---
Latest News