Newcastle University graduates guest edit Radio 4's Today programme
Published on: 18 August 2023
Three graduates guest edited the BBC Radio 4's flagship news and current affairs programme.
Good grief
Friends Huzaifah Khan, Cenya Sanderson and Hannah Quinn, joined presenters Mishal Husain and Justin Webb in the studio for the Today programme on Saturday.
The trio, who all graduated from Newcastle University last month, used the programme to discuss 'good grief'. The group all experienced bereavement at a young age and believe grief and the death of loved ones should be talked about more openly.
They interviewed former England cricket captain Sir Andrew Strauss about the Ruth Strauss Foundation, which he founded in memory of his wife.
"My Aunty was listening to Today programme when they announced they were looking for guest editors," said Huzaifah, from Sheffield, who studied journalism, media and communication. "So we applied and we wanted to do it around the theme of grief and bereavement as it's something we've all experienced and something we think should be talked about more. We couldn't believe it when they got in touch to say we'd been successful."
"This is such an important thing to talk about and we were so happy that the Today producers agreed," said Cenya, from Sheffield, who studied Politics and International Relations. "It's something everyone goes through but it's something we often don't really acknowledge or we ignore it. I think it's important we talk about the negative and positive things that come from grief and bereavement need to be discussed. My experiences have made me resilient but it feels really odd to say that out loud."
"It was such an amazing experience," says Hannah from Huddersfield who studied Media and Communication. "We were thrilled the gave the opportunity to us. Everyone was so kind to us and it's really made me think about a career in broadcast journalism."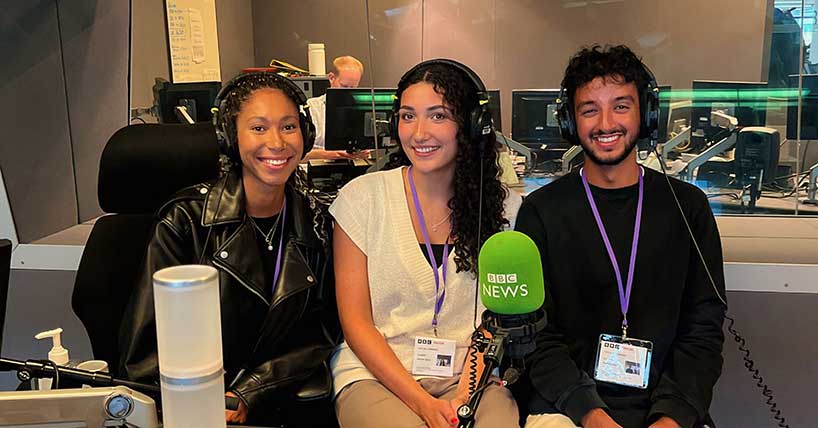 ---
Latest News