Newcastle academic shares inspiration behind historic house and garden
Published on: 13 September 2023
A Newcastle University academic has advised on the inspiration behind one of England's earliest Greek Revival houses, Belsay Hall, as part of a multimillion pound conservation project.
Bringing a vision to life
Dr Susanna Phillippo, Senior Lecturer in Classics, partnered with English Heritage to develop a new interpretative resource to help visitors to Belsay Hall, Castle, and Gardens understand the inspiration and history behind some of the property's main features.
The work took place as part of the two-year 'Belsay Awakes' project to conserve Belsay's Hall, Castle and Coach House, and rejuvenate the historic gardens for future generations.
Much of the inspiration for Belsay, in Northumberland, came from its owner Sir Charles Monck's passion for Greek architecture, the classical world and the natural landscape.
In 1805, during a trip to Athens that Sir Charles (1779 -1867) and his wife, Louisa, made as part of their 'Grand Tour' for their honeymoon – and a later trip to Sicily - he kept a detailed travel diary and made extensive notes along with sketches and comprehensive descriptions of the ancient sites they visited.
When they returned from their travels the following year, Charles quickly turned his attention to his estate at Belsay. He almost immediately began work on a new hall, which took its design from the Theseion in Athens (now more properly identified as the Temple of Hephaestus), alongside developing the grounds and gardens to create a 'picturesque' landscape inspired by what he had seen on his travels.
The new online content that Dr Phillippo has helped create includes website, an interactive map of Belsay including images of Sir Charles' handwritten notes from the time, images of the sites he visited as they are today, and recordings of extracts from his diaries, helping to bring his vision for the site to life.
Dr Phillippo said: "Many of the features that visitors to Belsay today can see, such as the classical hall, gardens, and the Crag Wood, take their inspiration directly from what Sir Charles Monck saw. It's been an exciting journey – sometimes literally, following in Sir Charles' footsteps to Greece and Sicily! – working with the diaries and with enthusiastic and knowledgeable English Heritage colleagues to uncover more about how Belsay evolved, and to bring this alive online."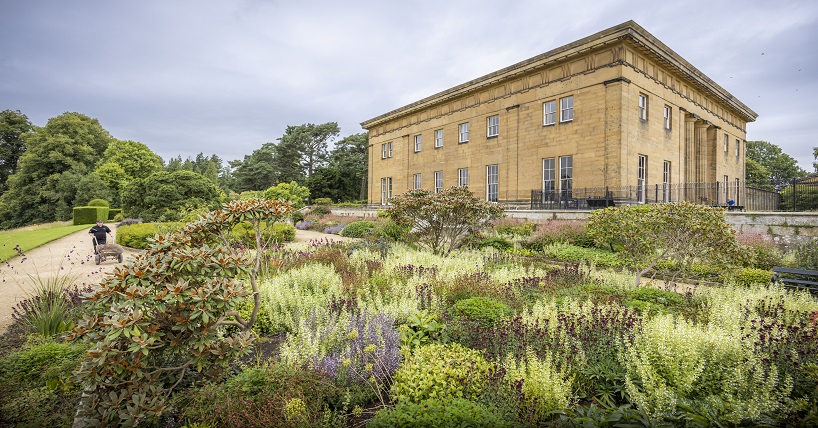 Belsay Awakes
With its Grecian architecture, medieval castle and 30-acre Grade I-listed gardens, Belsay is a jewel in the North East, but in recent years, time had begun to take its toll. English Heritage, who manage Belsay Hall, launched the 'Belsay Awakes' project in autumn 2021 to conserve the historic site and popular visitor attraction.
In the classical Hall the unique architectural design had caused damp issues for over two hundred years, while in the gardens much of the original planting material had been lost and the woodland garden had become swamped by overgrown laurels and rhododendrons.
In August 2023, after completion of the two-year conservation project, Belsay Hall's original roof has been replaced and the castle's medieval stonework has been repaired. In addition, the gardens have been brought back to their best, maintaining their historic character and restoring previously lost historic views along Crag Wood's scenic walk.
There are also new family-friendly spaces and a children's woodland play-and-learn area with an outdoor classroom and new interpretation across the site.
Mark Douglas, English Heritage's Properties Curator, said: "The Belsay that visitors see today comprises three distinct but related elements: a medieval castle, a Greek-Revival country house, which superseded it as a family residence at the beginning of the 19th century, and a beautiful garden linking the two buildings. Although a remarkable architectural feat, having been designed according to Greek tradition in decimals, not feet and inches – and modelled on the still-standing Temple of Hephaestus in Athens – Belsay Hall's concealed gutters proved, over the next two hundred years, to be its downfall; it appears that Monck hadn't accounted for Northumberland's harsh winters! It has been such a relief to finally banish the damp from the Hall and safeguard Belsay for future generations."
Belsay Awakes has been made possible thanks to National Lottery players and a grant of £3.4 million from The National Lottery Heritage Fund, in addition to support from the Garfield Weston Foundation, The Foyle Foundation, Historic Houses Foundation, The Catherine Cookson Charitable Trust and other generous supporters.
For information about visiting Belsay Hall, Castle and Gardens go to www.english-heritage.org.uk/visit/places/belsay-hall-castle-and-gardens/
Press release adapted in part with thanks to English Heritage
---
Latest News