Newcastle University UNESCO Chair holder receives major award
Published on: 28 September 2023
Professor Peter Stone has been awarded the prestigious Cultural Protection Ambassador Award by the International Arts & Antiquities Security Forum (IAASF).
Educating a global audience
Professor Stone, UNESCO Chair in Cultural Property Protection and Peace at Newcastle University and President of the Blue Shield NGO, was recognised for his dedication to saving historic monuments, works of art and archaeological sites, during times of conflict.
He was presented the award at a conference earlier this month by IAASF, an international organisation dedicated to supporting and educating a global audience on the protection of arts, antiquities, and cultural heritage.
Andy Davis, Chair of the IAASF Awards Committee said: "We were delighted to present Professor Peter Stone OBE with the Cultural Protection Ambassador Award. Peter was nominated by the UK National Commission for UNESCO for his dedication to cultural heritage working closely with UNESCO and the Blue Shield."
"It is a huge honour to receive this award from the IAASF as it underlines the need for partnership and trust to be developed between what many may seem like unlikely bedfellows," said Professor Stone. "I thank UNESCO for agreeing to establish the Chair in Cultural Property Protection & Peace at Newcastle, and Newcastle University, without whose funding since 2016, none of this would have happened.
"I accept the award also on behalf of my close colleagues Emma Cunliffe and Michael Delacruz. Together we make up the UNESCO Chair team at Newcastle University and, through the Chair, provide much of the core support and activity of the Blue Shield. This is their award as much as mine."
James Bridge, Secretary General of the UK National Commission for UNESCO said: "Congratulations to Peter, his team and Blue Shield International. Peter is a highly influential global leader in cultural property protection: breaking new ground in education and management. He is a key pro bono adviser to the UK National Commission for UNESCO (UKNC), the UK Permanent Delegation to UNESCO and UNESCO itself. In 2016 Peter became the UNESCO Chair in Cultural Property Protection and Peace at Newcastle University – a leading and globally unique designation. The UKNC was proud to nominate him for this IAASF award."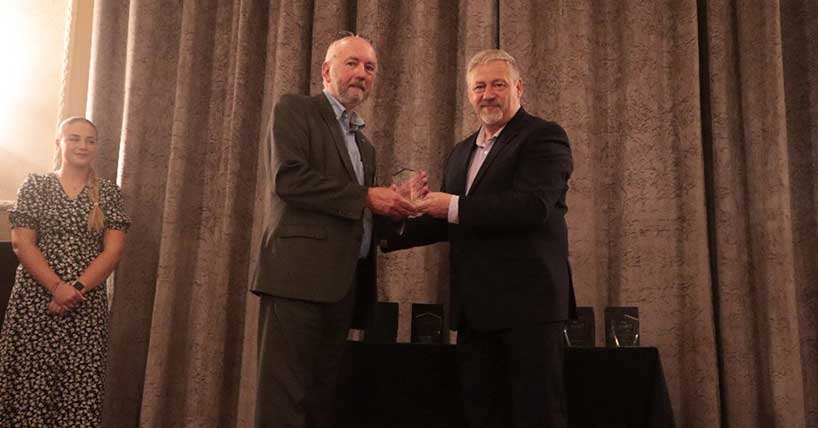 Chair in Cultural Property Protection and Peac
Professor Stone's award comes as UNESCO approved the renewal of his Chair in Cultural Property Protection and Peace - the only one of its kind in the world - until 2027. He has held the post since 2016.
Professor Chris Day, Vice-Chancellor and President of Newcastle University said: "Peter and his team carry out incredibly important work, educating and training military and peacekeepers around the world about the importance of preserving cultural heritage.
"We are delighted UNESCO has agreed to renew this post for a further four years, so they can continue to help people understand the importance of protecting the past."
---
Latest News