Newcastle University academic shortlisted for top history prize
Published on: 5 September 2023
Dr Oskar Jensen is one of six authors in the running for the £50,000 Wolfson History Prize.
Vagabonds
His book Vagabonds: Life on the Streets of Nineteenth Century London brings the Dickensian city vividly to life. From beggars and thieves to musicians and missionaries, porters and hawkers to sex workers and street criers, Dr Jensen unites original research, first-hand accounts and testimonies to tell their stories in their own words.
Dr Jensen is a NUAcT Fellow who is researching the history of song at Newcastle University's International Centre for Music Studies. He said: "I confess that, on receiving the news, I sang myself an extemporised ditty of joy, my eyes a little moist. It's undoubtedly the peak of my professional life so far, as a historian and as a writer, and I was deeply sensible of the honour. This was all before I checked who was on the judging panel, at which point I lost my head completely.
"My career to date has been absurdly fortunate, mostly in the colleagues and mentors I have known, but whilst untypically privileged in opportunity and support, it's been as unpredictable and precarious as the lot of most other early career scholars.

"When I submitted the proposal for Vagabonds I was embarking on a stint of unemployment in the early stages of the pandemic. It's the kind of recognition the Wolfson Prize brings that enables and validates so much necessary and timely scholarship, and I'm delighted to feel so seen by six eminent historians, and for Vagabonds to be part of an important conversation about British history – and academia – today."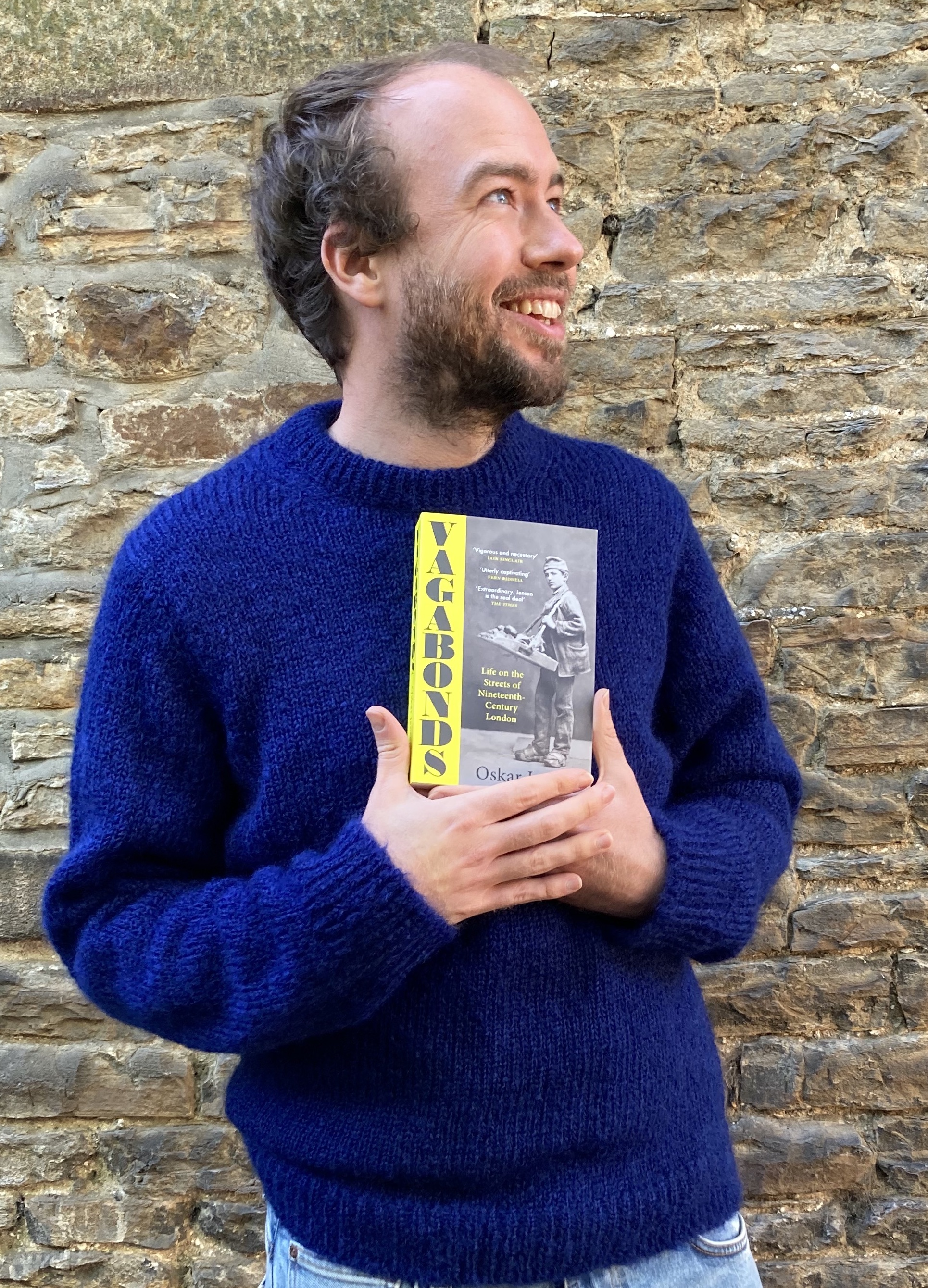 Excellent research
The Wolfson History Prize is the UK's most prestigious history writing prize and celebrates books that combine excellent research with readability. This year, celebrated historians Mary Beard and Sudhir Hazareesingh joined the judging panel, working alongside fellow judges Richard Evans, Carole Hillenbrand, Diarmaid MacCulloch, and chair David Cannadine.
They commented on Vagabonds: "Evocative, personal and moving. This book uses first-hand accounts to evoke the streets of 19th-century London. Richly woven with the voices of the city's poorest and most resilient residents."
David Cannadine, Chair of the Wolfson History Prize judges said: "This year's shortlist demonstrates the enduring power of history writing to shed light on the past, and also to bring new perspectives, empathy and nuance to our understanding of the present. The six titles cover a wide range of themes, from inequality to war and occupation and the effect of previous pandemics. Each book is commended because it is beautifully crafted, grounded in meticulous research and full of fascinating stories of people and places."
Paul Ramsbottom, Chief Executive of the Wolfson Foundation said: "The Wolfson Foundation supports education and research across a wide range of sectors. For over 50 years the Wolfson History Prize has been part of this mission, championing books that are carefully researched and well written.
"A common theme in this year's shortlist is an exploration of how people and societies in the past have confronted fundamental, global issues: books with a distinct resonance for today's challenges and preoccupations. We are delighted to share the 2023 shortlist, and celebrate books that bring new evidence, subjects and opinions alive for a wide audience."
The Wolfson History Prize is now in its 51st year and is the most valuable history writing prize in the UK, awarding a total of £75,000: the winner receives £50,000, and each of the five shortlisted authors receives £5,000.
The overall winner of the Wolfson History Prize 2023 will be revealed at a ceremony in central London on Monday 13 November 2023.
Press release adapted with thanks to the Wolfson History Prize
Photograph of Dr Jensen by Andy Aitchison
---
Latest News