New Community Health Bus hits the road in Newcastle
Published on: 21 November 2023
A new purpose-built Community Health Bus, staffed by Newcastle University Pharmacy students, has been launched in the city.
The bus provides a range of health services, including blood pressure checks, cholesterol monitoring, diabetes advice, health signposting and more, for adults aged 18 and over.
The services are being provided by a partnership between Newcastle GP Services, the GP Federation for the city, and Newcastle University's School of Pharmacy.
It will be staffed by qualified nurses, Newcastle pharmacy students and Northumbria University nursing students.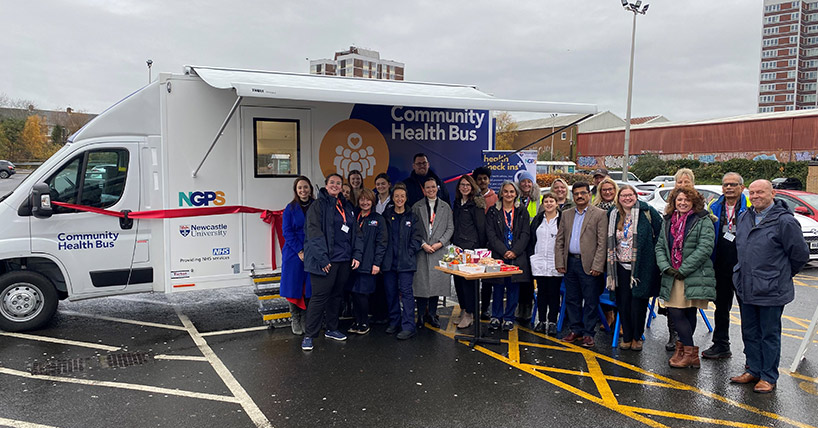 Tackling health inequalities
The focus for the service is tackling health inequalities and making healthcare and health information more accessible in the city.
A community health outreach service has been running since October this year with great success, with people visiting venues across the city including Newcastle Central Library, The Beacon on Westgate Road, Walker Activity Dome, and the Bangladeshi Community Centre in Elswick.
Dr Hamde Nazar, Senior Lecturer at Newcastle University School of Pharmacy, said: "This is a great initiative.
"Undergraduate students have this opportunity to practice the skills they'll be needing in the future careers, work within a multidisciplinary team, and provide services to local communities that need them most.
"We are really looking forward to working together on the bus around the city to increase access to care and reach even more people."
Services being provided are:
Opportunistic health check-ins

Cholesterol
Height/Weight/BMI
Blood Pressure check
Alcohol reduction advice and referral
Diabetic risk score and advice on how to reduce it
Smoking status/onwards referral, for those looking to stop smoking
Community Pharmacy onwards referral (CPCS)
Walking stick ferrule replacement
Health information and advice and an opportunity to speak to a qualified general practice nurse
Emily Maughan, Head of Clinical Services at Newcastle GP Services, said: "We're really excited to get out and about and on the road in our new purpose-built health bus.
"We know how important it is making sure that everyone who lives in Newcastle is given access to the health services that they need, and this is an important step in adapting our health and care delivery to reach those that need it most, getting out into the community.
"We're incredibly pleased to be working with Newcastle University School of Pharmacy on our Community Health Services, with the help of Newcastle City Council, Northumbria University and lots of other charities and groups in the city.
"It's a great example of how organisations are working together to keep the people of Newcastle healthy and well."
Bus locations
The bus will be visiting a variety of locations in the city from today, 20 November, including Morrison's in Byker, Eldon Square, Newcastle Bangladeshi Community Centre, Asda in Benwell, Aldi in Walker and West End Mosque.
The bus has been named 'Monty' by Willow aged 8 from Fenham in Newcastle, who won a competition to name the bus.
For more information on when and where the bus will be visiting, see the NGPS website at: https://newcastle-gp-services.co.uk/community-health-services/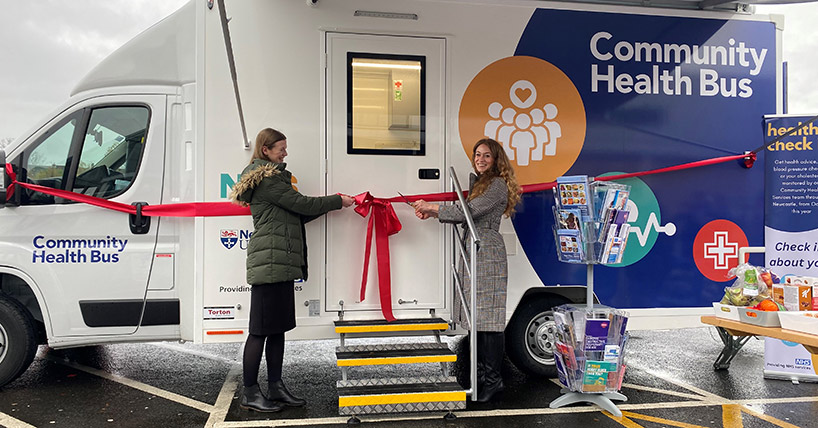 ---
Latest News