Undergraduate Study in Fine Art: BA Fine Art (Hons)
We offer a unique four-year, practice-based undergraduate course in contemporary visual art.
Fine Art BA Honours
From our role as a key player in radical developments in art education in the 1950s to being named one of eight art schools that changed the world by the Royal Academy, Fine Art at Newcastle is exceptional. Our history of innovative art teaching continues with the joint professorship of Turner-prize nominated artists Jane and Louise Wilson, and more recently, the artist Rachel Maclean.
The BA Fine Art degree at Newcastle University is ranked 2nd in the UK in the Guardian University Guide 2022, 3rd in the UK by the Complete University Guide 2022, and 3rd in the UK in the Times/Sunday Times Good University Guide 2022.
Our unique four-year Fine Art degree allows you the time and space to experiment, to fully develop ambitious ideas, and to deepen your knowledge of art history and contemporary art. There is an emphasis on one-to-one teaching, individual art-making, research, inquiry, debate, and discussion.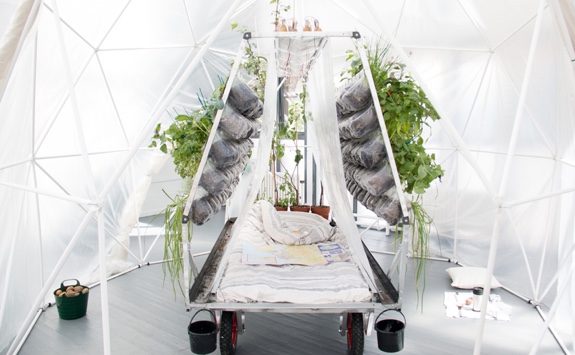 The facilities are amazing, enhanced by tutors and technicians who always seem ready to help.
All students who study fine art are allocated personal studio space during their studies. You will be taught in your studio by a range of practicing artists working across painting, sculpture, drawing, performance, film and video, and installation. Visit the profiles of our staff.
The Art History component of the course provides you with a grounding in the history and theory of art and an awareness of the relevance of these critical studies to the contemporary artist. The art history teaching helps you to place your studio work into context, and to understand and negotiate the complex relationship between making art and the way contemporary and historical art is understood, interpreted, displayed, and discussed. This is complemented by our series of Visiting Artists talks.
The range of teaching methods in Art History — lectures, seminars, individual tutorials, presentations, gallery and museum visits — are designed to develop your ability to articulate your ideas tboth verbally and through text. Art History modules are assessed through the presentation of short essays. In the third year you will research and present a dissertation on a subject related to your own particular interests.
We admit 65 students per year to study Fine Art, and we very much encourage local, national, and international applications. Our students are very diverse and come from a wide range of educational and other backgrounds.
Stage one
In semester one of your first year, (Stage 1), you will do a series of overlapping experimental projects in painting, printmaking, drawing, performance/video and sculpture. These are introduced by a wide range of staff.
Teaching takes the form regular one-to-one tutorials with your studio tutor, group discussions, workshops, technical demonstrations, field trips and visits that introduce you to innovative working methods and help expand your experience and develop new skills..
From the beginning of semester two onwards, you will have an allocated studio tutor, and you will initiate and develop your own projects with one-to-one tutorial guidance and technical support. Simultaneously, the art history course (Art Histories 1 and 2), gives you an introduction to a variety of perspectives on key areas within the history of art. Art History occupies approximately one day per week and is taught through lectures, seminars and short essays.
In the LifeWorkArt part of the course, we arrange visits to galleries, studios and art centres in the region. You can take part in exhibitions and international study visits. In the studio, you will have very regular meetings with first-year teaching staff and you will have academic guidance through:
Individual and group tutorials
Workshops
Seminars
Studio 'crits'
The year culminates in an exhibition – usually in an external venue in the city. The students take responsibility for all the organising and publicity around this show and it is always an exciting end to the year.
Stage two
In year two you take studio-based practice modules of 40 credits in each semester, together with a 20 credit Art history module in each semester. The modules are designed to help you continue to develop and extend your knowledge, skills and ideas. Regular one-to-one tutorials with your allocated studio tutor are accompanied by group critiques, peer reviews, seminars, forums, demonstrations and over 20 optional workshops. This is supplemented by the weekly visiting lecturer programme and additional tutorials with any member of staff via the 'surgery' system.
You will receive a varied programme of individual and group tutorials; cross-year and cross-discipline crits will help you develop the ability to subject your own practice and that of others to increasingly rigorous criticism.
You will further develop your ability to work independently and make informed decisions about appropriate working methods, materials and technical skills.
You will be asked to begin to contextualise your practice in relation to the contemporary art world. You can, if you wish, specialise in a particular studio discipline at this point. Or you can continue to explore possibilities and combine several ways of working. You will also be able to select one complementary practice strand in each semester. These strands equip you with an additional technical, conceptual and theoretical understanding.
In Art History, you choose one module per semester from the very varied four on offer.
You will also have opportunities to exhibit in the city, to undertake projects, and to apply for funding for projects and for travel.
Stage three
In year three you will continue to undertake your sustained, intensive studio practice and research. You can also apply to study on our Exchange Programme for one semester at one of our partner institutions abroad.
In Art History, you will begin to develop your dissertation. Your dissertation topic will be determined through discussing your ideas with art history staff. You'll be assigned a dissertation tutor, and wherever possible, this will be someone whose expertise is appropriate to your dissertation topic. You will have tutorial discussions throughout the planning and writing of the dissertation. These help you to organise, clarify and structure your study.
Third year students can also determine the balance between studio work and art history, and if you wish, you can take extra Art History modules in addition to your dissertation.
Stage four
The main aim of year four - your final year, is to consolidate your learning and experience, and to build a substantial and coherent body of artwork for the Degree Show. You can also choose to undertake additional modules, such as in Art Writing, in Curating, and in Career Development.
You will have regular timetabled tutorials and crits with your final year supervisor during each semester, as well as tutorials with Visiting Speakers and other members of fine art staff, which are available on an 'open surgery' basis. We run studio-specific and cross-studio tutorial teaching; this includes a weekly fourth year forum, where students present ongoing studio work for discussion with the rest of their year group and tutors.
Your future plans for study will be discussed, as will be your future plans for different careers in, or related to the art world. The Career Development module lets you do work-related learning. You can so this in a variety of different contexts, both on and off the University campus. An annual LifeWorkArt Conference is organised by staff and students; this is run in collaboration with the three other fine art departments in the region.
The final year culminates in the Degree show, which is shown throughout the Fine Art Building and in the Hatton Gallery. It is an opportunity to see the strengths of each and every student, and is a highlight of Newcastle's 'art calendar' - attracting hundreds of visitors.