Undergraduate Study in Music
Join us for an undergraduate Music degree, and you'll be part of a dynamic community of music students with opportunities to study a wide range of topics.
Our Music degrees
We offer four undergraduate music degrees. Each has a particular emphasis reflected in the core compulsory modules of Stage 1.
On all of our music degrees, you'll be introduced to approaches that are analytical, creative, cultural, historical, technical, theoretical, and practical. You will also be able to study music from other cultures such as Southern and Eastern Europe, Western and Southern Africa, North America, the Caribbean and Latin America.
If you wish to combine the study of music alongside other subjects, you can do so as part of a Combined Honours degree.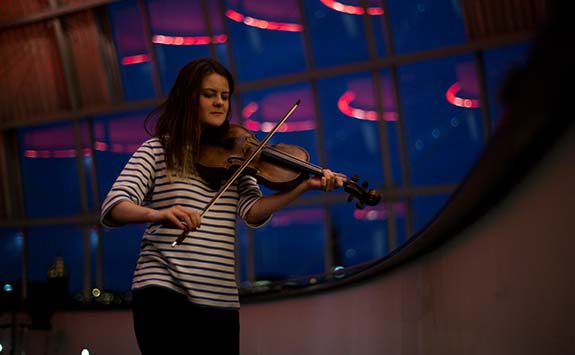 Music BA Honours
Become an accomplished and confident musician, gain a solid grounding in Western art music practice and study a range of contemporary, world, traditional and popular musics.
Contemporary and Popular Music BA Honours
Specialise in contemporary and popular music studies as a critical thinker, composer, and performer with an emphasis on creativity, experimentation and artistic risk-taking.
Music BA Honours with a Year Abroad
This rewarding four-year degree follows the same study programme as our Music BA degree, but includes an integrated year studying abroad in Europe, Australia or North or South America.
You can also study language modules to prepare you for your year abroad, although many of our partner institutions teach in English.
The diversity of degrees offered made for a diverse student body, and plenty of opportunities to collaborate and learn from each other.
Tailor your degree to suit your interests
Our highly flexible undergraduate degree programmes enable you to determine a balance of practical and academic work best suited to your interests. You'll have the freedom to tailor your degree when you study music at Newcastle. You can either specialise in one kind of music or opt for a more general music education. While you will have broad-based music education, as you progress through your degree you can choose to specialise in musicology, performance, or composition.
We perform, compose, research, and teach a wide variety of music. Whatever degree programme you choose, you'll have opportunities to study topics and approaches across a range of music.
Join a vibrant community of musicians
If you are interested in musical performance, you'll join a dynamic and pro-active community of music makers.
You'll be able to enjoy our weekly professional concert series, LIVE in the King's Hall, and there are student-led ensembles you will be able to join. From symphony orchestras, choirs, early music ensembles, and salsa bands to folk ensembles and pop and rock groups, we offer a large range of practical music-making throughout the year. We also hold an annual International Centre for Music Studies Summer Music Festival, which is run by music students and provides both performance and arts administration experience.