Performance Tutors
Our tutors' expertise spans numerous musical styles and areas of study. See below for a list of our current tutors and what they offer.
If you take a performance module for credit as part of any music degree in your first instrument or voice, you will have your lessons paid for by the music department. If eligible, students on the Folk and Traditional Music degree can also study for a second additional instrument.
We have tutors in a range of other instruments and styles. If you can't find what you are looking for here, this does not mean that we do not teach it.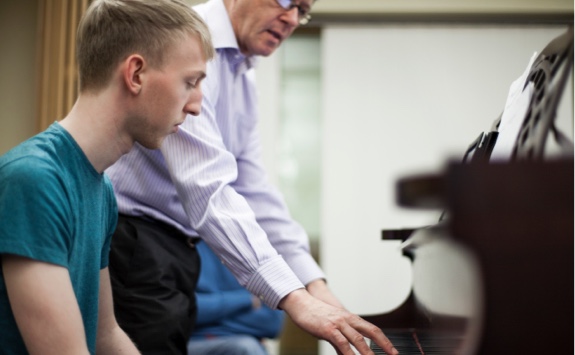 Brass
Head of Studies: Jason Holcomb
Trumpet and Cornet: Richard Martin, Tom Rushton
Trumpet (Jazz): Graham Hardy, Nathan Bray,
Horn: Christopher Griffiths, Ben Woolley
Trombone: Adrian France, Jason Holcomb
Tuba/Euphonium: Stephen Boyd, Fiona Casewell
Historic Period Instrument Specialist: Adrian France
Drums and percussion
Head of Studies: Geoff Hutchinson
Orchestral Percussion: Alan Fearon
Drums: Geoff Hutchinson, Jason Huxtable, Adam Stapleford
Folk and traditional
Head of Studies: Catriona MacDonald
Fiddle, Cello: Catriona MacDonald, Nancy Kerr, Kathryn Tickell, Claire Mann, Rowan Rheingans, Anna Massie, Sophy Ball, Aidan O'Rourke, Duncan Chisholm, Amanda Lewis, Niles Krieger, Grace Smith, John Dipper, Peter Tickell, Imogen Gunner, Rachael McShane, Mark Carroll, Natalie Haas, Ceitidh Mac

Voice: Nancy Kerr, James Fagan, Emily Portman, Sandra Kerr, Aimée Leonard, Rachel Newton, Katie Doherty, Rowan Rheingans, Hannah James, Ríoghnach Connolly

Accordion, Concertina, Melodeon: Alistair Anderson, Amy Thatcher, Julian Sutton, Karen Tweed, Hannah James, Emily Portman, Sandra Kerr, Colin Nicholson, Dave Gray, Tim Edey, Saul Rose, Angus Lyon, Andy Cutting, Heather Ferrier

Flute, Pipes, Whistle, Recorder: Sam Partridge, Jordan Aikin, Marc Duff, Claire Mann, Fraser Fifield, Andy May, Calum Maccrimmon, Kathryn Tickell, Ríoghnach Connolly

Guitar, Banjo, Mandolin: Chris Newman, Anna Massie, Mick Wright, Dan Walsh, Matt Price, Tom Kimber, James Fagan, Tim Edey, Laura-Beth Salter, Andy Watt

Keyboard, Harp/Clarsach: Andy May, Rachel Newton, Colin Nicholson, Angus Lyon, Catriona Hawksworth, Máire Ní Chathasaigh, Timo Alakoitila

Clog: Jane Garbutt, Grace Smith, Laura Connolly, Hannah James, Heather Ferrier
Strings
Head of Studies: Iona Brown
Violin: Iona Brown, Sasha Raikhlina, Jonathan Trevor, Jane Nossek, Ed Cross, Ben Lee
Viola: Christine Slater, Mike Gerrard
Violoncello: Gabriel Waite, Nick Byrne, Dan Hammersley
Double Bass: Sian Hicks, Tony Abbell
Harp: Rhodri Davies, Maíre Ní Chathasaigh, Rachel Newton, Venera Bojkova
Lute: Jacob Heringman
Viols: John Finnon
Voice
Head of Classical Vocal Studies: Miranda Wright
Classical vocal tutors:
Miranda Wright
Anne-Marie Owens
Head of Vernacular Vocal Studies: Cath Stephens
Vernacular vocal tutors:
Winds
Head of Studies: Rachel Jeffers
Flute: Sarah Shelton, Brian Stewart, Rachel Jeffers, Jess Lee, Helena Gourd
Oboe: Philip Cull, Michael O'Donnell
Clarinet: Jennifer Murray, Dov Goldberg
Bassoon: Robin Kennard, Stephen Reay, Lawrence O'Donnell
Saxophone (Classical): Keith Robinson, Andrew Smith
Saxophone (Jazz): Andy Scott, Phil Bancroft, Faye MacCalman, Lewis Watson
Recorder: Laura Hird, Pamela Thorby, Rosanna Whitton